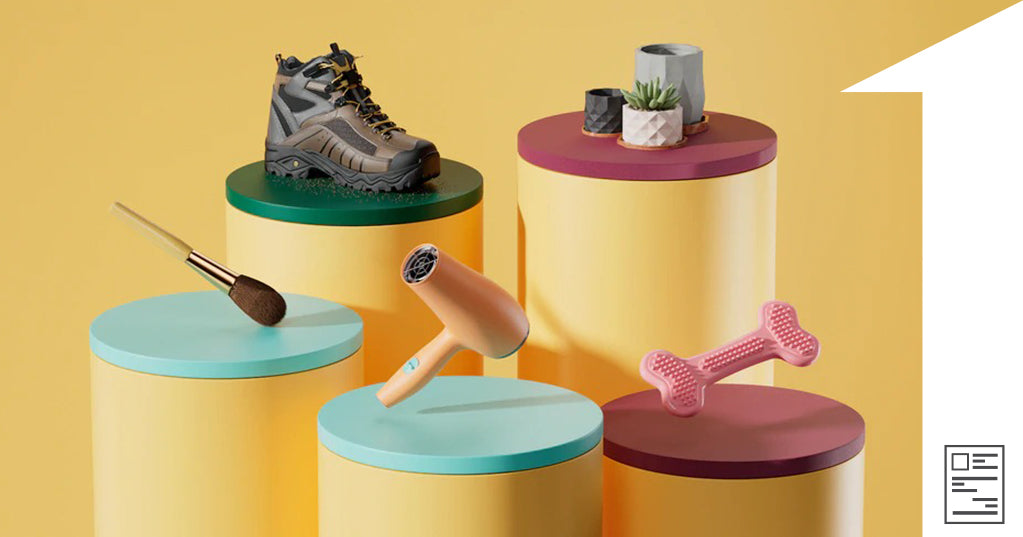 To succeed in ecommerce, you need three things:
High-demand

 

trending products

 

to sell
The skills to market them
The drive to succeed
In this list, you'll find 17 things to sell online in 2022 that will activate new business ideas—or maybe give you an idea for a great product to add to your existing online store. Since each niche product is meant for a distinct audience, we're also sharing relevant marketing tips for reaching new customers.
You already have the winner's mindset—you're continually learning, researching, and preparing for success. But finding popular products to sell can be a challenge. That's why we update this list every year to help you uncover new things to sell.
The products on this list were the most trending products and categories on the Shopify platform from February to August 2021. 
17 Trending products to sell online in 2022
Browse our list of top trending products today to get ideas for what you can use to start your online business.
1. Toys
Global order growth (YOY): 1,239%
Top country: Canada 🇨🇦
First on our list of trending products right now are toys. Valued at $110.97 billion, the global toy market saw explosive growth in the first half of 2021.
Product lines include action figures, arts and crafts, building sets, dolls, games and puzzles, infant and toddler toys, youth electronics, plush toys, miniature vehicle replicas, explorative toys, and outdoor and sports toys. Reading toys and flying toys also saw a global order growth of 294% and 275%, respectively.
Toys are a great way to build fine motor skills, encourage imaginative play, and distract kids for a bit while parents are working from home. With 1.8 million average monthly searches for the term "toys" it's clear they are powering through 2021 and into the new year.
When it comes to promoting toys, think of the concept "friends trust friends." Marketing toys rely on recommendations from influencers and friends, so you'll want to collaborate with nano-influencers on social media. Customer reviews are always a smart move for selling items like toy kitchens and dolls. Testimonials can help shoppers decide if the product is perfect for them and encourage a sale.
Create an organic social media marketing strategy around kids using your toys. Show them in action with photo carousels and videos and include user-generated content from your followers' accounts to build trust with potential buyers. If you have the budget, run a contest to give away free toys to grow your email or Messenger marketing subscriber lists. You can then create drip marketing campaigns that convert subscribers into customers over time.
2. Shoes
Global order growth (YOY): 1,086%
Top country: Canada 🇨🇦
Shoes are one of the best performing products in the first half of 2021. Shoes are perfect for selling any time of year, especially around the holiday season, when you can take advantage of Christmas sales. You can sell custom-made shoes, resell popular brands like Nike or Air Jordan, or sell dress shoes. With a global market size of $365.5 billion, there is no shortage of opportunities to sell shoes online.
When it comes to selling shoes online, focus on finding a target market and selling to one group first. People search online for specific types of shoes, such as "shoes for men" (1.2 million searches per month) and "shoes for women" (823,000 search per month). There's also opportunities in selling shoes that cure common foot problems like flat feet and plantar fasciitis.
You can sell shoes online from your own Shopify store, on third-party online selling sites like Amazon and eBay, and even on social media sites like Instagram and Facebook. There are niche marketplaces for shoes, like StockX and GOAT. You can also sell shoes wholesale to other businesses.
3. Pens and pencils
Global order growth (YOY): 540%
Top country: United States 🇺🇸
Next on what's trending in products, pens and pencils have cropped up recently. Over the past few years, new and innovative multipurpose writing instruments have played a key role in expanding the scope of these products. Manufacturers are coming up with new offerings, such as stylus pens, different color inks, and pencils in various sizes.
There are a few markets to consider in this $21 billion industry:
Students.

 

Fancy colored pencils and pens are gaining traction among children and students.
Artists.

 

Products in a wide variety of different color shades are attracting creatives.
Luxury.

 

Brands specializing in high-end pens are attracting high-income groups for their designer finish and look.
Businesses.

 

Whether working remote or in-office, people need something to write with.
The search term "pens" generates 673,00 searches per month, with related terms "fountain pens" bringing in 201,000 searches per month and "parker pens" generating 165,000 searches per month. Furthermore, "pencils" is generating 550,000 searches per month, with terms like "mechanical pencils" and "prismacolor pencils" generating 90,500 and 74,000 monthly searches, respectively.
This supports that pens and pencils can be a profitable business to start online. There are also many pen types available to sell, which gives you a lot of new product opportunities as you expand your line.
Start by narrowing down what type of pens or pencils you want to sell—felt tip, fountain, luxury, fine, etc. Then promote your products on popular roundups and gift guides. You can reach out to them online and ask them to link back to products on your website from their articles. (People are more likely to buy when they come to your site through an external blog post than an ad.) Then, to win back the sale, run retargeting ads to people who viewed the product but didn't buy.
Another option is running search-based Google Shopping ads. You can run ads to people searching for specific keywords like "best luxury pens" to encourage sales.
4. Decorative bottles
Global order growth (YOY): 438%
Top country: United Kingdom 🇬🇧
Next on the list of products trending now are decorative bottles. These items are pieces of decor that add a rustic flair to your home. They come in many different forms, like vases, urns, and jars, to satisfy any style home. You can purchase decorative bottles from a wholesaler, find them in vintage markets, or create DIY bottle crafts with recycled bottles and sell them online.
If you want to turn your decorative bottles into bestsellers, there are a few places to sell them online:
Through your own store built on Shopify
Third-party marketplaces like Amazon and eBay
Niche sites like

 

Etsy

 

and

 

Big Cartel
Social media sites like Instagram and Facebook
Another path would be creating a Pinterest profile and posting tips and photos there. The Pinterest crowd tends to engage with DIY craft and home decor content, so you could connect with potential customers.
5. Drills
Global order growth (YOY): 371%
Top country: United States 🇺🇸
Home improvement is shaping up to be one of the best evergreen niches to start a business in. By 2027, the home improvement market is expected to skyrocket to over $1 trillion in sales.
Retailers are also stocking their stores with top things to sell in this niche, including power tools like drills, grinders, and saws. The power drill market alone is forecasted to exceed $13.6 billion by 2027.
What makes this product worth considering is that it offers retailers a lot of expansion opportunities. You can sell drills in a home improvement store, as well as bit sets, carrying cases, battery packs, and other accessories.
Whether it's putting together new furniture or doing some quick fixes around the house, every home needs a drill driver. Some want heavy duty tools, while others want a simpler version.
You can sell trending products like this through search-based ads such as Google Shopping. Over 450,000 people search for drills each month, according to Keywords Everywhere. Another option is working with home improvement influencers on Instagram or through blogs to promote your drills.
6. Cutters
Global order growth (YOY): 341%
Top country: United States 🇺🇸
There's been a growing trend in sales for hand-tool cutters in recent months. People are spending more time at home and looking to start DIY and home improvement projects.
While "hand tool cutters" generates only 1,300 searches per month, there are variations you could also target with an SEO strategy, including:
Cutter pliers: 27,100 per month
Metal cutter tool: 12,100 per month
Bolt cutter: 74,000 per month
To market bookcases and shelves, you can create a blog with home improvement and DIY tips and tricks with links back to your products. Then, run retargeting ads to your blog traffic on Facebook or Google.
You'll want to run Google Shopping ads for high-intent keywords like "hand cutter price." When running ads, test targeting longer-tail keywords based on your product description, like "stone cutter hand tools" or "hand cutting tools for wood," to attract customers who already know what they want. If you show up in front of them, they're more likely to buy from your ecommerce store.
7. GPS navigation systems
Global order growth (YOY): 323%
Top country: Brazil 🇧🇷
GPS navigation systems are trending selling products that are experiencing significant growth. The trend is hotter at some times than others, but people usually look for GPS navigation and gadget accessories throughout the year. The market is also massive and is projected to grow a compound annual growth rate (CAGR) of 11.3%.
Search volume for the term "gps navigation" gets around 3,600 searches per month, according to Keywords Everywhere. People are also searching for variant phrases like "gps navigation system for car" and "built-in car navigation systems," which are getting 1,300 and 480 searches per month, respectively.
These top trending products give you a ton of opportunities to target different customer segments based on their car type (Dodge Ram, Toyota RAVv4, Isuzu, etc.) and system type (hunting, nautical, vehicle, etc.).
Some items you can sell under this category are:
Cases
Mounts and cradles
Chargers and adapters
Promoting this trending product with Google Search ads may be profitable. It can help you reach high-intent buyers and bring them into your store to purchase. Another option is using Facebook advertising to target specific groups based on your navigation systems design or functionality.
People who hike may need handheld GPS, while others may just want a vehicle GPS case. You'll want to share product images on platforms like Instagram. There, you can partner up with micro-celebrities and influencers to get your products in front of established audiences.
8. Bras
Global order growth (YOY): 306%
Top country: Philippines 🇵🇭
Bras are one of those trending online products with consistent high profit margins. The lingerie market is also huge and is expected to reach $57 billion by 2026.
The term "bras" gets 1.5 million searches per month, validating the hype of this trending product. There are more opportunities for terms like:
Plus size bras: 49,500 searches per month
Pink bras: 22,2000 searches per month
Strapless push-up bras: 33,100 searches per month
Bras on sale: 27,100 searches per month
Plus, you can take this niche in several directions with a dedicated store or a product collection within a broader lingerie store, or you can market your products to one of the many fitness sub-niches. Depending on how you position your brand, there could be an opportunity to expand into related product verticals, such as sleepwear or body care.
Since all women are often the target market for bras, visual platforms like Facebook, Instagram, and Pinterest are ideal channels to grow your brand, whether you pursue organic growth or use their advertising options.
You can also look into driving growth with influencer marketing. Influencers can model your apparel and give your brand a shoutout for a fee or a commission of sales.
9. Motor vehicle parts
Global order growth (YOY): 326%
Top country: France 🇫🇷
Over the past few months, we've seen motor-vehicle-part sales drastically increase on the Shopify platform. These new things to sell continue to be popular as digital sales and services for replacement parts grow. The automotive aftermarket size was valued at $390 billion in 2020 and is expected to rise 3.8% yearly until 2028.
Motor vehicle parts include:
Tires
Batteries
Brake parts
Filters
Body parts
Lighting components
Wheels
Exhaust components
Turbochargers
When marketing top-selling items like tires and wheels, you really want to understand your target market. For example, if a customer is outdoorsy, they'll likely want durable, all-terrain tires to drive through tough areas. If they are a family with a minivan, they'll likely want all-around performance tires with handling stability, good tread life, and a good warranty.
You can promote these items in a number of ways:
Create installation videos and live-action tips.
Start a car blog.
Sponsor a car build or car shows.
Offer a price-match guarantee.
Cross-promote with another automotive company.
You'll likely want to explore Facebook ads to send traffic to your website and drive sales throughout the year. If you want to expand your product line, you can easily find new car parts and accessories to sell using a product sourcing app.
10. Office chairs
Global order growth (YOY): 304%
Top country: United States 🇺🇸
Rounding out the top 10 trending products is office chairs. Similar to other trending products in the home goods department, we're probably seeing an increase due to the recent work-from-home trend.
Good office chairs help people work more efficiently and productively. They can reduce chronic back pain and lower healthcare expenses related to poor posture from bad chairs.
Trend data from Keywords Everywhere shows the following search volumes:
Office chair: 1,220,000 per month
Office chair ergonomic: 90,500 per month
Home office chair: 49,500 per month
Office chairs for sale: 49,500 per month
Targeting your ideal customer depends on who it is. If you're looking to sell office chairs for kids in college, then your marketing may need to target parents. The best place to target parents is through Facebook ads, Instagram ads, and Pinterest.
If you're selling to business or working adults, then you'll want to reach them directly with Instagram ads, potentially by sourcing partnerships with Instagram influencers and bloggers. You could also run LinkedIn ads targeting companies returning to the office or implementing a work-from-home mandate.
Office chairs for working adults aren't as susceptible to seasonal ups and downs, so if you're looking for an all-year-round product trend, this market could be a hit. You could also run Google Shopping ads for high-intent keywords like "office chairs for sales" to make direct sales.
11. Projectors
Global order growth (YOY): 294%
Top country: Brazil 🇧🇷
Projectors are one of those random top trending products today that become popular every few years and can drive incredible profits while the trend is hot. In this case, projectors had their claim to fame in 2016 and 2017, and again in 2019 and 2020, according to trend data from Keywords Everywhere.
Search volume for the term "projector" gets around 550,000 searches per month. People are also narrowing their search by type, with phrases like "mini projectors" and "projector for home" getting 135,000 and 27,1000 searches per month, respectively. These top trending products give you a ton of opportunities to target different customer segments based on projector type and accessories.
To market this product, target Google ads to people searching for specific projectors, such as 4K or outdoors. You can build an online store that sells projectors, screens, and other accessories. Create videos to show how to set up your projector in different spaces (bedrooms, outdoor, living rooms, etc.). Or reach out to influencers and have them promote products for you.
12. Kitchen towels
Global order growth (YOY): 282%
Top country: United States 🇺🇸
Kitchen towels saw huge growth in the beginning of 2021. They are trending products right now, and it doesn't look like it's ending anytime soon. The global kitchen towel market is expected to reach a value of $20.9 billion by 2026, according to the latest reports. This is not a trending product you want to miss out on. People can use kitchen towels to spot clean, dry hands, hold hot utensils, and much more. The towels are also extremely durable and can withstand repeat uses and washing.
Competition is high in this industry. Brands like Williams Sonoma, Bed Bath & Beyond, and Pier 1 take up significant market share. However, they all target a similar demographic: older consumers with more disposable income, which gives you a unique selling opportunity.
Dropshipping costs are often lower for kitchen supplies, which means you can charge less than big retailers. You can target younger, niche audiences that don't want to overspend on items like kitchen towels.
While cloth kitchen towels are the preferred product, research also shows that people are leaning more toward hand-knitted and crochet towels. They are also adopting towels with newer technologies like Through Air Drying, which are softer and more absorbent. You can upsell kitchen towels with other kitchen supplies, like aprons, placemats, table linens, and more.
You can market kitchen towels online through social media platforms like Instagram or TikTok, and you can target both older and younger audiences by running relevant campaigns. For example, targeting college students who just moved out of their parents' home. Your success on social media depends on how you connect with each segment and create interesting content to attract buyers.
You can create video content to show off the benefits of your kitchen towels, and show other creative uses for them besides just cleaning spills. You can also run seasonal giveaways to promote new towels and bestsellers. For paid ads, Instagram will be your best bet, since you can use its behavioral targeting to find customers based on interests and shopping habits.
13. Digital artwork
Global order growth (YOY): 260%
Top country: United States 🇺🇸
Digital art has been spoken about and created for years but really took off during the pandemic. The new wave of celebrity endorsements and the buzz around non-fungible tokens (NFTs), art built on blockchain technology, resulted in digital artwork exploding in 2021. Data from Statista suggests the value of the global online art market will reach $9.32 billion by 2024.
The most recognized sale is by Mike Winkelmann, the digital artist known as Beeple, who sold his collage Everydays: The First 5000 Days for $69 million at Christie's.
When it comes to selling digital artwork, you can go two ways. One includes creating collections that people can trade like baseball cards. Collections can be a series of five to 10,000 pieces of art, like the popular Pudgy Penguin series. You can bring together different pieces and form a consistent collection. The goal is to have one focus per collection based on research and trends in the digital art market.
The other is creating unique pieces with one version, similar to Mike Winkelmann's, above. As you build your brand and sell more work, your existing pieces become more valuable.
A few ways to build your brand in the digital are space are:
Getting involved in NFT communities.

 

As NFT artist

 

@reylarsdam

 

explains to Shopify, "The NFT community is the backbone of any successful venture in the NFT space." Make a Twitter feed and join relevant Discord groups to build your network and make friends. Conversation is key to promoting yourself in the NFT space.
Join metaverse events.

 

The crypto metaverse space is alive and well. Two popular spaces are

 

Cryptovoxels

 

and

 

Decentraland. You can buy a building and show off your collection, run virtual events, join art events, and interact with other people on the metaverse.
Collaborations.

 

As with traditional art, collabs are a smart way to get your work in front of new people. As you build your brand, you can work on projects with other artists. This can help you reach larger audiences, get PR attention, and lead to something bigger.
Digital artists often become collectors themselves. They buy good NFTs and post about them on their blogs and social channels. They also help other artists promote their projects, which can lead to better promotion when you launch new work.
14. Eyebrow enhancers
Global order growth (YOY): 266%
Top country: United Kingdom 🇬🇧
Looking for the most trending products to sell in the beauty industry? Eyebrow enhancers are seeing an increase in interest across Shopify stores, Google, and AliExpress.
According to data from Keywords Everywhere, the term "eyebrow enhancer" receives 3,600 searches per month, with long-tail variant "eyebrow enhancer serum" seeing 1,300 searches per month on Google.
Keywords Everywhere also shows that the top 20 YouTube videos for "eyebrow enhancer" are getting 778,400 views per month. Eyebrow enhancers go hand-in-hand with other eyebrow makeup such as pencils, liners, and highlighters, which makes it a good product to add to a beauty store and create different product bundles with.
When selling trending health and beauty products, focus on visual platforms like Instagram, TikTok, and YouTube. You could partner up with influencers in the space and run Instagram ads to hype products and make sales quickly. A more sustainable option is to create your own Instagram profile and publish content around makeup, eyebrows, and tutorials.
For example, you could:
Do a Q&A on Instagram Live on how to use your products for the first time
Repost user-generated content
Run a contest
Make Instagram Reels or TikToks highlighting premium product features
Publish product posts with shopping tags
Create funny Instagram Stories to promote your products
Publish carousel posts
Create YouTube tutorials
Why are trends like this great for selling popular items online? You can easily expand your product line to include other popular products in the beauty sector to maximize your potential sales.
15. Neon signs
Global order growth (YOY): 246%
Top country: United States 🇺🇸
Neon signs are next on the list of ​​products trending now. These colorful and fun illuminations are making their way back into the consumer's eye. Today, neon signs are handcrafted and more eco-friendly, with modern looks that work perfectly for homes, weddings, offices, restaurants, bars, and special events.
Search volume for the term "neon signs" receives 301,000 searches per month. Data from Keywords Everywhere suggests that people are searching for specific types of neon signs:
Custom neon signs: 90,500 searches per month
Neon signs for room: 22,200 searchers per month
Bar neon signs: 18,100 searches per month
Beer neon signs: 18,100 searches per month
Cheap neon signs: 6,600 searches per month
There's no shortage of social media hashtags around neon signs either. For example, the Instagram hashtag #neonlights reached more than 2.5 million people over the past seven days at the time of writing, according to BrandMentions.
Social media is a great way to market neon signs. Figure out who your primary audiences are. For example, are you selling to restaurant owners who want to boost their social presence? Or younger crowds who want to make their rooms look trendy and cool? (Hint: you can sell to both). Then post a mix of staged photos and user-generated content of your signs being used in their respective settings.
You could run Google Shopping ads targeting long-tail keywords such as vintage neon signs or custom neon signs to attract specific customers, as well as Facebook ads to test different audiences and learn more about who's buying neon signs.
16. Tablet computers
Global order growth (YOY): 254%
Top country: Canada 🇨🇦
Tablet computers are another one of the top trending products to sell in 2021. These mobile computers usually come with a mobile operating system in a thin, flat package, LCD touchscreen display, and a rechargeable battery.
The market is driven by elements such as lightweight, compact, quick startup, and simple web browsing. Expected to be valued at $35.9 billion by 2024, tablets are becoming a popular computer choice for schools, universities, health care, retail, and commercial industries.
The term "tablet computers" sees 135,000 searches each month. However, finding a tablet isn't always easy for consumers because there are many different uses. For example, you may want to buy a cheap, durable tablet for school. Or prefer a sleek high-definition second screen for your home.
Selling in the tablet industry gives you plenty of opportunities to expand your product lines. You could sell cases, keyboards, chargers, stylus pens, and other accessories to increase average order volume.
To promote bestselling products like computer tablets online, you want to nail down your target audience. Health-care companies purchasing tablets will have different requirements and budgets versus parents purchasing one for their kids' school. Determine who you want to sell to and create landing pages on your website specifically for them.
Since people tend to struggle with buying tablets, they'll turn to "best of" guides online to get more information. You could land a spot on top-ranking guides or create your own to promote online.
If you want to run Facebook or Google Shopping ads, consider targeting audiences by brand name, such as Android or Samsung tablets. Use Facebook's targeting Insights to find different demographics to target in countries where tablets are popular, like in Canada and the US.
17. Water bottles
Global order growth (YOY): 235%
Top country: United Kingdom 🇬🇧
The global reusable water bottle market is already valued at $8.38 billion as of 2020 and is expected to continue growing by a CAGR of 4% until 2028. Trend data from Keywords Everywhere shows the following search volume:
Water bottles: 673,000 per month
Insulated water bottles: 33,100 per month
Water bottles with straws: 33,100 per month
Reusable water bottles: 18,100 per month
Increasing threats to the environment from non-reusable bottles and the rise in people leaning toward a healthy lifestyle drive this trend. Your target audience is likely to be more health conscious and aware of the harmful effects of one-time use bottles.
To market this bestseller, you'll want to show these water bottles in use. For example, you could run a contest where customers post pictures of their water bottle out in the wild. Or, create staged photos of the water bottles in an eco-friendly setting and post them on social media and use them in ads. Working with influencers is also a great way to promote water bottles and get them in front of new potential buyers.
You can build a Custom Audience in Facebook Ads Manager and target specific groups of people. Or, run Google Ads for the keywords "reusable water bottles" or "insulated water bottles" so you can target customers actively searching for similar products.
Time to get selling
These are some of the trending products to sell online now and in 2022, but there are so many more to choose from when deciding what to sell on Shopify as a new dropshipper or established store owner. Finding high-quality items and pricing products is only one part of the equation. The real secret is figuring out how to market them.
If you're interested in hands-on training that walks you through the process of starting an ecommerce business around a profitable niche and finding the right products, watch our free dropshipping business webinar series. One ecommerce entrepreneur will share how they grew one of their online business ideas to over 8,000 unit sales per year, along with the marketing tactics that worked (and ones that flopped).
Let us know in the comments what products you plan on selling on your store. Happy selling!
by Adam Rogers