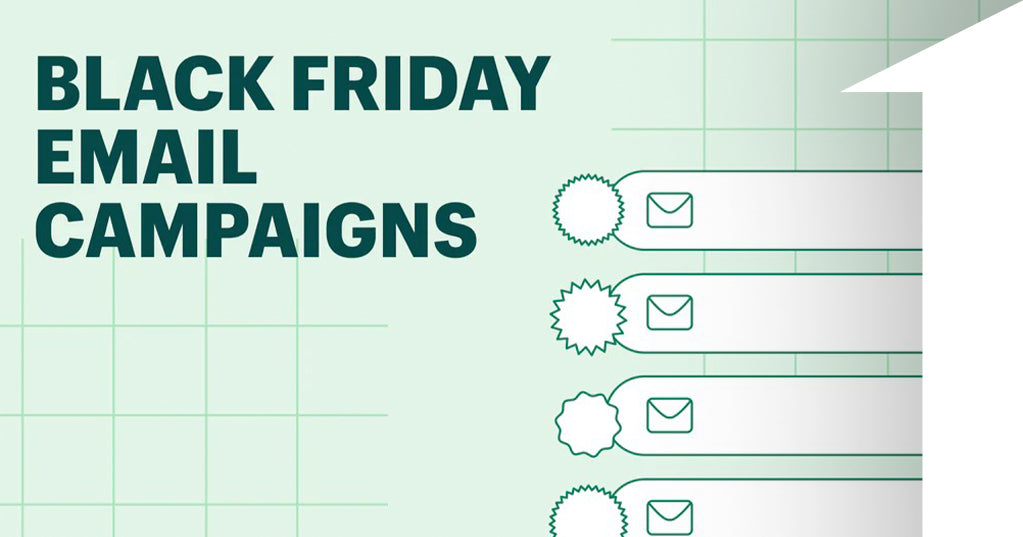 Coming up with Black Friday email campaigns can be overwhelming. Not only do you have to make sure all the puzzle pieces fit together and that you're starting things at the right time (some brands start their offers more than two weeks before the actual event), you also have to think about Black Friday content and subject lines.
Here are some examples of the best Black Friday email campaigns to get your creative juices flowing—even better, all of these can be scheduled and automated via Shopify Email so you can sit back and relax.
8 inspirational Black Friday email campaigns
1. The simple sale reminder email


Subject: The Black Friday sale continues—up to 30% off!
What it is: A simple but well-executed email from BAGGU announcing its store-wide Black Friday deals.
Why it works: This email is all business but delivered in a fun and on-brand way. It clearly announces BAGGU's ongoing Black Friday sale and has a focused call to action. All the information a shopper requires is there, including how much they need to spend to unlock discount levels and when free shipping is activated. Keeping things simple is often the best way to go.
How to implement it: Take the same simple approach to your Black Friday email campaigns. Have a clear subject line with the sale or discount, and include a call to action that brings customers to your discount landing page.
2. The bold imagery email


Subject: Black Friday! 30% Off Everything
What it is: Rifle Paper Co. uses an eye-catching image to announce its Black Friday weekend sale.
Why it works: The fun illustrations from Rifle Paper Co. really stand out from other sale announcements that barrage customer inboxes during the holiday season. The text portion is limited and simply tells people what kind of discounts they can expect and where to get them, leaving the illustration as the focal point of the email.
How to implement it: Start using illustrations and unique imagery in your Black Friday email campaigns, especially if that style matches the visual identity of your brand.
Keeping your most important information above the fold is important.
Learn More: How to Write an Effective Welcome Email
3. The free gift email


Subject: Black Paisley
What it is: Nice Laundry offers shoppers a free gift with every order they place on Black Friday.
Why it works: Customers are enticed onto Nice Laundry's online store by the promise of a free gift, giving it an opportunity to showcase the other products in its catalog.
The email design is simple and effective, with the high-quality product image doing all the hard work.
How to implement it: You can still participate in a Black Friday email campaign even if your business doesn't typically discount or you can't afford to lower your prices. Offer a free gift with a minimum purchase amount easily within Shopify or with an app from the Shopify App Store. The Black Friday sales give you a reason to contact your customers, so email them with the offer you've created. Keep your emails simple—when it comes to copy, less is often more.
4. The Black Friday VIP access email


Subject: Hey VIP! Black Friday starts NOW
What it is: Baublebar invites its loyal shoppers to start their Black Friday celebrations early with an extra discount.
Why it works: The Black Friday weekend is a great time to attract new customers and generate brand awareness, but Baublebar takes the opportunity to treat its existing customers.
Ensuring its most loyal fans are happy before it starts promoting its more general Black Friday campaigns helps with customer retention and satisfaction levels. It can also kick start sales and a buzz around its brand.
How to implement it: Create a Black Friday email campaign specifically for your existing customers which invites them to take part in your Black Friday event before it officially starts. Offer a bigger discount and a limited amount of time for them to make a purchase.
Shopify Academy Course: Ecommerce Email Marketing 101
Ecommerce expert Drew Sanocki shares his method for launching automated email marketing campaigns that build relationships and make sales.
5. The Black Friday humor email


Subject: Snooze through the sales…
What it is: Casper uses a relatable narrative to add personality and humor to its Black Friday email campaign.
Why it works: This email looks a lot different than the typical Black Friday sale email. First, the subject line is great (who doesn't want to sleep in?). Next, the image of an alarm screen populated with multiple alarms is highly relatable.
There isn't a lot of copy in this email, but it's still effective at conveying what Casper's Black Friday campaign is all about.
How to implement it: Have fun with your marketing. If it suits your brand, experiment with unique subject lines for your emails and use humorous and relatable images.
You don't need a lot of copy to convey a message in your Black Friday emails, and you also don't need to promote several products—promote your sale with one product (or a select few) instead. Consider choosing your bestselling or most interesting product.
6. The urgency email


Subject: Last hours to get up to $100 off our award-winning smart devices
What it is: Withings evokes a sense of urgency with an email that reminds customers to buy now or miss out.
Why it works: Withings uses urgency throughout the email. "Tomorrow is too late," "Last chance," and "Ends in a few hours" are all phrases that create a sense of urgency. Even the subject line has urgency in it with the added incentive of money off.
Of course, the brand's personality shines through in this email as well, with casual language like "Thought you'd want to know."
How to implement it: Learn to create urgency and scarcity in your email marketing, especially on the Black Friday Cyber Monday weekend. Create urgency and use your emails to remind your customers that your sale will be ending soon. Also, when your products are selling fast, tell people!
7. The against-the-grain email


Subject: Switch Things Up On Black Friday and #OptOutside
What it is: REI uses its Black Friday email campaign as a platform to encourage consumers to put their wallets away and get outside.
Why it works: Most email subject lines during this period include a percentage discount and a sense of urgency—this subject line is different, strong, and piques curiosity, encouraging people to open the email and learn more.
REI then doubles down on its #optoutside campaign by helping people to plan their days out with weather forecasts and activity ideas.
This approach reinforces REI's brand. It even has the chance to be picked up by news sites and social media with its unique suggestion during a time of year where businesses are often so focused on profit.
How to implement it: If you're tired of running the same Black Friday email campaign every year, or your customers have grown to expect the same from you, change things up. Consider making this year's Black Friday email all about your customer. It could be your opportunity to give a little back while also creating a positive brand image for your store.
8. The product personalization email



Subject: Price drop on your favorites!
What it is: Columbia personalizes its Black Friday email campaigns by featuring products customers have already shown interest in.
Why it works: Today's shoppers crave personalization. Instead of promoting its bestsellers or random products, Columbia engages its customers by announcing discounts on products they've added to their cart, visited, or bought in the past.
Many brands use the scattergun approach by sending the same discount email to every single customer. By suggesting relevant products to each shopper, Columbia deepens its connection with customers and creates a unique experience.
How to implement it: Use email segmentation and data to find the products customers have previously shown an interest in. Create campaigns that remind shoppers about products in their cart, or products they have checked out before. Don't forget to also add an incentive with your Black Friday discount.
5 Black Friday email templates you can schedule right now
1. Black Friday: Sale announcement
Get shoppers excited about your upcoming Black Friday event. Create a buzz and let them know what kind of discounts they can expect. If you're not running a sales campaign and are instead choosing to go against the grain, send an announcement about that too.Ideally, you should send your sale announcement email a few weeks before BFCM and again a few times leading up to the start of Black Friday. Schedule your sales announcement in advance with Shopify Email—then you can sit back and relax knowing your customers are eager to get shopping once Black Friday arrives.
What to include in your sale announcement email:
When your Black Friday deals start
How long your Black Friday event will run for
What discounts customers can expect
Where they can go to unlock discounts
Product suggestions based on past shopping behavior
2. Black Friday: In-store details
Black Friday was originally an in-store shopping event. Remember its roots by sending a retail-specific email about any in-store deals you're running during BFCM. In a similar vein to your sale announcement email, let shoppers know how they can unlock discounts, what products they can save big money on, and which stores you're running the promotions in.
Send your in-store sale details ahead of time by scheduling an email one or two weeks in advance. The key is to land in shoppers' inboxes when they're thinking about Black Friday so they can plan ahead (something that's integral to brick-and-mortar Black Friday shopping).
3. Start of Black Friday
It's time to announce the kick-off of your Black Friday event! Send an email as soon as your discounts are activated so shoppers can get in on the action straight away. Remind them once more where they can tap into the discounts, suggest a few products they might enjoy, and highlight the discount to drive engagement and incentivize your customers.
4. Black Friday sale ending
All good things must come to an end, but you can drive a few extra sales by sending a wrap-up email as Black Friday is winding down. Remind shoppers that they still have time to benefit from huge discounts and point them in the direction of popular products. You might add an extra, final incentive at this point, such as a free gift, free delivery, or a higher percentage off to make sure you end the event on a high.
5. Cyber Monday announcement
Once Black Friday is over, it's time to (quickly!) start thinking about Cyber Monday. Remind shoppers that the deals aren't over yet and they have the opportunity to enjoy more discounts on Cyber Monday.
As with your Black Friday announcement email, make sure you highlight what kind of discounts shoppers can unlock, when they can unlock them, and how they can go about it. Finally, add a call-to-action to direct people to your site.
Don't forget your Black Friday email automations
Black Friday is a busy time of year. There's a lot on your plate and you'll likely be juggling a ton of things at once, including upcoming Cyber Monday and future holiday campaigns. Help your campaigns run smoothly (and release some of the stress!) by implementing email automations with Shopify Email.
Not only will this eliminate any last-minute scrambles, but it can help you win sales over the shopping weekend by reaching customers at the right time.
Shopify Email has a huge collection of drag-and-drop templates that make setting up email marketing automations a breeze in just a few clicks.
Ready to get going on your BFCM email automations? Here are some ideas to get you started:
First purchase upsell email:

 

When a customer makes a purchase on Black Friday, send them an automated follow up that includes an

 

upsell to increase average order value

 

(AOV) and expose them to other products in your range.
Product browse automation:

 

Send an automated email when someone has looked at a product but hasn't purchased yet. Chances are, they're interested in the product and just need an extra nudge to take the plunge.
Abandoned cart automation: Use an

 

abandoned cart template

 

to win back shoppers who have shown previous interest but, for one reason or another, haven't made a purchase yet. Remind them that they have products waiting for them in their cart and tack on an extra Black Friday discount to sweeten the deal.
Welcome email:

 

Send a "hello!" email to new customers when they join your marketing list. There's a good chance you'll get an influx of new subscribers during Black Friday and this will help you stay front of mind.
Get started on your Black Friday email campaigns
If email marketing isn't a large part of your growth strategy, take the time to learn why it's important for your business. If your email list is small, start building it now to make the most out of Black Friday Cyber Monday. You don't need a gigantic email list for your BFCM to matter, but the bigger your list, the better.
With the right amount of engaged subscribers and well-crafted emails, your business can have a very profitable BFCM.
Want to absolutely crush it, though? Have a look at 
this BCFM checklist
 to position your store for success this holiday season.