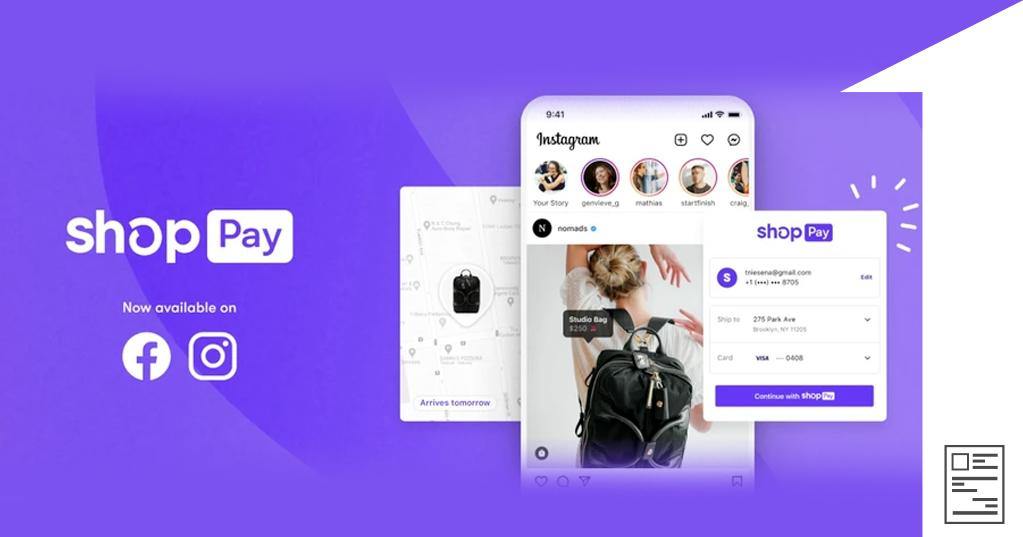 The Internet's fastest and most secure way to pay comes to Facebook and Instagram
The way we buy the things we love has fundamentally changed. Today, social platforms are our digital mainstreet, and we form relationships with brands based on the online experience they provide every step of the way. 
That's why, for the first time, we're expanding Shop Pay—the fastest and most secure way to shop online—to all Shopify merchants selling on Facebook and Instagram. With Shop Pay now available as a fast and secure payment option on Facebook, people also get access to industry-leading order tracking and carbon offsets from their deliveries.
Shop Pay helped buyers complete more than 137 million orders in 2020, and by the end of the year, had facilitated nearly $20 billion in cumulative GMV since its launch in 2017. Shop Pay has also offset 75,000 tons of carbon emissions, which is the equivalent of 85 million trees protected in the Peruvian rainforest. Through our continued work with Facebook, we're excited to combine the best in commerce with the power of community, extending the benefits of Shop Pay to even more people buying and selling with Shops on Instagram and Facebook. 
Brands you know and love like Allbirds, Kith, Beyond Yoga, Jonathan Adler, Loeffler Randall, Blueland, and more are already using Shop Pay to deliver a fast and secure checkout experience for their customers. Now, you can have the same seamless Shop Pay experience when you make a purchase directly on Facebook and Instagram. 
With this integration, consumers on Instagram and Facebook will see Shop Pay as a payment option in Facebook Pay. Shop Pay pre-populates their details and speeds them through the most efficient and secure way to pay on the internet—directly on Instagram and Facebook. Once the purchase is made, consumers can track orders and see the carbon emissions offset from their purchases. The full benefits of Shop Pay include:
Faster, more efficient, and secure payments:

 

Checkout on Shop Pay within the Shopify platform is

 

70% faster

 

than a typical checkout, with a 1.72x higher conversion rate. For merchants, this means fewer abandoned carts and increased conversion. For consumers, this means a one-click checkout that remembers and encrypts their important details including billing and shipping information, leading to more time shopping and less time filling out forms.

Convenient order tracking and management:

 

With 430+ million orders tracked over 450 billion miles, our global order tracking service enables consumers to track all of their important purchases, receive updates, and manage orders.

 

Carbon emissions offset on every delivery:

 

One of the first carbon-neutral ways to pay, Shop Pay

 

offsets

 

100% of the delivery emissions for every order.

 

53%

 

of consumers say they prefer green or sustainable products, and Shopify now makes it possible for more consumers who check out on Facebook and Instagram to shop sustainably. 
"People are embracing social platforms not only for connection, but for commerce," said Carl Rivera, General Manager of Shop. "Making Shop Pay available outside of Shopify for the first time means even more shoppers can use the fastest and best checkout on the Internet. And there's more to come: we'll continue to work with Facebook to bring a number of Shopify services and products to these platforms to make social selling so much better."
Today in the US, it is available as a payment option within Facebook Pay for all Shopify merchants using checkout on Instagram. This feature will roll out to Shopify merchants using checkout on Facebook in the US over the coming weeks.
To learn more, visit https://www.shopify.com/blog/shop-pay-checkout.
Source : https://news.shopify.com/shop-pay-expands-to-facebook-and-instagram