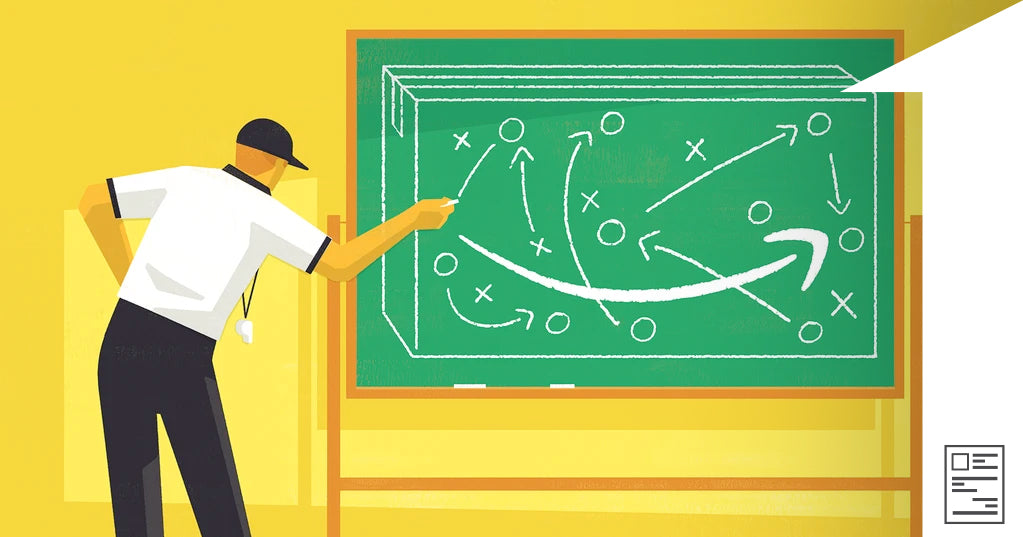 As a small business owner, you've probably thought to yourself at least once, "How the heck can I compete with Amazon?"
If you're an online retailer or even if you own physical stores serving a niche, there's a decent chance that Amazon has a chunk of your market share.
The brainchild of Jeff Bezos has its fingers in many pies. However, Amazon isn't completely untouchable. Plenty of businesses are direct competitors in some way and still enjoy huge profits.
This guide will look at some of Amazon's top competitors in various areas, explaining what exactly makes them successful. Then we'll take those lessons and look at how small businesses can also compete with the online retail giant.
Top Amazon competitors
This Amazon competitor analysis has a healthy mix of online-only business models and offline/online offerings. Each of them has unique advantages that position them as Amazon competitors.
Online stores
Let's start with an obvious group of competitors: online store owners (a.k.a. you). Ecommerce has taken off over the past few years, taking up 21% of total retail sales in the United States alone. Although Amazon is the largest consumer marketplace online, small business owners have one massive benefit. 
Online stores that sell unique, can't-get-anywhere-else products will always have an edge over the mass-produced goods you find on Amazon. Take TREEHOUSE kid & craft, for example. 
The Georgia-based small business has a unique advantage over massive online selling sites like Amazon. It specializes in high-quality kids' toys, art, and books, stocking "unique, kindly-made products from around the world." 
Rhiannon Taylor, founder of online boutique RT1home, suggests ecommerce entrepreneurs "design and manufacture your own products which Amazon cannot carry. If that's not an option, do your research and only offer a unique product that's not available on Amazon."
Sure, you probably can't compete with Amazon on price or shipping times. In terms of scale, size, and logistics, Amazon is nearly limitless. But you can outpace Amazon when it comes to unique products and personalized shopping experiences that keeps customers happy and coming back for more. 
Resources:
eBay

Another huge ecommerce platform that directly competes with Amazon is eBay. The company, based in San Jose, California, was founded in 1995.
In recent years, eBay's revenue has actually begun to fall, but in 2020 it experienced its best net revenue since 2013, $10.2 billion. 
With eBay, sellers list products for sale and buyers find them in the marketplace. EBay sellers also offer products similar to those offered by sellers on Amazon. The big difference? EBay Sellers can auction products or have a fixed rate. Amazon doesn't offer auction sales. 
Being essentially a big garage sale versus a marketplace gives eBay a unique position over Amazon. 
Walmart
Moving closer to the discount department store concept, another great example of an Amazon competitor is Walmart. One of the oldest companies on this list, it was founded in 1962 by Sam Walton in Rogers, Arkansas.
Amazon and Walmart are two of the biggest retailers in the US and are always in competition. Walmart dominates the physical space, but Amazon leads online. Although Walmart has been around for 30 years longer, the two fight for the same customers now. The two brands compete on everything from innovation to digital growth, logistics and sustainability. 
Walmart saw a massive revenue of $524 billion in 2020, which was $138 billion more than Amazon's $386 billion that same year. 
Flipkart
If you live in a western country, you may have the idea that Amazon has a massive presence everywhere, but that's not the case. Flipkart was founded in 2007 and is one of India's leading online ecommerce sites. Walmart became its majority owner in 2018. 
Flipkart's business model is very similar to Amazon's, with the exception of the Flipkart Plus SuperCoins reward scheme, which, unlike Amazon Prime, is earned, rather than paid for. 
Flipkart's revenue has been growing, with a reported 12% increase in 2020 from the previous year. As the Indian ecommerce market continues to strengthen, Flipkart is one of Amazon's biggest competitors in the region.
Target
Another company with a long history is Target, founded the same year as Walmart (1962), in Minneapolis, Minnesota. 
Target describes itself as a "general merchandise retailer" and boasts that 75% of the US population lives within 10 miles of a Target retail store. It reported $93.6 billion in revenue in 2020, which was an overall 19.3% growth rate in sales compared to the previous year.
Target cannot compete with Walmart and Amazon—it's not large enough. But what Target has that other retailers don't have is a loyal following. Target has become an incredibly convenient place to shop, and is even considered an acceptable date night by its customers. 
Target joined the ranks of ecommerce companies by offering same-day delivery, order pickup, and drive-up pickup. These services were up over 270% in 2020 versus the previous year, taking up a small percentage of market share compared to Amazon. 
Alibaba Group
While we consider Amazon a behemoth in the US, in China there is the Alibaba Group. Founded in 1999 by Jack Ma (who has seen controversy for comments against the Chinese regulatory system), its main retail subsidiaries are AliExpress, Taobao, and Tmall.
Each subsidiary competes against Amazon in different ways. Taobao, a B2C (business to consumer) operation, for example, competes with Amazon on selling clothes, accessories, gadgets, and computer hardware at low prices. 
Alibaba is one of the biggest competitors to Amazon Web Services, with cloud computing bringing in a revenue of $2.24 billion in three months ending September 30, a 60% year-on-year rise. That was faster than Amazon Web Service's and Microsoft Azure's revenue rise, which was 29% and 48% respectively. 
Collectively, the Alibaba Group saw revenue of approximately $109 billion in 2020 and in 2019 held a 55.9% retail ecommerce market share in China. 
Otto
Otto, one of Europe's biggest ecommerce companies, was founded in 1949 in Hamburg, Germany. As the oldest company on this list, its products were originally ordered by mail and then telephone before the company moved into online shopping in 1995. 
While it is considered a one-stop shop for electronics (like Apple and Microsoft), fashion, and sports gear, its biggest market (particularly in Germany) is in furniture and home furnishings.
In 2020, the Otto Group reported €15.6 billion ($18.5 billion) in total revenue, which makes it second behind Amazon in online sales in Germany. 
JD
The next competitor on our list is JD (JingDong), also known by its URL, jd.com. It's another Chinese ecommerce sales website, founded in Beijing in 1998. 
Beyond being a competitor to Amazon, it's also a direct competitor of the above-mentioned Tmall, both being Chinese B2C ecommerce companies). 
What makes JD a little different from Amazon is the ability to buy items in bulk (similar to Costco) as well as its dominating logistics infrastructure in China.
As a result, JD.com enjoyed $114.3 billion in revenue in 2020 (yes, more than Alibaba), which was a whopping 29.3% increase from 2019. 
Netflix
Taking a step away from physical products, we turn to Amazon Prime Video's biggest competitor—Netflix. The video-on-demand service started in 1997 when founders Reed Hastings and Marc Randolph mailed themselves a DVD in Scotts Valley, California.
Since then, the company has seen year-over-year growth, culminating in revenue of $25 billion in 2020. Popular among its nearly 208 million subscribers is its original content, which it pumps out at an average rate of just over one original title a day.
While many rising competitors in the video streaming space have cut into its US market share, it still retains a hefty 20%.
Rakuten
Moving back into the ecommerce space, another big player is Rakuten, founded in 1997 in Tokyo, Japan. 
However, to call Rakuten just an ecommerce company would be a mistake—its ecosystem includes a streaming service (Rakuten TV), banking and payments services, telecoms, even health and life insurance.
As you can see from the image, Rakuten has a significantly different business model in terms of its retail strategy. It uses a cash-back system to encourage customers to do their shopping through Rakuten instead of directly with brands. 
This model (as well as its enterprising ecosystem) has earned it a net revenue of 1.5 trillion Japanese yen (a little over $13.6 billion), and a 15.2% YoY growth in 2020.
How small businesses can compete with Amazon
Now you understand what big companies compete with Amazon and how their advantages make them stand out. Next, let's take a look at how small businesses can take on the giants without being billion-dollar multinationals or slashing their prices.
Provide an incredible customer experience
One of the biggest advantages you have as a small business is getting to know your customers as people, not just as order reference numbers.
According to a recent report by Segment, 71% of surveyed consumers felt frustrated by impersonal shopping experiences. However, 44% would likely become repeat buyers after having a personalized experience with a brand.
Some easy ways to create good customer experiences are:
Write handwritten thank-you notes with their orders
Talk to them directly and ask for their feedback
Send relevant personalized emails 
Solve customer complaints promptly with meaningful resolutions
For more ways to make customers feel valued, read A Thank You Goes A Long Way: 6 Creative Ways to Say Thanks for Customer Purchases.
Go omnichannel
This point applies to both physical and digital-only stores. When acquiring new customers and retaining existing ones, having an omnichannel experience is essential for gaining an edge over the competition.
Our research shows that 73% of shoppers use multiple channels before making a purchase. Retailers who sell across multiple channels (marketplaces, mobile, social media, and physical locations) increase revenue by 190% on average. 
Not only that, but they say that having an omnichannel strategy has the following benefits:
Improves customer lifetime value
Reaches new customer segments
Increases operational efficiency
Increases sales
Improves inventory turnover
For examples and tips for creating your omnichannel strategy, read Ominchannel Marketing Guide: What is It and How to Get Started on the Shopify Plus blog.
Advertise on marketplaces
Amazon isn't the only marketplace on the web where you can advertise, or even host, your products. You can use other existing marketplaces that customers are already familiar with and trust (just bear in mind that using them will come at a cost). 
These are some of the more popular ones, but you should also consider looking for a marketplace specific to your niche:
You might have even noticed in recent years the rise of shopping capabilities on social media, such as Facebook Shops and shopping on Instagram. 
If you're not hot on the idea of setting up your own store (which can sometimes come with significant overheads), any of these options can be a great choice and come with their own built-in audiences.
Create a great loyalty program
Another way to compete against Amazon is to have a super easy loyalty program. According to research from Accenture, members of loyalty programs generate up to 18% more revenue for retailers than non-members. 
Depending on the type of business you run, you can consider a variety of different loyalty program types, including points-based, tiered, paid (think "plus" or "premium" members), spending-based, gamified programs, or even value-based programs (tree-planting programs for example).
Companies like Smile can help you create a loyalty program for free, with pro plans available for further customization. If you have a Shopify store, you can add the Smile app to your shop and create a loyalty program easily. 
Be an active community presence
The final tip for this post is perhaps the biggest advantage a small business has over huge multinationals—the ability to be an active local community presence. 
Small business owners have a better understanding of the needs of their community, and what better way to inspire than getting involved in improving it or otherwise spreading a positive message?
Some ways you can get involved include:
Hosting events for the first time related to your business (or for charity)
Participating in or sponsoring existing events
Have a volunteering program or incentive for employees
Donate to local causes (as one-offs or pledge a portion of your profits)
Join any community boards or organizations your business could help with (such as arts or music councils, health boards, etc.)
Alexa, what's the best way to compete with Amazon?
It's clear that Amazon is unstoppable in many areas. New ecommerce brands may be intimidated by the behemoth at first, but the truth is, there are so many ways you can compete with Amazon and build a rewarding online business. 
Get to know your customers and what they value. Create unique products. And always provide the best customer service possible. If you follow these three strategies, you'll never have to worry about Amazon's market share getting in your way. 
by Michael Keenan