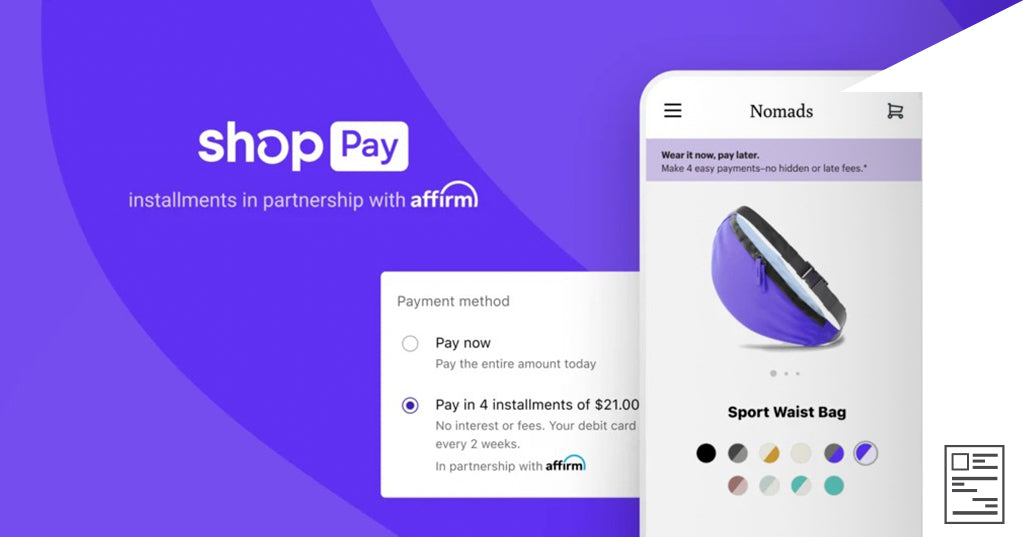 Last September, we began rolling out early access to Shopify's native 'buy now, pay later' payment option—Shop Pay Installments—to eligible merchants.
With Shop Pay Installments, buyers have the flexibility to split their purchases into four equal, interest-free payments—with no additional, hidden, or late fees, and no impact to their credit scores. After just a few months, our 'buy now, pay later' product is already proving to be an important sales conversion driver for participating Shopify merchants.
Here's what we've observed among our group of early access merchants—and why you should consider adopting Shop Pay Installments for your business.
Average order volume increased up to 50%
Shop Pay Installments allows buyers to maximize their budgets and increase their purchasing power by letting them pay in smaller increments over time. This extra buying power translates into more sales and larger orders.
One out of four merchants observed a 50% higher average order volume with Shop Pay Installments. Our 'buy now, pay later' product provides buyers greater flexibility to purchase higher-ticket items and check out with larger cart sizes, knowing they can pay over time.
Faster checkout times
Buyers using Shop Pay Installments benefit from Shop Pay's seamless, accelerated checkout experience. Since it's the only fully integrated 'buy now, pay later' solution on Shopify, buyers aren't redirected from checkout—unlike with other installments products. This means merchants don't have to worry about overselling due to limited quantities or during flash sales.
Shop Pay Installments offers a 30% faster checkout experience to return installments users. With our product, return users have a 69-second checkout time compared to a 104-second average checkout time on third-party installments solutions. Comparing first-time installments users, Shop Pay Installments has a 122-second checkout time versus a 167-second average checkout time on third-party solutions, which makes our 'buy now, pay later' product 27% faster.
When buyers start the check out process with our product, we also observed a 28% decrease in the checkout abandonment rate for merchants that switched from a third-party installments solution.
A faster and smoother checkout experience keeps customers within the store and drives more conversion.
Tap into Shop Pay's 60M user base
Installments is one of the many great features of Shop Pay, Shopify's fastest checkout option, available to buyers. With Shop Pay Installments, merchants can also tap into Shop Pay's 60 million base of users—a highly active and engaged audience. Consisting mostly of U.S. buyers, this customer base is the most extensive among 'buy now, pay later' providers.
These buyers are already using the accelerated checkout to benefit from its advanced features, such as one-tap checkout, free carbon offsets, and package tracking on the Shop app. In addition to having access to all of these advantages, buyers can now choose to pay in 4 equal installments at participating shops that offer Shop Pay Installments.
Shop Pay Installments is still in the early access phase and is currently only available in the United States to eligible merchants using Shopify Payments. We will continue to roll out our 'buy now, pay later' product to more merchants in 2021. If you want to sell more and offer your buyers a flexible way to pay, secure a spot on our waitlist to add Shop Pay Installments to your store.
Shop Pay Installments are offered by Affirm, are subject to an eligibility check, and may not be available in all states. CA residents: Loans by Affirm Loan Services, LLC are made or arranged pursuant to a California Finance Lender license.
by Saad Atieque