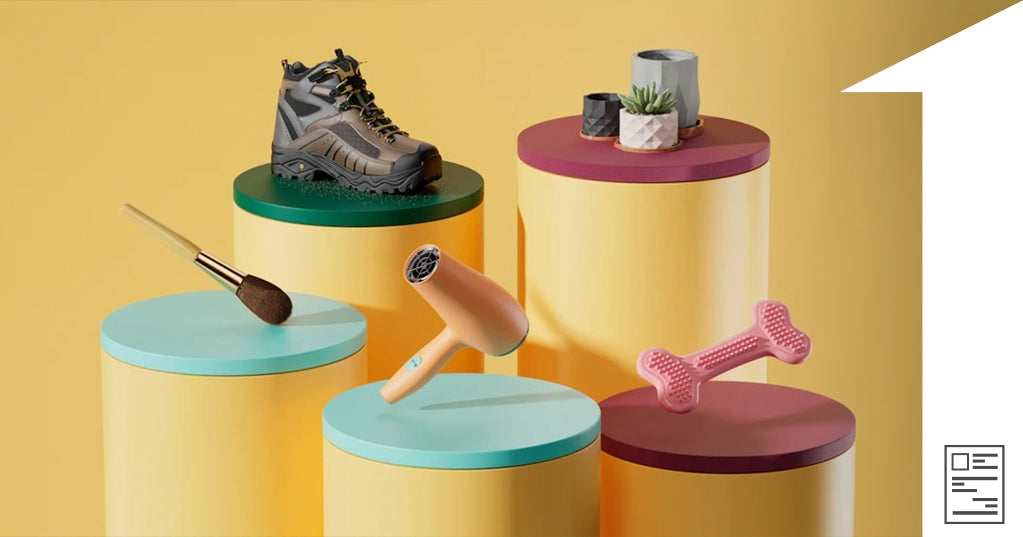 To succeed in ecommerce, you need three things: in-demand products to sell, the skills to market them, and the drive to succeed.
You already have the winner's mindset—you're continually learning, researching, and preparing for success. But finding popular products to sell can be a challenge. That's why we update this list every year to help you uncover new trending product ideas.
In this list, you'll find trending products for 2021 that will (hopefully!) help you discover new business ideas—or maybe give you an idea for a great product to add as a product line extension. Since each niche product is meant for a distinct audience, we are also sharing relevant marketing tips for reaching new customers.
The products on this list were the top trending product categories on the Shopify platform during July to December 2020.
Trending products to sell in 2021
Browse our list of trending products in 2021 you can use to start your online business.
1. Doormats
Global order growth (YOY): 147.8%
Global shops growth selling this product (YOY): 91.7%
Top country: Australia 🇦🇺
Like many home decor items, doormats have become one of the bestselling products online during the pandemic. The more people stay at home, the more inclined they are to spruce it up and create a comfortable atmosphere. Doormats are tougher than the average rug and help people keep dirt and grime out of their homes. 
According to a recent market forecast, there's been high demand for fancy, trendy, and comfortable doormats. Doormats can also be sold by utility, length, material, and end use. For example, you could sell >150 cm rubber doormats to industrial companies or natural coir decorative doormats that match a farmhouse-styled home.
According to Keywords Everywhere, top doormat searches are:
Doormats: 246,000/mo
Funny doormats: 33,100/mo
Indoor doormats: 18,100 /mo
Outdoor doormats: 12,100/mo
Non-commercial doormat buyers are more focused on aesthetics than function. This makes them great for tapping into niche markets. You could run a pay-per-click ad campaign using Google Shopping ads and Facebook ads to attract new buyers. 
Since home goods may keep trending for a long time, you can also build a brand around your niche and optimize your product pages to rank on Google and bring in organic traffic. You can bundle together doormats with other trending products in your store or partner with micro-influencers on social media to target high-intent buyers and drive immediate sales. 
2. Household storage containers
Global order growth (YOY): 276.2%
Global shops growth selling this product (YOY): 115.64%
Top country: United States🇺🇸
One recent trending product cropping up recently is household storage containers. Similar to other trending products in the home goods department, we're probably seeing an increase due to the recent work-from-home trend. Storage containers help people organize out-of-season items or clothing. They can also be used as home decor, depending on the style and room you're storing stuff in, or to store food and supplies.
The search term "storage containers" is generating 135,000 searches per month, with related terms "food storage containers" bringing in 74,000 searches per month and "storage bins" generating 135,000 searches per month, supporting that storage can be a profitable business to start online. There are also many storage container types available to sell, which gives you a lot of new product opportunities as you expand your line. 
Start by narrowing down what kind of containers you want to sell—fabric, metal, cubes, plastic, custom design, bins with lids, food containers, etc.—then promote your product on popular home organization and decor blogs. You can reach out to them online and ask them to link back to products on your website from round-up articles. (People are more likely to buy when they come to your site through an external blog post than an ad.) Then, to win back the sale, run retargeting ads to people who viewed the product but didn't buy. 
Another option is partnering or collaborating with interior designers to help promote new products to their audiences. If a product recommendation comes from a trusted source, shoppers are more likely to buy. 
3. Kitchen towels
Global order growth (YOY): 192.1%
Global shops growth selling this product (YOY): 109.7%
Top country: United States🇺🇸
Kitchen towels saw huge growth in the last half of 2020, and the new trend doesn't look like it's ending soon. The global kitchen towel market is expected to reach a value of $20.9 billion by 2026, according to the latest reports. This is not a trending product you want to miss out on. People can use kitchen towels to spot clean, dry hands, hold hot utensils, and much more. The towels are also extremely durable and can withstand repeat uses and washing.
Competition is high in this industry. Brands like Williams Sonoma, Bed Bath & Beyond, and Pier 1 take up significant market share. However, they all target a similar demographic: older consumers with more disposable income, which gives you a unique selling opportunity.
Dropshipping costs are often lower for kitchen supplies, which means you can charge less than big retailers. You can target younger, niche audiences that don't want to overspend on items like kitchen towels. 
While cloth kitchen towels are the preferred product, research also shows that people are leaning more toward hand-knitted and crochet towels. They are also adopting towels with newer technologies like Through Air Drying (TAD), which are softer and more absorbent. You can upsell kitchen towels with other kitchen supplies, like aprons, placemats, table linens, and more. 
You can market items like kitchen towels online through social media. You can target both older and younger audiences by running relevant campaigns. For example, targeting college students who just moved out of their parents house. Your success on social media depends on how you connect with each segment and create interesting content to attract buyers.
You can create video content to show off the benefits of your kitchen towels. And show other creative uses for them besides just cleaning spills. You can also run seasonal giveaways to promote new towels and bestsellers. For paid ads, Facebook will be your best bet, since you can use its behavioral targeting to find customers based on interests and shopping habits. 
4. Bike saddles
Global order growth (YOY): 115.4%
Global shops growth selling this product (YOY): 76%
Top country: United States 🇺🇸
Remember summer 2020, when bikes went out of stock? Well, it's clear folks are looking for a new way of transportation, because the next trending product on this list is bike saddles. 
Bike saddles play a major role in a cyclists ride. They can be the difference between a comfortable trip or a miserable one and can even cause injury if you sit on the bike incorrectly. The perfect bike seat differs from person to person, depending on their anatomy, riding style, experience, and discipline. Helping people find the best saddle can be a lucrative product for an online cycling store.
Search volume for the term "bike saddles" is getting 22,200 searchs per month. People are also looking for more specific types, such as "comfortable bike saddles" (12,100/mo), "mountain bike saddles" (3,600/mo), and "road bike saddles" (4,400/mo). These terms indicate that you can sell an extensive inventory of various types of saddles to make sales. 
To market this product, you can build a cycling store designed to help cyclists ride more comfortably. You can target ads to customer groups across various disciplines, such as mountain biking or road biking. Create videos to show how your bike seats solve cyclists problems. Or reach out to influencers and have them promote products for you. 
5. Handheld device accessories
Global order growth (YOY): 370.8%
Global shops growth selling this product (YOY): 143%
Top country: China 🇨🇳
Handheld device accessories are one of those trending items with consistent high profit margins. The trend is hotter at some times than others, but people usually look for phone and tablet accessories and gadgets throughout the year. The market is also massive and is projected to reach $284.06 billion by 2026.
Search volume for the term "mobile accessories" gets around 49,500 searches per month, according to Keywords Everywhere. People are also searching for variant phrases like "phone accessories" and "cell phone accessories" which are getting 40,500 and 18,100 searches per month, respectively. These top trending products give you a ton of opportunities to target different customer segments based on their device type (Samsung, iPhone, LG, etc.) and to drive sales. 
Some items you can sell under this category are:
Batteries
Headphones
Portable Bluetooth speakers
Chargers
Cases
Screen guards
Selfie sticks
Promoting this trending product with Google Ads may be profitable. It can help you reach high-intent buyers and bring them into your store to purchase. Another option is using Facebook advertising to target specific groups based on your accessories' design or functionality. People who hike may need durable phone cases, while others may just want a trendy-looking case. You'll want to share product images on platforms like Instagram. There, you can partner up with micro-celebrities and influencers to get your products in front of established audiences. 
6. Toy kitchens and play food
Global order growth (YOY): 229.1%
Global shops growth selling this product (YOY): 124.1%
Top country: Canada 🇨🇦
Toy kitchens have been a popular pastime activity for kids since the 1920s. They're a great way to build fine motor skills, encourage imaginative play, and distract them for a bit while parents are working from home. Today, companies are exploring new and fun ways to reimagine the toy kitchen, from chic, non-binary setups to Alexa-powered kitchens with imaginary cooking tutorials.
With 90,500 average monthly searches for the term "toy kitchens," it's clear they are powering through 2021. 
When it comes to promoting toy kitchens, think of the concept "friends trust friends.". Marketing toys rely on recommendations from influencers and friends, so you'll want to collaborate with nano-influencers and on social media. Customer reviews are always a smart move for selling items like toy kitchens and play food online. Testimonials can help shoppers decide if the product is perfect for them and encourage a sale. 
Create an organic social media strategy around kids using your toy kitchens. Show them in action with photo carousels and videos and include user-generated content from your followers' accounts to build trust with potential buyers. If you have the budget, run a contest to give away free toy kitchens to grow your email or Messenger marketing subscriber lists. You can then create drip marketing campaigns that convert subscribers into customers over time. 
7. Motor vehicle carpet and upholstery
Global order growth (YOY): 106.7%
Global shops growth selling this product (YOY): 85.6%
Top country: United States 🇺🇸
Over the past few months, we've seen car mats and upholstery sales drastically increase on the Shopify platform. This product trend continues to be popular as the demand for customized automotive interiors grows. The automotive upholstery market was valued at $7.63 billion in 2019 and is expected to rise 6.5% yearly until 2025.
There are 74,000 monthly searches for car mats, proving the industry's popularity. Newer search interest is popping up for weathertech floor mats (135,000/mo), custom car mats (8,100/mo), and rubber car mats (8,100/mo). 
When marketing top-selling items like car carpets and mats, you really want to understand your target market. For example, if a customer is outdoorsy, they'll likely want a durable, rubber mat to protect their floors. If they are big sports fans, a branded car carpet may be a great purchase.
You can promote items in a number of ways:
Create installation videos and live-action tips.
Start a car blog.
Sponsor a car build or car shows.
Offer a price match guarantee.
Cross-promote with another automotive company.
You'll likely want to explore Facebook ads to send traffic to your website and drive sales throughout the year. If you want to expand your product line, you can easily find new car apparel accessories to sell using a product sourcing app.
8. Bookcases and standing shelves
Global order growth (YOY): 106.7%
Global shops growth selling this product (YOY): 80.6%
Top country: United Kingdom 🇬🇧
There's been a growing trend in sales for bookcases and standing shelves in recent months. People are spending more time at home and looking to spruce up their living spaces.
The term "bookcases" generates 301,100 searches per month, with related keywords like "bookcases with doors" and "solid wood bookcases" reaching 33,100 and 9,900 searches per month, respectively. 
While "standing shelves" generates only 12,100 searches per month, there are many variations you could also target with an SEO strategy, including:
Floating shelves: 550,000/mo
Ladder shelves: 165,000/mo
Standing shelves for bathroom: 2,900/mo
To market bookcases and shelves, you can create a blog with interior design tips and tricks with links back to your products. Then, run retargeting ads to your blog traffic on Facebook or Google. 
You'll want to run Google Shopping ads for high intent keywords like "bookcases for sale." When running ads, test targeting longer-tail keywords based on your product description, like "solid wood bookcases" or "oak bookcases," to attract customers who already know what they want. If you show up in front of them, they're more likely to buy from your ecommerce store. 
9. Bookends
Global order growth (YOY): 109.1%
Global shops growth selling this product (YOY): 108.2%
Top country: United Kingdom 🇬🇧 
Keeping up with our books theme, the next trending product on this list is bookends. Bookends are heavy objects used to hold a row of books in an upright position. They're a great way for customers to spice up their home libraries and make their place a little more homey. 
Bookends come in all shapes and sizes:
Words and text
Mythical creatures
Structures and buildings
Large crystals
Abstract shapes
Sculptures
They also come in different types of materials, like stone, iron, metal, wood, and other heavy things. 
From the seller's standpoint, this leaves you with no lack of options for coming up with new designs—and no lack of customers looking to buy. The phrase "bookends" is receiving 135,000 monthly searches, with more specific terms like "decorative bookends" and "vintage bookends" receiving 2,400 and 1,900 monthly searches, respectively.
If you run a home decor shop, there are plenty of ways to market bookends:
Share "how it's made" content on social media.
Partner up with popular home decor bloggers.
Use Instagram hashtags and stickers on Instagram Stories to let people buy easily.
Run Facebook ads to Messenger and show curated offerings.
Another focus is Google Search. With hundreds of thousands of people searching for these bestselling products online, you can target ads to high-intent shoppers and send them to your store to purchase.
10. Temporary tattoos
Global order growth (YOY): 26.9%
Global shops growth selling this product (YOY): 93.4%
Top country: United Kingdom 🇬🇧
Temporary tattoos are decorative images you can apply to your skin for a short period of time. With the coronavirus pandemic closing many tattoo shops, people are turning to realistic henna-like ink as a new art form. 
The younger generation is driving this cultural change toward tattoos—they're now becoming a fashionable asset for celebrities, creative directors, musicians, and artists. Their temporary counterparts give people a chance to see how tattoos match their style, without the lifelong commitment.
If you want to turn your temporary tattoos into bestsellers, market this trending product on Instagram, TikTok, and Pinterest. You can find influencers to work with and collaborate on designs and run different social ads to different customer groups to drive sales. 
You could use Pinterest to create inspiration boards for different tattoos and trendy designs for potential shoppers. 
On Instagram, focus on publishing carousel posts, which work well for two reasons:
You can show off all the different designs in your store.
No matter what size following you have, carousel posts receive up to 5.13% higher engagement compared to regular posts, according to research from

 

SocialInsider.
11. Needlecraft patterns
Global order growth (YOY): 94.3%
Global shops growth selling this product (YOY): 74%
Top country: United Kingdom 🇬🇧
Needlecraft patterns are another one of the most popular products to sell in 2021. Needlecraft is a decorative sewing and textile art craft that includes embroidery, needlepoint, tatting, knitting, crocheting, etc. It helps reduce stress, keeps your mind active, and is a creative outlet for anyone from hard-working young 20somethings to elderly folks.
The term "needlecraft patterns" doesn't get much search volume (est. 70 per month), however, there are more opportunities for terms like "embroidery patterns," which receives 49,500 monthly searches. Selling in the needlecraft industry gives you plenty of opportunities to expand your product lines. You could sell needlecraft kits and tools for different techniques, like cross stitch or blackwork. 
To promote bestselling products like needlework patterns and kits online, become an active member of forums and Facebook groups to share your skills and insights. Building community in niche markets like these will help you reach your target audience faster and easier. You can sell a needlecraft pattern as a PDF download (not as a finished item) and send customers a tutorial on how to create it. 
If you want to run Facebook or Google Shopping ads, consider targeting audiences by interest, including arts and crafts, embroidery, needlepoint, and more. Use Facebook Audience Insights to find different demographics to target in countries where needlepoint is popular, like the US and the UK. 
12. Hair styling tools and accessories
Global Order Growth (YOY): 245.4%
Global shops growth selling this product (YOY): 110.5%
Top Country: United States 🇺🇸
Looking for a trending product to sell in the beauty industry? Hairstyling tools and accessories are seeing an increase in interest across Shopify, Oberlo, Google, and AliExpress. 
According to data from Keywords Everywhere, the term "hair styling tools" receives 12,100 searches per month, with sub categories like "hot tools" receiving another 33,100 searches per month, variant "hair tools" receiving 12,100 searches per month, and "hair styling accessories" seeing 2,900 searches per month. 
Keywords Everywhere also shows that the top 20 YouTube videos for "hair styling tools" are seeing an average of 1.7M views per month—with topics ranging from hair styling tutorials, reviews, and tips. 
When selling trending items in health and beauty, focus on visual platforms like Instagram and YouTube. You could partner up with influencers in the space and run Instagram ads to hype products and make sales quickly. A more sustainable option is to create your own Instagram profile and publish content around hair styling and hair tools. 
For example, you could:
Do a Q&A on Instagram Live on how to use your hair tools for the first time
Repost user-generated content
Run a contest
Make Instagram Stories highlighting premium product features
Publish product posts with shopping tags
Create funny Reels to promote your products
Publish carousel posts 
Why are product trends like this great for selling items online? You can easily expand your product line to include other popular products in the hair sector to maximize your potential sales.
Time to get selling
These are some of the trending products to sell in 2021, but there are so many more to choose from when deciding what to sell on Shopify. Finding product trends is only one part of the equation. The real secret is figuring out how to market them.
If you're interested in hands-on training that walks you through the process of building a website around a profitable niche and finding the right products, watch our free dropshipping business webinar series. One ecommerce entrepreneur will share how they grew one of their online business ideas to over 8,000 unit sales per year, along with the marketing tactics that worked (and ones that flopped).
by Adam Rogers
Illustration by Rolando Barry