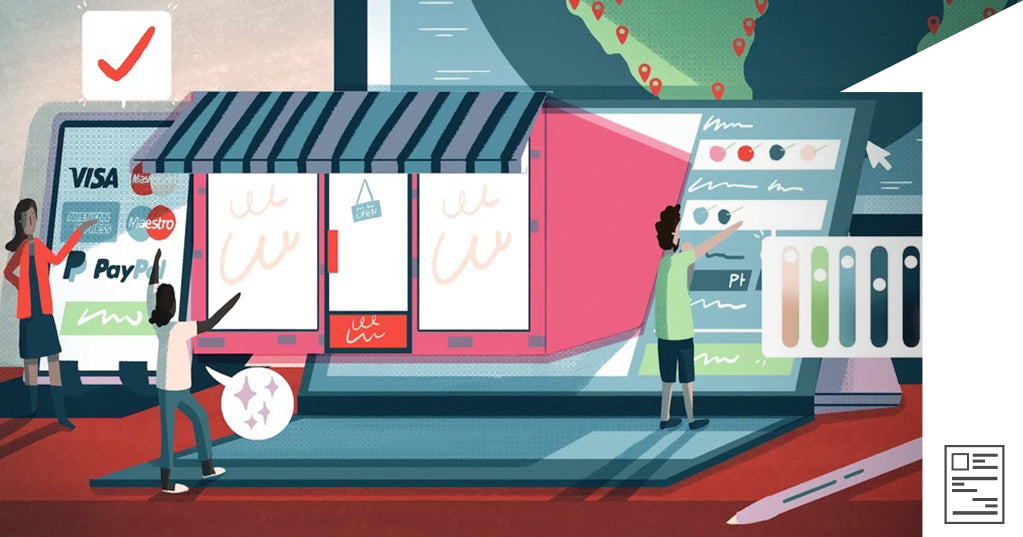 Starting an ecommerce business is exciting. You get to choose your business name, create your logo and branding, and build your website. And while it's easy to consider your needs now, it's also important to think about where your business is heading and what other tools you'll need.
Today, it's not enough to simply choose the best online store builder. Savvy entrepreneurs look for the best ecommerce platform: an ecosystem of tools that seamlessly integrate, giving you complete control over every aspect of your business and the ability to scale as you grow.
Let's take a look at the best ecommerce platforms and how to evaluate which is best for your business needs. 
What is an ecommerce platform?
An ecommerce platform is a way to build and create an online experience that allows you to make sales and fulfill orders—no matter where your customers are or where they like to shop.
While most people think their ecommerce platform is just a tool that lets them list products and accept payments online, a true ecommerce platform is much more than that. Your ecommerce platform should be a complete business command center from where you control everything from inventory to marketing. It should allow you to process payments, but should also give you seamless access to all of the tools you need to sell online, including (but not limited to!) your own online store.
What types of ecommerce platforms are there?
In order to make your online store accessible to the public, you have to have a hosting solution. Hosting stores your information on a server, which allows internet users to visit your site and view all of the content. Every website is hosted somewhere, meaning it has dedicated server space from a provider. Some ecommerce platforms have hosting built in, while others require you use self-hosting or open-source hosting.
1. Hosted
Some ecommerce website builders offer a hosted platform. In this case, you don't need to worry about the mess of self or third-party hosting and the additional fees attached. Shopify stores, for example, include website hosting in every plan. All Shopify updates are automatic and hassle-free, so your site will always be up to date. Building on a hosted ecommerce platform gives you more freedom to focus on running your business—not on putting out fires caused by downtime and the need to fix bugs.
2. Self-hosted
Self-hosted, or non-hosted, ecommerce platforms require merchants to use their own server space or pay to rent space from a hosting provider. This makes ongoing website management complex, as you're responsible for updates, maintenance, and bug fixes. This requires a lot of internal resources that you could otherwise allocate elsewhere.
Self-hosted platforms are typically open source, and you use a third party to host your website data. Third-party sourcing options charge fees for their services, and these costs quickly add up. Many times, these hosting services use tiered pricing structures, so those on the lowest plans don't get much in the way of customer support. This can leave you hanging at really important times, like traffic boosts after unexpected press coverage.
What types of ecommerce are there?
There are four types of ecommerce: B2C (business-to-consumer), B2B (business-to-business), C2B (consumer-to-business), and C2C (consumer-to-consumer).
B2C.

 

This refers to online selling from a business to an individual consumer. You might also hear people refer to B2C ecommerce as DTC, or direct-to-consumer.
B2B.

 

When one business sells to another business online, it's B2B ecommerce. These transactions include wholesale buying, when the purchasing business intends to resell at a profit, as well as for business use—things like office supplies and equipment.
C2B.

 

Consumers also have selling power, as seen when they sell to businesses. Typically, these transactions are less traditional. A consumer might sell their influence in the form of a featured social post, or they might offer a five-star review in exchange for money.
C2C.

 

Consumers can also sell to one another, a trend that has emerged with the popularity of the sharing economy. Platforms like Craigslist, Facebook Marketplace, and eBay offer a place to facilitate C2C ecommerce.
Ultimately, the type of ecommerce business you run will help you dictate which is the best ecommerce site for that business.
What does a great ecommerce experience mean to you?
When you're deep into ecommerce comparison shopping, it's easy to forget why you're picking an ecommerce platform at all. Do you really need to find the best ecommerce platform? At the end of the day, there is no best choice for everyone. Instead, look for the right ecommerce platform that allows you to serve your customers the best ecommerce experience that makes shopping online feel easy.
Beyond simply the best online store builder, think about the other business tools those platforms offer. It's often beneficial to use a seamlessly integrated ecosystem, consisting of your online store, payment processor, POS, and even small business lender. Shopify, for example, has an entire suite of tools that help you manage every aspect of your business, and an App Store with over 4,000 apps to help you customize the experience for your customers and your team. 
The best ecommerce platforms for 2021
Again, the best ecommerce platform comes down to your unique business model and growth plan. Here's an overview of some of the best ecommerce platforms for 2021 to help you evaluate the best option for your business: 
1. Shopify
Price:

 

Basic Shopify: $29.99/month; Shopify: $79/month; Advanced Shopify: $299/month; 10% discount on annual plans and 20% on biennial plans when paid upfront
Free trial length:

 

14 days
Customer support options:

 

callback phone support; email support; support provided in 19 languages; community forum; support content
Integrated sales channels:

 

Facebook, Instagram, Google, Walmart Marketplace, eBay, and Amazon
Mobile app features:

 

suite of mobile tools to fully manage your online business
POS:

 

yes
Shopify is arguably the best platform for ecommerce. Our robust platform comes with complementary tools and features for multi-channel selling, so you can sell directly through your website, at your retail store, on social media and third-party marketplaces, and everywhere in between.
Plus, Shopify handles all aspects of your business—you can use our best-in-class suite of business tools to build a complete business command center. Shop Pay handles payment processing, Shopify POS administers in-person sales, and Shopify Fulfillment can help you get products into customers' hands. And those are just a few of the many powerful tools and apps that work together seamlessly as part of the Shopify ecosystem. You can also tap into our extensive library of third-party apps that can extend your experience with Shopify even further.
With all of these powerful features, you can set up your business with little technical know-how and budget and scale to an international online brand without changing platforms along the way. 
2. Wix
Price:

 

Business Basic: $23/month; Business Unlimited: $27/month; Business VIP: $49/month
Free trial length:

 

no free trial
Customer support options:

 

callback service available 24/7
Integrated sales channels:

 

Facebook and Instagram require third-party app Ecwid
Mobile app features:

 

the ability to manage your website, though lacks key business tools like inventory management; requires separate app to use mobile POS
POS:

 

yes
Wix is a user-friendly drag-and-drop website builder that offers customizable templates, web hosting, and domain name registration. You can build a basic website for free, but you'll have to upgrade to a paid plan to use Wix's ecommerce features.
As far as ecommerce functionality goes, Wix has a few helpful tools. The platform allows merchants to track orders, accept online payments, sell on multiple channels, and create abandoned cart campaigns.
However, it lacks certain features that are imperative for product-based businesses in particular. Shortcomings include the absence of low stock alerts and other key inventory management features. If you have more than 10 or so products, you'll want a platform with more robust inventory tracking tools. Plus, you need to use a third-party app for social commerce integrations. 
3. BigCommerce
Price:

 

Standard: $29.95/month; Plus: $79.95/month or $71.95/month when paid annually; Pro: $299.95/month or $269.96/month when paid annually; Enterprise custom pricing
Free trial length:

 

15 days
Customer support options:

 

24/7 technical support via phone, email, or chat
Integrated sales channels:

 

Google Shopping, Facebook,

 

price comparison engines, eBay, Amazon, Walmart, Etsy, and Instagram
Mobile app features:

 

view analytics, update orders, manage inventory and products, and search for customers; some features are Android-only
POS:

 

yes
BigCommerce is an ecommerce platform well-suited to enterprise-level software companies. Like Shopify and Wix, BigCommerce offers web hosting and lots of customization options. However, you can't register your domain name through BigCommerce, so you'll need to purchase and register elsewhere and port it over.
Valuable features include international selling, SEO tools, and multichannel selling on social and third-party marketplaces. However, with these powerful features also comes complexity.
Lack of flexibility and ease of use were major factors in Grace & Lace's decision to migrate from the platform. It moved over to Shopify Plus, Shopify's enterprise solution, to take advantage of more than just the ecommerce platform—the brand quickly reaped the benefits of having an entire ecosystem of business tools from Shopify.
4. Magento
Price:

 

custom pricing only
Free trial length:

 

no free trial
Customer support options:

 

phone support and online help center/technical support resources available
Integrated sales channels: Amazon
Mobile app features:

 

n/a
POS:

 

third-party extensions available
Magento is a non-hosted ecommerce platform made for developers who want a powerful, flexible system they can customize. And while this offers many benefits for brands that want a completely tailored platform, it also presents a lot of hurdles in the form of complexity and cost. You need advanced coding and development skills to build out and manage the entire infrastructure yourself.
Magento also lacks tools to create a seamless multichannel strategy. There's no easy way to turn on social commerce or marketplace selling with Magento, and the same rings true for foreign currencies. So if going global is in your plans, Magento may not be the best ecommerce platform for you.
Ecommerce site Character.com maintained its complex Magento site with thousands of products, tons of integrations, and solid SEO—despite its poor UX. Magento was limiting and too complex, so it migrated to Shopify. Conversions increased by 40% and its success soon pushed it to upgrade to Shopify Plus to take advantage of even more features.
5. WooCommerce
Price:

 

average monthly fee is up to $30; WooCommerce estimates costs to be $120/year for hosting; $15/year for domain name registration; up to $100/year for your site theme; up to $108/year for shipping; 2.9% plus $0.30 per sale; up to $348/year for marketing and communications; up to $79/year for SEO; up to $65/year for SSL certificate
Free trial length:

 

none, but offers a 30 day money-back guarantee
Customer support options:

 

only available via live chat or email; no support offered for third-party apps and plugins
Integrated sales channels:

 

Google Shopping, Etsy, eBay, Facebook, Amazon, Pinterest, and Walmart; integrations are disjointed
Mobile app features:

 

add products, manage orders, and view analytics
POS:

 

native POS available
WooCommerce is especially familiar to those who know WordPress—WooCommerce is essentially an add-on to the popular blogging platform. WordPress is traditionally for content-driven websites, not ecommerce, so WooCommerce is WordPress's answer to those who want to sell online.
Because WordPress is a content management system (CMS) first and an ecommerce platform second, many of the selling features are simple or rely on adding apps. And while there are plenty of apps and plug-ins you can add to your store, the more you use, the more likely it is you'll break something. And this isn't always a risk worth taking, considering limited support options.
Overall, WooCommerce's fragility and unreliability makes it difficult not only to build an online store but also to maintain it. Plus, it's not hosted so you'll have the added task and cost of managing your website hosting. It also lacks PCI compliance, which puts your business at risk when processing payments.
6. PrestaShop
Price:

 

free
Free trial length:

 

n/a
Customer support options:

 

technical support available through paid support plans; support provided via phone Monday to Friday, 9 a.m.–6 p.m. (GMT+2); help center, technical documentation, and community forum available online
Integrated sales channels:

 

Amazon, eBay, Etsy, and Facebook
Mobile app features:

 

n/a
POS:

 

available as add-on modules
Prestashop is an affordable open source ecommerce platform that's great for beginning businesses that have a somewhat technical background. There's no built-in customer support and integrations can be hit or miss, so PrestaShop users do a lot of troubleshooting themselves with the help of the community.
Business tools and features include inventory tracking, online shopping cart, international selling, and analytics reporting. You also have lots of control over the privacy and security settings on your Prestashop site.
Overall, maintaining your ecommerce site with Prestashop can be cumbersome when it comes to third-party hosting, the multitude of unvetted add-ons and modules, and the cumbersome setup. 
7. Squarespace
Price:

 

Personal: $16/month or $12/month when paid annually; Business: $26/month or $18/month when paid annually; Basic Commerce: $30/month or $26/month when paid annually; Advanced Commerce: $46/month or $40/month when paid annually; Enterprise pricing also available
Free trial length:

 

14 days, and you can opt for a one-time seven-day trial extension
Customer support options:

 

email available 24/7; live chat available Monday through Friday, 4 a.m.–8 p.m. ET
Integrated sales channels:

 

Shopping Feed extension to sell on Amazon, eBay, Etsy, and Google Actions
Mobile app features:

 

website editing, scan shipping labels, order management, inventory management, and customer communication
POS:

 

available via mobile app
The next website builder with an ecommerce platform option is Squarespace. Like Wix, Squarespace uses drag-and-drop functionality which requires little technicality. Both platforms are primarily website builders, not online selling platforms, so they require a fair amount of tweaking to add ecommerce functionality.
Squarespace requires time and patience to set up if you want to sell online, not to mention there are only two payment integrations. If you have the budget, you may even outsource it. Once you've set up the ecommerce function, Squarespace has decent inventory tracking tools. Higher-tiered plans also come with the ability to sell gift cards or subscription-based products.
If you don't want to deal with the hassle of the backend in Squarespace to turn your website into a full-blown online store, you can simply add the Shopify Buy Button. For just $9/month, you can add a small embeddable code to your Squarespace site and leverage Shopify's advanced ecommerce tools to handle the rest. With them, you get to add unlimited products, use secure checkout with more than 100+ compatible payment gateways, track sales and growth trends, easily integrate orders and shipping, and get global tax and currency support. 
8. Big Cartel
Price: 5 products:

 

free; 50 products: $9.99/month; 250 products: $19.99/month; 500 products: $29.99/month
Free trial length:

 

none
Customer support options:

 

email available every day 8 a.m.–6 p.m. ET
Integrated sales channels:

 

n/a
Mobile app features:

 

store analytics, add/edit products, track order shipping, manage discounts, and print packing slips 
Point-of-sale:

 

requires third-party integration
Big Cartel is a fully hosted ecommerce platform and website builder that is specifically designed for makers, artists, and crafters—the types of businesses you'd expect to see on Etsy. Big Cartel has customizable templates, domain name registration, and marketing tools.
While you can change the look and feel of your site, Big Cartel limits merchants to five images for each product. Payment and integration options are also limited, so this platform makes it much harder to scale as a multichannel business.
Pricing is based on how many products you sell, so it can get pretty costly as your business and product collections grow. 
How to choose the right ecommerce platform for you
If you've figured out how to start an online store and are ready to choose which ecommerce platform is best for you, there are a number of considerations. The best ecommerce platform for you might be different from the best platform for another merchant—you need to consider your unique business needs and goals.
Many merchants choose the easiest and most affordable online store builder, which often leads them to Shopify. But there's more to the decision than day to day use and cost. You need to think about where your business is headed and anticipate your future needs—and find a platform that can anticipate those needs as well.
Now, it's about finding the best platform for commerce—online and in-store and everything in between. This means you need a best-in-class online store and best-in-class suite of business management tools. Look for a platform that consistently invests in its technology and stays ahead of the curve when it comes to commerce. Your website builder can become so much more than just a platform where you do business—it can be a vehicle for growth.
When evaluating your choices, think through the following scenarios:
I need to sell my products online, offline, and to all my customers—no matter where they are—and accept payment for those sales.
I need to deliver my products to my customers in the best way for my business.
I need to engage my current and future customers to grow my business.
I need to operate my business day-to-day, doing everything from managing my finances to making sure my strategies are working, learning new tactics, and getting technical support when I need it.
Know your costs
While budget shouldn't be the only deciding factor, it's certainly an important one. Your ecommerce website costs could be below $100, but you'll likely put more than that into your business before you start recuperating your investments, especially upfront.
According to our research, most small business owners spend about $40,000 during their first year—and only 9% of that goes to online business needs. (Though Shopify merchants spent an average of $38,000, while non-Shopify merchants came in closer to $41,000.) And when you have a platform that supports your business needs, you can make the money back or offset it with your profit margins.
With so many other aspects of your business to fund, it's important you find an ecommerce platform that won't suck your budget dry but still has the features you need to operate your business and make a profit.
When evaluating costs, look at more than just the setup and monthly fees. You'll also want to account for payment processing fees, costs for adding integrations, and potential fees for customer support (PrestaShop, for instance). Remember, if hosting isn't included, you'll need to figure that in as an added expense too. 
Find a good fit for your business model
Selling online takes many forms. You might sell tangible products or digital products, and other business models have emerged as well. If you dropship, for example, you'll want an ecommerce platform that can easily connect in the backend to streamline operations.
A platform like Shopify has tons of apps you can add to your site to make selling easier for different business models. There are apps for print on demand and subscription businesses, for example, that make it easier to run on Shopify compared to other platforms.
Look for safe and reliable checkout and payment gateways
Checkout is a core component of your ecommerce site. You need a protected and dependable way to accept payments, while ensuring the process is quick and painless for shoppers. Shop Pay, for instance, increases checkout speed by 4x. Shopify also offers simple integrations with over 100 payment gateways, so you can offer the most relevant options for your audience, no matter where they are in the world.
Plus, it's extra important to instill trust at this stage, so you'll want to accommodate familiar payment methods like mobile wallets and PayPal. These known platforms can make customers more comfortable providing payment information and make their checkout process easier at the same time. 
Consider your future business goals
While your business might have humble beginnings, you likely have a vision for where you want to take it in the future. These goals are important to think about even if you don't plan to become a global brand.
You might also want to add physical retail to your business at some point. With a limiting ecommerce platform, POS integrations may be cumbersome. You risk having inaccurate inventory data due to disjointed online and in-person systems. With a platform like Shopify, everything is tracked and synced in a single place. So you'll have accurate inventory and sales data at any time—and you can be up and running for in-person sales in a matter of minutes. And you can also add services like local delivery and take advantage of the Shopify Fulfillment Network.
Many businesses need additional funding down the line. In fact, as many as two-thirds of entrepreneurs pull from personal savings to fund their business in the early stages, as many as 23% borrow from friends and family, and 21% use personal loans, according to our analysis. But there are other business funding options that pose less risk to personal relationships. Look for ecommerce platforms that provide assistance to merchants, like Shopify Capital small business lending. 
Start selling online with Shopify
Selling online with your own ecommerce website has never been easier, faster, or more scalable. Shopify is a single platform that lets you sell wherever your customers are—online, in-person, and everywhere in-between.
Start Your Journey
Illustration by Rachel Tunstall
by Alexandra Sheehan