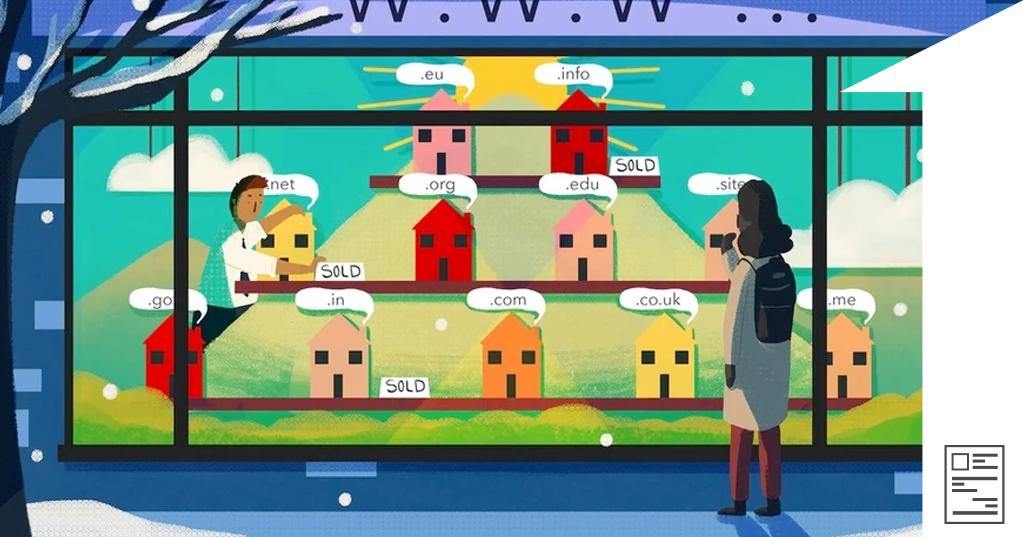 A domain name is more than a digital address where people can find you online. It's how you express your identity and build a brand. But choosing a memorable domain name for your business takes some consideration. 
What should a customer feel when they hear your domain name?
Does it cover all the products you sell? 
Should you include keywords for SEO or go with a brandable domain? 
While domains are affordable and easy to register, there's a lot more than you may think to finding the perfect domain name—which is why we put together this guide. 
With domain name examples from the best ecommerce websites and tools to generate business name ideas you can start an online store right away and get selling fast.
How to choose the best domain name
Here are some domain name best practices to follow when brainstorming one for your brand:
Keep your domain name short, brandable, and memorable
Avoid hyphens and numbers
Choose a .com domain name
Check for other top level domains like ccTLD's or .shop
Include SEO keywords in your domain name, if possible
Research your desired domain name
Use a domain name generator for inspiration
Keep your domain name short, brandable, and memorable
If you already have a brand name, try to register it as your domain. This makes it easier for people to find you online and connect your business to your website. Regardless of the name you choose, it should be easy to remember and type. 
Aim to:
Keep your domain name under 15 characters
Avoid slang (ie, don't use "U" instead of "you")
Avoid words with complex spelling and meanings
For example, the Los Angeles County Museum of Art's online store could have used thelacountymuseumofartstore.org. Do you see something off here? Beside the domain being too long, what stands out are the words "fart store"—not the best look for a brand selling stuff online. 
Instead, the brand chose thelacmastore.org—a short, sweet, pronounceable domain name people will remember.
Some brands, like Biko, also get creative with their domain name by making it relatable, yet clear. The domain name ilovebiko.com puts shoppers in the right mindset once they land on the page. 
You get the idea. Above all, make your domain name simple and brandable so people can find you online.
Avoid hyphens and numbers
People mistype stuff all the time—you can't control it. But you can lower the chances of people mistyping your domain name by omitting hyphens and numbers. For example, using "4" in place of "for" could confuse people on what to type when looking for your site. 
Avoiding numbers and hyphens also makes your domain name mobile friendly. When you type out a URL on a phone, you have to switch between alphabet and numeric keyboards—which leaves more room for typos, misspellings, and confusion.
You'll want to avoid:
Combining numbers and words:

 

c00l-d0main.com
Hyphens:

 

cool-domain.com
Abbreviations:

 

coolest-domain4u.com
Doubled letters:

 

coolesttopdomain.com
One exception to these guidelines is if your brand name includes a number. Clothing retailer 3sixteen, for example, uses the domain name 3sixteen.com. It's consistent across its branding, social media handles, and merchandise. So in this case, the domain name is identifiable and brandable, making it less likely shoppers will get confused by the number. 
Choose a .com domain name (but don't worry if you can't get one) 
When it comes to choosing your domain extension, there's debate on which one gets you more traffic. The .com extension is the most established and most credible, with over 78% of businesses using it. Many smartphones also have a ".com" key, which makes it easier to type your domain name. 
Check for other top level domains, like ccTLD's or .shop
Sometimes you may find a desired name unavailable with the .com extension. If that's the case, don't stress. Here are a few other top level domain (TLD) suffixes to consider:
A good option for brick-n-mortar businesses in a specific city, for example, .london or .boston.
A solid choice for retailers who want to reach international markets.
This is a global alternative to .com for all languages and cultures.
If you have a non-profit business, .org will help you stand out. 
This is a good alternative for ecommerce websites, because it's clear and concise.
A good option for small business owners and online retailers.
A good choice for wholesalers or B2B ecommerce stores.
If you're selling in another country, like the UK or India, try to search for country code TLDs. For example, Suta, a Shopify merchant from Mumbai, uses the .in extension rather than .com. The domain name is still clean and memorable and can be found without thinking about it. 
Include SEO keywords in your domain name, if possible
Try to use keywords in your domain name search, but only if it makes sense. A keyword in your domain tells search engines what your website is about. If you have a good user experience and quality content, you could rank higher in Google search results. 
You'll need to get creative and mix keywords with your brand name to make it stand out. Start with a few broad keywords that represent your products, then add your company name. 
If you sell apparel, for example, the term "apparel" could work well in your domain name. Try the formula [brand name] + [broad keyword] = [domain name]:
Sunday

 

+

 

apparel

 

= sundayapparel.com
Diane's

 

+

 

candles

 

= dianescandles.com or candlesbydiane.com
Cosmik

 

+

 

masks

 

= cosmikmasks.com
Stick to one or two keywords. More can feel spammy and drive people away from your site. 
A great example of this comes from Verve Coffee Roasters, a coffee brand from Santa Cruz, California. It chose the domain name vervecoffee.com, which covers both brand and broad keyword and is memorable and relatable for site visitors. 
 Use a domain name generator for inspiration
Feeling stuck on choosing a domain name? You can pull ideas from Shopify's free domain name generator. Load the tool, plug in a keyword, and we'll return popular and alternative domain names you can use for your business. 
Sneak peek: Say you want to sell hats, here are a few options available right now:
Not the right domain name for you? The domain name generator also shows alternative options. 
Research your desired domain name
Once you pick a good domain name, you'll want to check if the domain is already registered. You can use Shopify's Domain Search tool to see a custom domain's availability. Another common way to to search through WHOIS—another domain lookup tool.
Before committing to a domain name, you'll want to make sure that no other business is using the same one. There are three ways to check:
Run a trademark search.

 

Head to USPTO.gov and

 

search the trademark database

 

to see if anyone registered a similar name.
Check social media.

 

Search Instagram, Facebook, TikTok, and other relevant social media channels to check your name's availability. This will come in handy when you go to create your accounts, too. 
Do a Google search.

 

Last but not least, type your desired name into Google to see if anyone is closely tied to your brand.
What to do if your domain name is taken
Sometimes that great domain name you're after will be registered already. In that case, there are a few options: 
Try to buy it from the owner 
Sometimes people buy domain names to sell to companies like yours in the future. If someone already owns the exact domain you want, try getting in touch with the owner and make an attractive offer. Find their details on the WHOIS database and contact them to discuss buying the domain. 
Opt for a variation 
Brainstorm new domain names with variations of your original one. You could switch things around and create a different version of your brand name. For example, if katysimons.com is taken by an IT consultant, try katysimonsprints.com or ksimonsillustrates.com instead for your illustration business. 
You could also register a ccTLD based on where your business is located — whether it's city-specific (.nyc, .cdmx) or country-based (.mx, .de). This could help you target customers in specific countries and boost your search ranking in international markets.
If you're an online retailer, an easy variant you can use is [shop] + [brandname].com. For example, Horne, a Shopify merchant selling modern decor, uses shophorne.com. 
You can also discover variations using a business name generator to uncover new names you haven't thought of. When you're ready, you can search for a new domain and instantly check availability with our Domain Name Generator. 
Try for a different top level domain
If your domain name is not available in the .com extension, try to get a different TLD instead. As long as the current .com domain isn't trademarked or in a similar niche, you could register using .co, .shop, .biz, or other trustworthy TLDs.
To check for trending TLDs, head to NameStat. You can check the biggest selling and fastest growing TLDs to help decide your domain extension. 
To see which TLDs to avoid, check Spamhaus, a tool that analyzes the TLDs with the worst reputations, so you can create a trustworthy domain.
Once you find some great ideas, you'll want to take the final step in choosing a domain. 
How to register your domain name 
With over 370 million domain registrations as of September 2020 and a 3% year-over-year growth rate, you want to lock in your domain fast. 
If you're starting an ecommerce business, you can buy a domain name when registering your Shopify store rather than searching another domain registrar like GoDaddy or Namecheap. By using the Domain Name Generator, you can find and register a domain name in just a few clicks. This will save you time getting your store live, so you can start selling faster.
If you're not ready to register your domain name yet, that's OK. You can use an auto-generated free domain name: yourstore.myshopify.com. That way, you can design your Shopify store and buy the best domain name for you when you're ready.
Using your domain name as a competitive advantage
A domain name isn't just a web address in someone's browser. It's how to position your brand and present yourself to the digital world, whether you're blogging or selling products online. 
Your domain name doesn't need to be overly clever for it to be perfect. Instead, choose one that is simple, memorable, and has a nice ring to it. You'll look more professional and gain instant credibility with your shoppers, which will likely lead to more awareness and sales for your business.