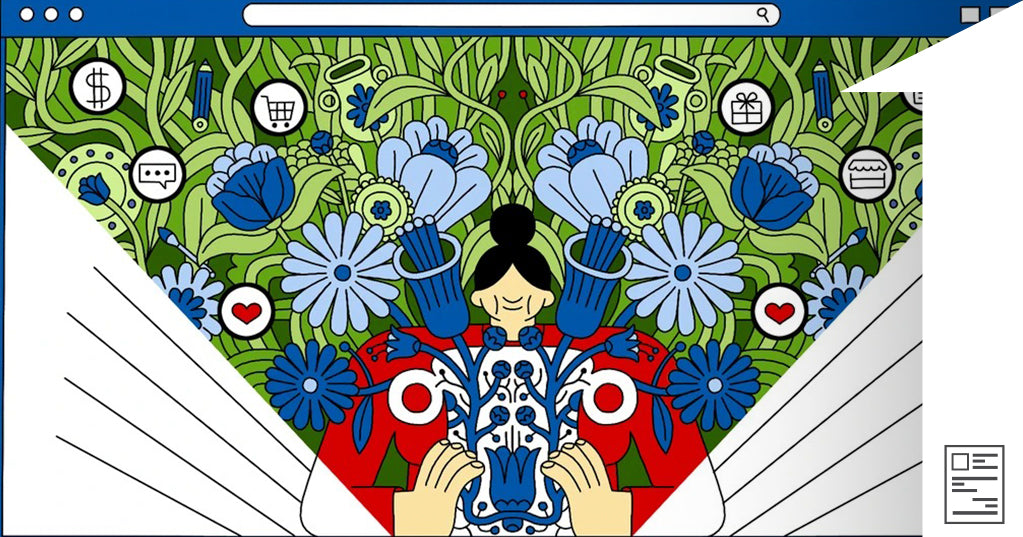 Etsy, one of the biggest online marketplaces in the world, has the potential to turn your side hustle into a full-time business. Small-business owners can meet their ideal customers, selling crafts, handmade jewelry, and art to the millions of people searching the marketplace with their credit card in hand.
Etsy saw hockey stick growth throughout the COVID-19 pandemic. Now, more than five million sellers serve 90 million active buyers—up 50% year-over-year, from 60 million back in 2020. 
Want to get in on the action by opening your own store? This guide shares step-by-step tips to selling on Etsy, with insights from founders and small-business owners who've turned their storefront into a full-time business. 
The Etsy seller handbook 💻
How to sell on Etsy
The costs of selling on Etsy
Outgrowing Etsy: case studies with Etsy sellers
When should Etsy sellers add an online store?
How to migrate your products from Etsy 
Etsy is a launchpad for small business
How to sell on Etsy—a quick-start guide
1. Determine if Etsy is right for you
The first stage in opening an Etsy shop happens long before clicking the "Start selling" button on Etsy's homepage. First, take a moment to decide whether Etsy is the right marketplace for your small business. 
Much like Amazon or eBay, certain items sell faster on Etsy's marketplace than others. Items in the home and living, art, and jewelry categories are most popular with buyers—that's why the sales channel is popular with crafters and those selling handmade items. Selling items that fit within those industries? You'll likely find potential customers through Etsy.
Similarly, while Etsy has buyers all over the world, the marketplace is more popular in some countries than others. Some 30% of Etsy sellers are based in the UK; another 20% in Canada. Other European countries—including Germany, France, and Italy—make the shortlist. However, it may not be the best place to call home if your primary audience is outside of those most popular regions.
2. Create an Etsy account
Decided that Etsy is right for your small business? 
The first step to selling on the marketplace is to open an account. Head to the Etsy.com website and click "Open your Etsy shop." Enter some basic personal information—like your first name and email address—to create an account. Every Etsy account is free to create.
3. Open your storefront
Once your account has been created, you can use it to open your Etsy shop. Begin by entering your shop preferences, including the language you'll use to describe your products, the country you're selling from, and the currency you'll charge customers in.
Next, enter your shop name. This can be a combination of letters and numbers without spaces. 
Unsure what to call yours? Find ideas with Shopify's business name generator. Choose one that suits the products you're selling and isn't already in use by another Etsy store owner.
4. Upload products
As soon as your new Etsy shop has a store, you'll be able to start selling items. Create a new listing for each product you're selling through the marketplace—be it vintage items, handmade goods, or arts-and-craft supplies.
Arguably, the most important factor of each Etsy listing is the visuals you're using to sell the item. When shopping online, people buy with their eyes. They can't touch, smell, or see the item in the flesh. Their decision to buy your Etsy product rides on excellent product photography.
You can add up to 10 high-quality images or one video per listing. Each must be eye-catching enough to stand out against items being sold by other sellers on the marketplace. 
Scroll down and you'll see an option to add more information about the product you're listing. This includes: 
A product title
Information about the listing, including who made it and when
The category it slots into
The listing type (more on this later)
Whether it's a physical or digital product
A product description containing your unique selling point (USPs)
Think about search engine optimization (SEO) best practices when optimizing an Etsy listing. Remember: the marketplace is built on a search engine that connects buyers and sellers. Make sure you're meeting potential customers in the results page by including keywords in your Etsy listing.
Set the pricing for your product under the Inventory and Pricing section. Enter the amount someone will pay for the item, how many you have available, and the SKU (if you use them). You can also add variations, such as items in a different size or color, at this point.
Finally, upload the shipping information customers will need to know when buying your product through your new Etsy store. Specify where you're shipping the product from and your average processing time—how long it takes for you to pick, pack, and ship the item once an order confirmation comes through. 
Choose whether you want to offer fixed postage prices or delivery upgrades. If you're shipping items to international customers, add a tariff number for customs. 
As a new seller, it's advised to upload at least 10 listings when you're opening your Etsy store. Just make sure to preview all listings before publishing. You don't want customers to see a less-than-perfect listing when they're viewing your products for the first time.
5. Choose how you'll get paid
Happy with your inventory? On the next page, you'll be asked to choose how you want to get paid. 
First, select whether you're an individual seller or incorporated business. Then, enter your personal information, including your name and address. Finally, enter the details of the bank account you want to receive your Etsy revenue in.
6. Set up billing
It costs money to start selling on Etsy. After entering information about how you'd like to receive payments, you'll be asked to choose a payment method. This is how you'll pay to publish your listing and open your storefront. 
7. Customize your storefront 
The final step in opening an Etsy shop is to customize your new storefront: the information potential customers will see when visiting your store profile. To do this:
Upload a profile and banner photo.

 

Put yourself, your products, or your business' logo at the front and center of your Etsy store.
Create a user profile.

 

Introduce yourself as the shop manager and put a face to the products you're selling through the marketplace. Give potential customers confidence that a real human is on the other side of the screen.
Tell people about your new store.

 

What do you sell? Why? How did your store come to life? Give first-time visitors to your new Etsy storefront a bit of background about you and why they should buy your products. 
Upload your shop policies.

 

Delivery, payment options,

 

returns, exchanges, and privacy policies are boring, but essential. Make the terms of buying from your store clear from the outset to avoid any confusion with Etsy customers. 
JewelleryGBShop's Etsy storefront has a custom profile photo, banner, and featured items banner to impress visitors. 
The costs of selling on Etsy
While there is no cost to create an Etsy store, there are some extra charges associated with selling on Etsy. Let's take a look at some of the biggest. 
Listing fees
Listing fees are one of the most popular Etsy charges. Sellers are charged $0.20 for every new listing they upload to their store—a fee that has to be paid regardless of whether the listing results in a sale or not. 
By default, listings are shown on Etsy's marketplace for four months (or until the item has been sold). If auto-renew is toggled on in the listing information, you'll be billed the same $0.20 amount once the four months are up. 
Transaction fees
Sold an item through Etsy? There's a 5% transaction fee you'll need to pay to the marketplace in return for facilitating the sale. That's in conjunction with the postage, shipping, and gift wrap pricing of each listing. 
Sellers in the UK, France, Italy, Spain, and Turkey also need to pay a Regulatory Operating fee (ranging from 0.25% to 1.1%) on each listing. It's charged on total revenue—the product price and any shipping fees you've charged the customer.
United Kingdom:

 

0.25%
France:

 

0.4%
Italy:

 

0.25%
Spain:

 

0.4%
Turkey:

 

1.1%
Payment processing fees
Throughout the process of setting up your Etsy store, you'll already have entered the bank information for the account you'd like to be paid into.
Store owners can also opt into Etsy Payments, where buyers can choose from a list of alternative payment options, like PayPal, Apple Pay, Google Pay, and Klarna. Enabling Etsy Payments means being subject to its payment processing fees. The marketplace will take 4% of a sold item's revenue, plus another $0.20 payment fee. 
Sellers in certain countries—including Mexico, the Philippines, and South Africa—will also need to meet minimum payment thresholds before their Etsy revenue is in their bank. 
Currency conversion fees
Etsy does all of its business in US dollars. While you can sell items in other currencies, all of the charges related to selling on Etsy will be billed in USD. The marketplace will convert your funds to your bank account's currency before transfer, but note that this currency conversion won't always be the market value. 
Etsy may also take a 2.5% currency conversion fee when you're doing business using a currency other than USD. 
Offsite Ads fees
While you can have a perfectly optimized product listing that reaches potential customers in the Etsy search engine, the marketplace knows that, sometimes, buyers want to add fuel to the customer acquisition fire. It helps sellers do that through advertising.
Sellers can opt into Offsite Ads, where their products are shown across Etsy's own marketing and advertising channels. Founders can have their products appear in Etsy's Facebook, Google, and display ads—all without having to manage advertising accounts themselves.
But this comes at a cost. Etsy sellers are billed when their product sells through an Offsite Ad. If your storefront made less than $10,000 through the marketplace within the last year, 15% of the order total will be taken as payment for Offsite Ads. Pass the $10,000 threshold and your Offsite Ads fee is discounted to 12%. Either way, Etsy promises that your Offsite Ad fee will never exceed $100 per item.
Etsy Plus
All Etsy sellers have the choice to opt into Etsy Plus. Its subscription package promises to help sellers "take their shop to the next level," with added perks for sellers opting into the $10 per month fee. 
Etsy Plus sellers are immediately gifted 15 listing credits and $5 in Etsy ads credit. They also get added features like:
Customizable shop options
Discounts on custom domains
The ability to email shoppers when an item is back in stock 
Outgrowing Etsy: Case studies with Etsy sellers
Etsy offers an excellent way to start selling quickly and reach buyers where they're already browsing. However, there's often a point where relying solely on a third-party marketplace to run your business can introduce a few hurdles.
These business owners found that in order to grow, they needed to take more ownership over how they were reaching their customers. Fortunately, it wasn't an either/or situation—and they were able to complement their existing Etsy business with a custom online store built with Shopify.
1. Old World Kitchen
Family-run handcrafted business Old World Kitchen originally chose Etsy as its marketplace of choice. A true maker entrepreneur, its business manager, Loran Polder, chose the marketplace because of limited online marketing knowledge. 
Prior to Etsy, Old World Kitchen found ecommerce daunting. The family had no experience with SEO—meaning organically acquiring customers was like fighting an uphill battle. Polder credits Etsy, with its marketplace of customers already looking for the products the retailer sold, with making their business possible.
However, the time came for Old World Kitchen to scale. The small business built online profiles outside of Etsy (primarily Instagram), which helped the brand become stronger and more defined. The progression away from Etsy was natural. Its target audience changed as it focused on luxury kitchen utensils.
What happened next? Old World Kitchen switched from Etsy to its own Shopify-built online store. Now, it's in complete control of the products it sells, who it sells to, and how. "We were just absolutely blown away, because our conversion rate went up so much," Loran said just after the switch. "We knew we were doing something right."
2. HaldeCraft
"Etsy wasn't the first time I'd sold online, but it was the first time everything was mine and mine alone," says Lorena Haldeman, the owner of HaldeCraft. "I sold yarn that I hand-dyed myself and soap that I made, but my main focus was the ceramics that I'd had a lifetime of making as a hobby."
Much like other maker entrepreneurs, Lorena turned to Etsy. Its millions of buyers were looking for products that Lorena's new business sold—seemingly the perfect fit to take HaldeCraft to the next level.
As the business grew, so did Lorena's challenges. Lorena was adding new items to her Etsy store regularly. But the marketplace forced her to pick one single category for each new item. The result? Lorena says, "The more products I added, the harder it was making categories on Etsy that helped people find what they wanted."
Lorena moved HaldeCraft over to its own Shopify store. There, she was in complete control of how she displayed products—and more importantly, of the categories she created.
"Customers shouldn't have to browse through pages trying to find a specific thing, and a well-designed shop should feel very intuitive," Lorena adds. "It should be very easy to find exactly what you're looking for."
3. Brooklyn Candle Studio
Brooklyn Candle Studio is an ecommerce business that sells eco-friendly soy candles. Etsy was the business' first online home, after its founder, Tamara Main, threw up an Etsy store thinking, "I wonder if I can sell these candles online where no one can smell them."
To her surprise, Tamara's candles became popular on the marketplace. Etsy featured Brooklyn Candle Studio's products in a few of its emails, and retail stores were asking to stock the products in brick-and-mortar locations. 
However, much like many other Etsy sellers, Tamara wanted Brooklyn Candle Studio to grow beyond the limitations of Etsy. So she opened a Shopify store to go alongside her Etsy listings. Her new online store was the retailer's vehicle to grow—especially since she had more control over customers and how to contact them.
Tamara explains: "What led me to end up with Shopify is it enabled me to import hundreds of discount codes without having to add them in one by one. There was an app for that called Bulk Discounts, which was huge, so all I had to do was upload an Excel spreadsheet."
4. Popov Leather
Popov Leather is a bespoke leather goods manufacturer based in Nelson, British Columbia. It had humble beginnings on Etsy, relying on the marketplace as its sole revenue driver for the first 18 months. It worked: its founder, Ryan Popoff, learned to game the algorithm.
"On Etsy, you have to stand out from the crowd. Very early on, we were looking at how other people were presenting themselves and images, and a lot of it was the white background, like Amazon, whatever the standard is. And so I was like, "How do I stand out from this?"
Ryan continues: "I put a background in our photo and I felt like that increased our presence in the search listings, so people would see all these standard images and then ours would just pop out, so people would now actually click on it."
Just 18 months later, the retailer turned away from its Etsy storefront and toward a custom Shopify store. Ryan recalls the thought process behind the decision: "Maybe if I became a little bit more serious about this and actually started to learn about things like SEO, proper product photography, product copy, all that sort of stuff, and launched a third-party web, like my own website on Shopify, maybe I could grow this thing." 
When should Etsy sellers add an online store?
As you can see, there are upsides to selling on Etsy. Sellers can take advantage of the millions of potential customers already using the marketplace to buy products like theirs. 
But Etsy isn't always the best vehicle to sell online products. Often, it can be more beneficial for business owners to look for an Etsy alternative to go alongside their storefront—or to replace it entirely. Let's take a look at why. 
Gain full control 
Since Etsy is a marketplace, you're ultimately selling on its website, which means you have to play by its rules. This inherently limits the way you can build and present your brand.
Plus, like any sales channel owned by another company, selling exclusively on Etsy leaves your small business exposed to policy and algorithm changes—all without warning.
Moving your Etsy storefront over to an owned platform, like a Shopify store, gives you full control over your website, brand, and online business. The appearance of your store, any special offers you're giving to customers, and the way you present your products is all under your control.
Bring your brand to sales channels
Etsy is one marketplace or sales channel to reach your customers, but there are many more. Having a central "headquarters" for your business—via an online store—makes it much easier to sell on multiple channels to reach new customers.
Let's put that into practice and say you're running a small business that sells handmade gift cards. Etsy seems like the perfect platform for you to sell your products, right? But there's a downside: you also know that potential customers hang out at the local monthly craft fair. Focusing only on Etsy means you miss out on those local customers.
Even if you do set up shop at the fair, taking cash for your stock or directing customers toward your Etsy store isn't the most effective solution. Asking shoppers to remember your Etsy store URL and visit it later is an uphill battle. The alternative—carrying large lumps of cash around—is dangerous.
A commerce platform like Shopify, however, helps you capture those shoppers wherever they are, whenever you're selling. People can visit your online store and buy items whenever. Point-of-sale (POS) systems allow you to take card payment from customers at the fair. Either way, you're always open for business.
by Elise Dopson