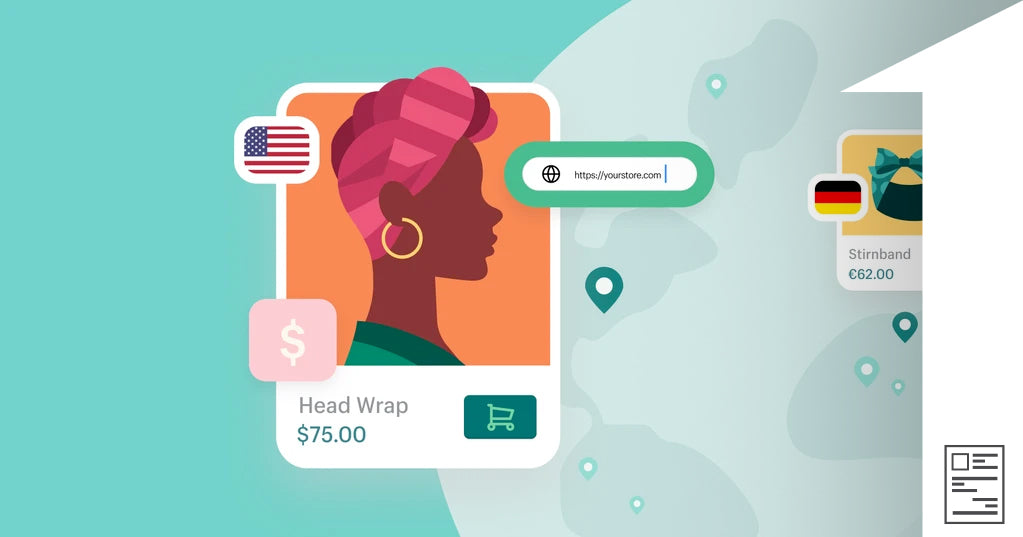 For decades, tapping into the opportunity of global commerce has typically been reserved for the few; the biggest brands with the biggest budgets who could afford to navigate an ever-changing landscape that gets more complicated each year. Understanding the many facets of international selling like currencies, languages, pricing, domains, payment methods, duties, shipping, and compliance (to name a few) and their impact on the customer experience is a job in itself, let alone when you have an entire business to run.
In 2020, worldwide retail e-commerce sales totalled $4.28 trillion USD. By 2024, that number is expected to grow by 47% to a staggering $6.3 trillion USD; it's a massive pie that we want all of our merchants to enjoy a piece of. But to do so, we knew that today's cross-border experience needed an overhaul—one free of multiple region-specific stores and a ton of time and resources to manage them all. We knew that selling internationally needed to be easier, better, more efficient—and just as simple as selling domestically.
Introducing Shopify Markets, our new global commerce solution that helps you easily sell to anyone on the internet—all from a single store.
Shopify Markets helps you scale and optimize your international strategy with everything you need to identify, create, and manage international markets with ease from your Shopify admin. Get up and running worldwide without needing a dedicated team to manage your global operations or dig deep into the minutiae of the new markets you're entering. With Shopify Markets, you can reach new markets and customers in just a few clicks, increase sales with custom buying experiences by market, and scale faster with settings that automatically optimize your business across markets—making global by default the new normal. 
Increase sales with the language of conversion
Giving your international customers a frictionless store experience is critical to expanding abroad. A localized shopping experience indistinguishable from a customer's native experience—no matter where they're located—ensures that your store is welcoming, familiar, and understandable. Shopify Markets helps you localize your online store by creating tailored, meaningful experiences for your customers with currencies, languages, domains, and payment methods that earn trust and drive conversions.
Currencies
Your international customers expect to shop seamlessly in their local currency. Our own data shows that stores which price their products in a customer's local currency increased their conversion rates by up to an impressive 40%.


Shopify Markets allows you to automatically convert your storefront prices to 130+ international currencies with Shopify Payments and rounds the prices up based on the latest foreign exchange rates. This leads to an increased likelihood of international customers making a purchase.  From online store to checkout to notifications and refunds, Shopify provides a consistent multi-currency experience to your international buyers so they can buy from your store with confidence.
Languages
Going local with your site's language can make or break global sales; it creates a good customer experience from first impression to checkout. ​​A survey of 8,709 global consumers in 29 countries found that 65% prefer content in their language when making purchases online. Moreover, 40% won't even buy from websites in other languages.
Shopify Markets simplifies translating your store using third-party translation apps that support a combination of manual and machine translation. (Native translation management support within Shopify admin is coming soon) Similar to currencies, languages work consistently all across your store. Our own data shows a 13% relative increase in conversion when buyers were shown a store translated into their language compared to the same one in the default language.
Domains and SEO
For maximum impact with international customers, don't underestimate the significance of a robust international domain strategy. 
International domains increase the visibility of your store on search engines for international buyers, helps attract new customers, and helps with your store's conversion. Shopify makes setting a region-specific domain strategy easy by automatically creating subfolders when you create a new market. This means that your US market can be at example.com and your Canada market at example.com/en-ca. You can also choose to set a subdomain (ca.example.com) or a country domain (example.ca) for a market based on your preference.
Whatever you choose, Shopify automatically sets the right SEO tags so your international buyers see the right domain in search results. If buyers land on the wrong domain, the Geolocation app can direct them to the right market based on their IP address.
Payment methods
Online payment methods can heavily influence buying decisions. In some regions, customers prefer to pay using alternate services they recognize and trust, which vary around the world.Take North America for example, where credit cards are overwhelmingly preferred, while digital wallets like Shop Pay, PayPal, and Apple Pay are a close second. In contrast, bank transfer-based payment methods are most popular in many European countries. In the Netherlands, over 69% of transactions are made using a domestic payment method called iDEAL.
Offering your international customers local payment methods can have a significant positive impact on conversion. For example, our own data showed that adding the payment method Bancontact led to a significant increase (of 150 basis points) with Belgian buyers. Once you're showing prices in multiple currencies, Shopify Markets makes it easy to add major European local payment methods to your checkout to help reduce abandoned carts. This is an area of significant investment for us, and we plan to add support for popular payment methods around the world soon. 
Duty and import taxes
International buyers can find it unclear if additional duties, taxes, and other fees will apply to their purchase, or how much they'll have to pay in total—which can result in less-than-ideal customer experiences, parcel refusals, and chargebacks. As such, Duties and import taxes are an important facet of your international commerce strategy.
Shopify Markets makes it easy for international customers to have a high-trust experience with your business by collecting duty and import taxes at checkout. This gives your customers total cost clarity at checkout and fewer nasty surprises at delivery—all while ensuring you stay compliant in each market you do business in.
Global expansion on your terms
Shopify Markets lets you view and control all your settings from a single place, and understand your market performance at a glance to make the best decisions for your business. Behind the scenes, Shopify data provides options, settings, and recommendations to guide your international strategy and remove the ambiguity of scaling worldwide.
Configurable market areas
Shopify Markets lets you organize your international business in the way that makes sense for you. Depending on your business, it could be more viable to manage countries or regions as a group rather than individually, which can help you consolidate your strategies to be more efficient and expand more broadly without having to duplicate your localization work. For example, you may want to create a single market for all of Europe or Asia Pacific—you can do this and still present prices in local currency and payment methods to your buyers in those markets. 
International pricing controls
One size doesn't always fit all—and that's as true for pricing as it is for anything else. The strategy that works in your primary market likely won't be the same for every market you want to expand to.
Shopify Markets helps you take greater control of your pricing strategy from a single store by setting custom product prices per market. If you're looking to adjust your store's profit in international regions to account for the different shipping, you can make quick percentage-based adjustments by market. Or, if you need to set specific prices for select products in different regions based on your agreements with resellers or retailers in that region, Shopify Markets lets you do that—both within the admin and by using a product CSV.  
Market-specific inventory and fulfillment controls
If you have warehouses or inventory locations in different regions around the world, Shopify Markets will let you surface the right inventory to your online store based on the inventory locations that ship to a particular market. For example, if you have a set-up where the US warehouse ships exclusively to North America and a German warehouse ships to Europe, buyers in Europe will only see the inventory in the German warehouse. This will help avoid situations where you oversell inventory when you have multiple warehouses in different markets. 
Smart settings
Staying on top of changing market conditions and international best practices is a job in itself, and one you shouldn't have to take on with everything else on your plate. That's why Shopify Markets uses data and insights from nearly one billion international Shopify orders to help you enter new markets faster and start converting right away. When enabled, smart settings monitor how your business is performing in your activated markets and make automatic changes and optimizations for the best results.
Coming soon: More customization
Customizing your store's pricing and fulfilment by market is just the beginning. Soon, we'll be releasing additional functionality that gives you greater control over your international market experience and operations including:
Market-specific content:

 

Go beyond translation by displaying fully unique content to your customers in specific markets.
Market-specific product catalogs:

 

Customize what you sell by market to align with buyer preferences, seasonality, and regulations.
Payouts:

 

Route payouts made in different currencies to different bank accounts based on your business's unique needs.
The future of international selling is here
Global e-commerce isn't an option anymore; it's a necessity, and your company's growth, perhaps even its future, depends on it. It's why we've made selling internationally easier than ever with Shopify Markets: to ensure your business's global success like never before possible—no expertise or coding required.
by Rohit Mishra