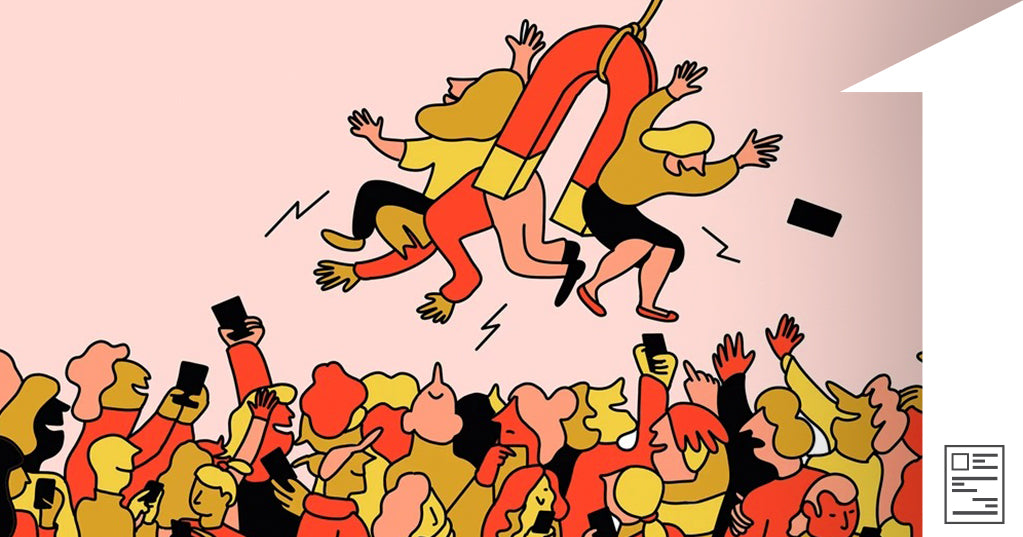 In addition to providing products and services for customers to purchase, a major part of a retailer's time is often spent getting the attention of those customers.
Getting your prized products in front of as many eyes as possible is one of the primary goals of almost every entrepreneur. But what if you could optimize your promotion efforts?
One way to resonate with current and potential customers is getting to know them and then tailoring your marketing efforts around your target audience.
This guide will walk you through how to figure out who your target audience is, reach them, and keep them around to improve sales and retention in your business.
Find your target audience 🕵️
What is a target audience?
A target audience is the group of people your marketing and advertising efforts are aimed at. When you have an ecommerce business, identifying your target marketing is important. It helps you find new customers easier and bring interested buyers to your website, resulting in higher conversion rates and sales.
Why find your target audience?
It helps you market smarter
By knowing who you're talking to, you can market more effectively with tactics that resonate more strongly. Having insight into what works and what doesn't work can help retailers double down on effective campaigns and pull back on the duds.
Marketing to your audience segments is more strategic in terms of messaging, imagery, which promotions you push on which segments, and through which channel to engage the customer.
This is extremely important: 91% of consumers say they are more likely to shop with brands that provide offers and recommendations relevant to them, and 66% of consumers say encountering content that isn't personalized would stop them from making a purchase.
For example, if you are marketing to a millennial, you won't have much luck selling them a home in a retirement community via a direct-mail campaign.
It influences product development
Getting to know your customers helps you understand their challenges, struggles, hopes, and dreams—both big picture and day to day. When you put yourself in their shoes, you can improve your offerings.
"The best ideas come from going down rabbit holes," says Amanda Natividad, Marketing Architect at SparkToro. "How to find them? Use an audience research tool like SparkToro to find unlikely niches and sources of influence."
Amanda recommends running queries in SparkToro to learn more about your target audience. To learn "things that tell you more about their lifestyle, hobbies, and random things they like. If your search reveals frequently used phrases or hashtags related to your product lines, you can use that opportunity to go down those rabbit holes."
She explains, "Say you're a DTC drink company and you're considering a new flavor. I'd start with a general query, like 'My Audience frequently talks about: soda.' Then I'd see that among people who frequently talk about soda, that there are other hashtags and phrases they commonly use."
Amanda adds ran this experiment on her own, where she "found a couple of niches to consider exploring further: people who like craft sodas and people who make cocktails. The question I might start asking myself is: What are some flavor profiles of mixers people might want in order to whip up new cocktails?"
Gaining this level of insight into your customer base helps the product development team. By defining those hurdles and aspirations, it's easier to design and test products that are directly relatable to niche market segments.
It increases revenue
Perhaps the most glamorous beneficial effect of target marketing is the increase in sales. Target marketing lets retailers focus on efforts and audience segments that generate the most revenue.
But it's not just about focusing on the big spenders. Retailers can also analyze why the other segments aren't spending as much. Are there better ways to market to them? Or do your buyer personas need to be revisited to include a more relevant audience segment?
Take email for example. A study conducted by Campaign Monitor found that marketers who used segmented campaigns reported as much as a 760% increase in revenue and commonly market to three audience segments at minimum.
Target audience types
One marketing campaign won't appeal to everyone. What attracts a single, 55-year-old metropolitan woman will be much different than what interests a 25-year-old male who's married with children in the suburbs.
Understanding these differences and similarities lets you create different target audiences and tailored selling points. You can make groups of any size and attributes, depending on your business. However, in this case, we'll look at three large categories to focus on as an ecommerce entrepreneur.
Demographics
Demographic groups divide the market into small categories based on traits such as:
Age
Gender
Ethnicity
Income
Level of education
Occupation
Marital status
Demographics are the most common way to divide a market, because it's easy to get the data. You could tap into free census data, analytics software like Google Analytics, and consumer insights. A demographic target audience could be, for example, 30- to 40-year-old women with master's degrees who are married with children and are entrepreneurs.
Location
Location-based groups divide the market by location so you can serve customers better in a specific area. It's based on areas such as countries, states, and cities, but also includes other factors, such as cultural preferences, populations, and climate.
SUGAR Cosmetics, for example, is a brand that targets women in India. It develops products that last throughout the day in the regional climate, which is hot, humid, and rainy during monsoon season.
Interests
Interest groups are built around psychographics. They cover attitudes, interests, personality, opinions, and the lifestyle of your target market. This can be books, movies, dancing, hiking, or anything that your customers have passion for or value.
Understanding a target audience's interests helps you:
Serve more relevant ads
Create content buyers care about
Develop more interesting products
Purchase intents
Purchase intent is the mindset your audience is in as they buy something. These audiences are divided by users who've recently interacted with your brand or looked for a product. It means they want to buy a product in your store, but may need more information or a little nudge into completing the purchase.
Purchase intentions take different elements into account to visualize the path to purchase for customers, including: behavioral data, demographics, channel usage, and device. This allows you to retarget ads or content at different intent groups to move them closer to purchase.
Examples of purchase intent audiences include:
Using the search box to look for products
Session length on product or category pages
Abandoned cart
Watching 75% of a video ad
These groups don't always exist separately. You can focus on one type of target audience, like demographics, or mix and match different types to create one detailed target audience and reach them specifically.
How to determine your target audience
There are plenty of reputable marketing and advertising firms and agencies that can help retailers define their target marketing strategy. But for the retailers who want to DIY it, there are some key steps to take and incorporate it into your marketing plan.
1. Define your marketing goals
What are you trying to accomplish? For some brands, these key performance indicators (KPIs) are more obvious, such as sales. But KPIs can also include an increase in brand awareness, more customers from a specific demographic, or growth of your email subscription list.
Once you've defined those goals, your target marketing is more effective. It's easier to come up with messaging if you know what you're trying to make your audience do. This helps direct your marketing efforts and keep your marketing team aligned.
2. Do audience research
At the core of target marketing is the idea of building buyer personas to better understand your audience. This is where the market segmentation comes in.
Buyer personas can be built through a number of approaches, but a combination of as many as possible makes your personas more effective, researched, and defined.
Adrienne Barnes, founder of Best Buyer Personas, encourages businesses to "use more than one source of information. Don't just rely on interviews, or only surveys, or only digital intelligence." She explains, "Using multiple sources helps verify ideas, behaviors, and motivations with stronger clarity."
Purchase history
If you gather customer data for every transaction, this is one of the best sources of information. Make sure you include data on how much they spend and what they buy.
Digital analytics
Take a look at your online audience. Gather as much defining customer information you can from those groups. Include your website, email subscription list, social media (organic and paid), and any other digital platform where your brand has a presence.
Consumer surveys
Encourage customers and non-customers to take a survey. Incentivize it to get more responses.
You can conduct these interviews over the phone, through email, on your website with a prompt, or in-store. Each method will reach different customers or potential customers, so it's not a bad idea to conduct a variety of interviews across mediums.
If you prefer using an online questionnaire, try a tool like SurveyMonkey to create and distribute your questions and then collect responses.
Ask basic questions about their age, family, occupation, earnings, and gender to create a thorough profile of your customer and prospect base. It's also important to get to know them, so inquire about their hobbies, beliefs, passions, values, and pain points. Include questions specific to your industry.
Most importantly, find out who makes the purchasing decisions and where they make those purchases.
Industry research
Many studies are conducted about consumer trends and behavior. These are great references. Nielsen and Pew Research Center are two of the most well known, but there are many other market research organizations and companies that sponsor and conduct these studies. Some digging around on Google should get you what you need.
Competitive analysis
Identify your competitors and look at their audiences. You don't have access to any back-end data, but you can check out their social media profiles and see what kinds of people engage the most. They also might have press kits available with good information.
3. Identify key info
From here, retailers and marketers can build and document buyer personas. Personas detail basic demographic information—age, gender, job, salary—as well as other common characteristics within that specific group. These traits may be both general and specific to your brand, product, or service.
We've listed some of the major elements to define below for each of your personas:
Location:

 

Where do people from this persona live?
Age:

 

What is the age range of this persona?
Gender:

 

What is the gender of people in this persona?
Interests:

 

What are the interests of people in this persona?
Education level:

 

What is the education level of this persona?
Job title:

 

What field of work do your customers work in and what types of job titles do they carry?
Income level:

 

What is the income range of this buyer persona?
Relationship status:

 

What is the relationship status of this buyer persona?
Language:

 

What languages do people in this persona speak?
Favorite websites:

 

Why type of websites do people in this persona frequent?
Buying motivation:

 

What are the persona's reasons for buying your product?
Buying concerns:

 

What are the persona's concerns when buying your product?
Keep in mind that you don't need to answer all of these questions about each of your personas. You may opt to answer different questions altogether. However, the purpose should always be to understand your ideal customers more to communicate more effectively.
This helps to dictate messaging, which products you'll market to whom, how you'll reach them, and what pain points you can solve. The result is marketing efforts that are more relatable and resonate with each of your audience segments.
4. Market to your audience
You've done all the legwork to define who you're marketing to, what they need, and how you're going to reach them. Now you need to put a strategy in place and execute.
Once you've defined the pain points, figure out which products you have that cater to those needs or desires. Emphasize why your product will make their lives better.
But you also need to know where to send this message. During your persona development, it's helpful to find out the devices people use and where they shop and interact with brands. Put yourself in front of them—don't wait for them to find you.
5. Analyze performance
Refer back to those defined KPIs. The success of your target marketing should be judged against those numbers.
Track everything, do more of what works, and fix what doesn't. Looking at the analytics of your campaigns can help you glean insights and trends over time.
Maybe a specific persona you thought you would reach isn't engaging. Try a different tactic or channel to reach them. If that still doesn't work, there's a chance that's not the right persona for you. It's OK for them to change over time.
Target audience examples
Now that you know how to identify your target audience, let's look at two real-world examples of brands doing target marketing right.
SUGAR Cosmetics
Finding your target audience involves uncovering gaps in the market. For SUGAR Cosmetics founder Vineeta Singh, the brand's audience included women in the Indian market underserved by current cosmetics brands.
Before SUGAR, most beauty brands didn't cater to local customers' needs. India is hot, humid, and has a monsoon season that challenges the wearability of most established brands, plus their shades and colors were developed with lighter skin tones in mind.
"While we were running our ecommerce business between 2012 and 2015," Vineeta says in a Shopify Masters episode, "we realized that there were a lot of millennial women who couldn't find that perfect nude lipstick or a perfect red lipstick. There were a lot of colors that were perfect for, say, Caucasian skin, but wouldn't work on the deeper Indian skin tones."
Based on these observations, Vineeta developed the brand's target audience:
Indian woman between 20 and 27 years old
Lives in metropolitan areas
Consumes a lot of digital content
Inspired by global trends
Wants these trends Indianized for her
This led to the brand's first bestseller: liquid lipsticks. "Our bestselling product is this liquid lipstick that's really matte and extremely long lasting," Vineeta says. "So you put it on and it doesn't come off."
"When we first started working on liquid lipsticks, this was in 2015, at the time of launching SUGAR, and we knew that this would be the perfect product for India, because we realized that, in India, women wanted an intense color that would stay all day. It was very different from the requirements in other Southeast Asian markets or Western countries."
Knowing that SUGAR's target audience spent a lot of time on social media, it focused on reaching new customers through Facebook and Instagram. One challenge SUGAR faced was India's aversion to shopping online, especially with makeup products. Although the brand used influencers to build trust with its target customers, it still struggled with overcoming this sentiment.
"They [shoppers] would come to the website two or three times and not buy it because they weren't really convinced that they could try a new brand just on the basis of some influencer telling them that this is a good lipstick," Vineeta says.
SUGAR offered cash on delivery to mitigate a customer's fear and make more sales. The fear of shipping online influenced SUGAR to open and scale its retail stores after three years of operating only online.
SUGAR's dedication to understanding and adapting to its target audience has proven to be successful. The brand grew from online to having over 10,000 retail touchpoints and has become an industry disruptor that raised $21 million in Series C funding.
BrüMate
BrüMate is a popular brand that sells insulated can coolers, tumblers, and drinkware. Founder Dylan Jacob first came up with the idea for BrüMate based on personal experience.
"I had just turned 21 and I noticed this recurring trend everywhere I went," he explains in a Shopify Masters episode. "Whether it was on the boat or tailgating, my beer constantly got warm, and everyone else's beer was getting warm as well, but rather than trying to figure out how to keep it cold, people were just throwing away the beer."
Dylan further investigated this issue by talking with other people to understand their pain points. He found that most people were experiencing the same thing, but not just with beer. People had issues with keeping wine and cocktails cold, plus bringing alcohol to glass-free zones like pools or the beach. That's how BrüMate was born.
BrüMate was initially a male-oriented brand. The messaging and design were tailored to men. Dylan launched the Hopsulator, an insulated beer holder, but found early on that it was expensive to acquire this target audience. "We were going to be a very masculine company, and were going to have products for women too, but that wasn't going to be the main focus," he explains.
After launching the Winesulator, an insulated wine container targeted toward women, the product was a hit.
Besides lower acquisition costs, the brand received over 20,000 shares on its Facebook post. He noticed women were reacting to the brand with more enthusiasm and brought down BrüMate's cost per click with Facebook ads.
Overnight Dylan shifted messaging, visuals, and digital marketing dollars toward different female target demographics. Over time, he concluded a target audience to be women between 30 and 55 who bought BrüMate products as gifts for people. This discovery changed the personality of the BrüMate brand, which led to $21 million in sales the following year.
Read more: How to Start Your Own Brand From Scratch in 7 Steps
4 easy ways to reach your target market
Run Facebook ads
Facebook ads are used by most ecommerce brands, regardless of budget. Anyone willing to learn the basics of Facebook advertising can reach their target audience and drive growth with these social ads.
Facebook uses advanced ad targeting to find high-intent buyers. Every action a user takes on Facebook and Instagram compiles a detailed user profile you can tap into using Facebook ads. You can match your products along a list of demographics, interests, behaviors, and more to find the right audience for your ads.
The best part? You can easily send ads to Instagram users from Facebook's advertising platform. This gives you the chance to connect with groups of people across different platforms, all with one ad.
Want to run Facebook ads to reach your target market? Read How to Advertise on Facebook: A No-Nonsense Facebook Ads Guide for Beginners.
Work with influencers
Influencer marketing is the fastest way to reach your target audience. It involves working with people who've built reputations around a specific niche. They create content for their channels, promote your brand, and, in return, you make more sales. Think of them like internet celebrities who double as brand ambassadors.
Nearly 80% of marketers find influencer marketing effective, which is why 75% of businesses surveyed by Influencer Marketing Hub have a dedicated influencer marketing budget in 2021.
Good influencer marketing channels include:
Instagram
TikTok
YouTube
Snapchat
You don't always have to pay for influencer content, either. Retailers like Nominal, an online jewelry brand, send free products to potential influencers to post on their social channels.
Although we didn't pay them, now we have [branded] content that a lot of people follow and see. We build that credibility through a famous person wearing our product.
Influencers have the trust and confidence of their following. If you want to get in front of a target audience, collaborating with an influencer can place you there.
Read more: Find The Best Fit: Your Beginner's Guide to Influencer Marketing in 2021
Create a referral program
A referral program is a system that encourages current customers to recommend your products to their friends and family. Ecommerce brands create referral programs to reach their target audience. It works by incentivizing happy customers to promote your products in return for gift cards, cash back, future discounts, free products, and more.
Referrals were rated the most effective tactic for marketers at every stage of the funnel. New customers earned through referrals already trust your brand. An old but relevant Nielson study shows that recommendations from family and friends are the most credible form of advertising.
Tools like Referral Candy make it easy for small businesses to set up referral programs. Referral Candy also automates the entire process, making it easy for your customers to enroll and share your brand with their friends. It then automatically sends rewards for every referred purchase.
Use hashtags on social media
The right hashtags on social networks like Instagram or TikTok can extend your reach and engage your target audience. You can attach hashtags to your posts and they will show up in a discovery feed.
Users then go to this feed to find new content and trends related to the hashtag topic. If a user finds your feed content interesting, they can click through and further explore the post.
Hashtags aren't one-size-fits all. You'll need a hashtag strategy behind your posting to ensure you connect with the right audience. If you want to learn how to use hashtags for your brand, read Get Seen on IG: 370+ Top and Trending Instagram Hashtags to Increase Likes and Follows.
Reach a specific audience with your marketing messages
Your target audience will likely change as you learn new information, and you may even discover entirely new buyer personas altogether as your business grows.
With defined buyer personas your ad targeting and communication stands a much better chance. From increased engagement on your social media channels to a greater ROI for your online ads, taking the time upfront to define your buyer personas can help your online business succeed by better knowing and understanding your core customers.
Illustration by Elena Xausa
By Michael Keenan
https://www.shopify.com/blog/target-audience