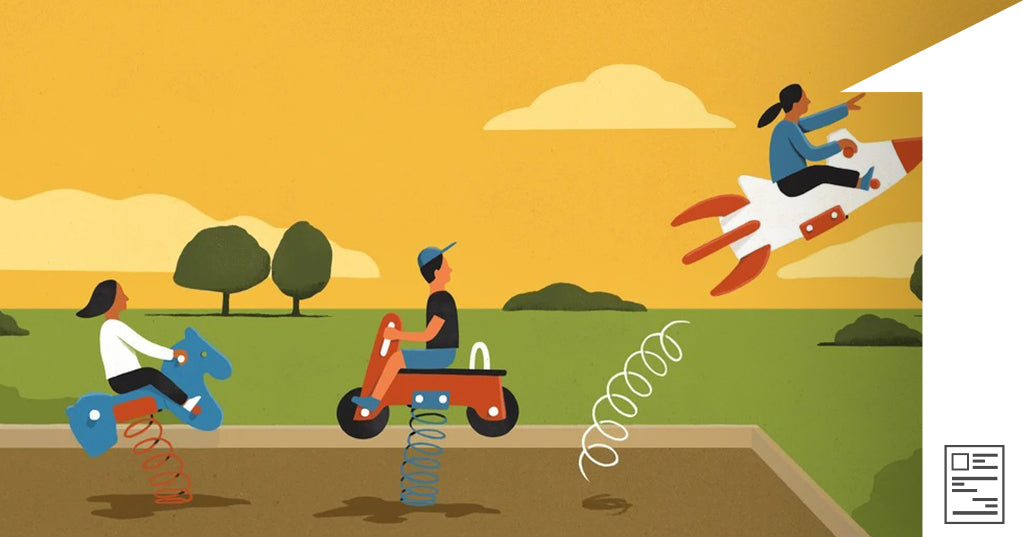 "I want to save animals when I grow up," announces our nine-year-old.
She isn't exactly sure what that career entails. Within her limited purview are a handful of idealized career choices: teacher, astronaut, veterinarian. But I imagine a future for her that's a perfect fit for her natural creativity and sense of humour—one that she designs herself.
Introducing youngsters to entrepreneurship early on is an age-appropriate way to draw lines between their interests and an infinite number of career options. Kid-run businesses can fill in the gaps in formal education with business and life skills to help them succeed. A child who struggles in math, for example, may otherwise click with numbers through a hands-on activity like coding a website.
In this way, entrepreneurship can unlock an ability or interest that was previously inaccessible.
Introducing youngsters to entrepreneurship early on is an age-appropriate way to draw lines between their interests and an infinite number of future career options.
Starting a kid friendly business is a fun family activity that has learning baked in. Plus, it's a way for kids to make money to save for college—or Nerf Blasters. Here, we'll share 12 small-business ideas for kids to start from home with parental supervision. 
How to start a kid-friendly business: tips for parents and educators
The pandemic brought on stress for parents needing to fill time once occupied by day camps and baseball practice. While we work our way back toward normal, parents have a few more tricks up their sleeves—meaningful fun to stave off boredom and frustration. And kid-run businesses check all the boxes. 
Kids can teach themselves necessary business skills through free online learning tools, gaining experience with research in the process.
Most of the business ideas for kids that we'll share later in this article require little upfront investment or prior experience and can be started from home. Kids can teach themselves necessary business skills through free online learning tools, gaining experience with research in the process. Getting started is as simple as providing kids with the tools they need and watching them go!
Parents should still provide guidance along the way and consider multiple factors, like time commitment, startup costs, and risk. Follow these guidelines for helping young people safely enjoy and succeed at entrepreneurship:
Good business ideas for kids

 

focus on the child's interests and strengths, so that they don't feel like it's another chore. Or,

 

tailor the business to a specific goal

 

like teaching them about money or helping them build confidence.
Pick a small business they can run with minimal supervision. You may need to oversee a few aspects that require parental sign-off for minors, but give them some ownership in the business, too.
Start small and flexible

 

so the business can bend around school and activity schedules. For example, a seasonal venture is an easy business idea for kids that can fill the summer break with meaningful activities.
Some small businesses that involve using the internet or interacting with people should come with a set of rules that help protect children.
Involve the whole family.

 

Austin Gill

 

runs his candle-making business with his two siblings. Mom weaves it into her homeschool lesson plans, and Dad even helps, too, says Austin.
Introduce them to potential role models. Teach your kids about successful entrepreneurs—especially those who they can identify with (similar background, etc.). STEM-loving 13-year-old

 

Sophia

 

looks to her idol, Marie Curie, as she paves her own way in the world of science and entrepreneurship.
Set boundaries. Some small businesses that involve using the internet or interacting with people should come with a set of rules that help protect children. For example, many kids who run YouTube channels or other social pages have parents who vet content and conversations and manage the accounts.
12 totally achievable business ideas for kids
Ready to help your kids start their own business? We've compiled a list of ideas to appeal to different personalities and interests. Plus, each idea includes a list of skills learned and resources to get started. 
1. Online content creator
Performative kids with a strong interest in a certain hobby (say, gaming or fashion), can build a following by creating video reviews, demos, or unboxings for platforms like YouTube, Twitch, or TikTok—and eventually monetize the channel. Your aspiring kidfluencer will gain confidence and learn technical skills that can prepare them for high school, college, or creative careers.
🏆 Skills earned:
Video editing
Community building
Dealing with bullies (online trolls)
⬆️ Level up: How to Make Money On YouTube
2. Pint-sized pop-up shop owner
Think beyond the lemonade stand. The sky's the limit for tiny entrepreneurs who want to learn people and sales skills. Pop up a table in the front yard and help your kids sell anything from home-baked sweets to seedlings to handmade crafts. This type of business was the gateway for tRiley Kinnane-Peterson, who, at age five, turned her annual yard sale jewelry stand into a massive online business: Gunner & Lux.
🏆 Skills earned:
Communication
Sales
Working with money
⬆️ Level up: How to Set Up & Open a Pop-Up Shop
3. Inventor of the
Next Big Thing
With parental help, a kid-invented product can be mass-manufactured or made by hand and sold online. Kids interested in STEM can put their skills into practice by solving a problem common to their generation. When Carson Kropfl's skateboard wouldn't fit in his locker, the 14-year-old invented a version that would—and the business even landed him a deal on Shark Tank.
🏆 Skills earned:
Design
Problem solving
Research
⬆️ Level up: The 7-Step Product Development Process
4. Entertainer extraordinaire
Creative skills like playing an instrument, demonstrating card tricks, or cosplay performance could become the basis of your kid's first business. They can find customers through school, the neighborhood, or by word of mouth and work as an entertainer or performer at parties and events. Shopify President Harley Finkelstein had his first taste of entrepreneurship when he was still a kid, DJing at bar mitzvahs.
This business idea pairs well with online content creation, too. Kids can opt to start a YouTube or TikTok channel to grow an audience with their talent.
🏆 Skills earned:
Creativity
Public speaking
Confidence
⬆️ Level up: How to Define and Reach Your Target Audience
5. Magnificent maker 
Small handmade items like beaded jewelry, soaps, and bath bombs can be sold via online markets with the help of parents. Many of these crafts require a little upfront investment for supplies, and kids can manage the production side of the business solo. With parental supervision, kids can learn to create a website and online store to sell goods online. 
Ollie Fequiere was only five when he became the face of his own bath fizzy business. But his mom also involves him in kid-appropriate tasks, like making the products.
🏆 Skills earned:
Creativity
Marketing
Fine motor skills
⬆️ Level up: 10 Places to Sell Handmade Goods
6. Pet or plant sitter 
Pet and plant sitting have typically been odd jobs suited to younger kids looking for some extra allowance—especially when they're still too young for babysitting. But kids who enjoy this work can turn it into a more formal business. Parents can help set up a basic website that highlights services and prices, and even accepts online bookings and payments. 
🏆 Skills earned:
Time management
Responsibility
Customer service
⬆️ Level up: Sell Pet Products: Ideas for Your Own Pet Business
Looking for ideas for older kids? Take our quiz and get tailored business ideas for entrepreneurial teens. 👉 Go to the quiz
7. Budding artist 
A love of art, craft, or design can be nurtured in your child by introducing them to the business side of the creative world. If your little one dreams of a career as an artist, help them explore the possibilities in the field. Parents can set up a simple online store and a print-on-demand integration, letting kids sell their designs on t-shirts, mugs, and stickers.

This is another idea that has multiple possibilities. Kids who also excel in front of the camera may decide to become a content creator, shooting art tutorials or offering design classes online.
🏆 Skills earned:
Website building
Creativity
Customer service
⬆️ Level up: How to Sell Art Online: The Ultimate Guide
8. Neighborhood helper
There are a number of services that kids can provide through a small business right in their own neighborhood. Kids can start a service business offering car washing, lawn care, snow removal, and running simple errands. Kids can make fliers and find clients by visiting neighbors and asking for referrals. Or, with parental help, they can set up a simple Shopify store to sell time slots using a scheduling app.
🏆 Skills earned:
Using manual and electric tools
Time management
People skills
⬆️ Level up: Word-of-Mouth Marketing: Examples and Strategies
9. Coding wizard 
When my brother was 10, he was struggling in math at school. Yet, in the evenings at home, he pored over coding textbooks, teaching himself to build websites and design video games. As a hands-on learner, he found math in his own way. 
Coding and digital skills are increasingly important for many future careers. There are several programs geared toward teaching code to kids, depending on how they learn best. Once they have the hang of it, help them start a business designing and building websites for others, teaching code, or offering other digital services within the community.
🏆 Skills earned:
Coding
Problem solving
Communication skills
⬆️ Level up: How to Build a Website From Scratch: A 9-Step Quickstart Guide for Beginners
10. Festival or beach vendor 
Parents looking to fill long summers with fun and educational experiences can help kids start a vending business. Kids can buy in bulk (with funding from parent "investors") and sell items like water, Popsicles, or sunscreen at local events, festivals, or even the beach. Think of it as a mobile lemonade stand. Some venues and city parks will require permits or vendor fees, and parents should expect to be hands-on. Give kids autonomy, however, by empowering them to make signage or design a cart or booth.
🏆 Skills earned:
Design
Money skills 
People skills
✨ Get inspired: How the Founder of Blenders Eyewear Started from a Backpack
11. Reseller
This is a low-investment idea for kids who are into fashion, trends, photography, and/or social media. Kids can make extra money on the side by scouring local thrift stores for rare or vintage finds and reselling them for profit through local marketplaces or a dedicated online store. Consider other business ideas for kids such as reselling sneakers, records, or collectible toys. 
Many resellers use Instagram to reveal new "drops" in their stores. With parental supervision, this is a great way for kids to learn to use social media for business.
🏆 Skills earned:
Photography
Website creation
Social media 
⬆️ Level up: How to Sell Vintage Clothing Online: The Ultimate Guide
12. Social impact crusader
Social causes can inspire great business ideas for kids. If the goal of the activity is not to make money but to build skills, a social impact business teaches valuable lessons in compassion and giving back to your community. Kids can, with parents' help, start an official charity or donate proceeds from any other type of business to a cause of their choosing. They may also choose to use coding or technical skills for a good cause, offering free services to nonprofits.
Jahkil Jackson was exposed to the homeless population in his town when he was just five. He was moved to start his own organization, Project I Am, to help provide supplies to his neighbors without homes.
🏆 Skills earned:
Compassion
Fundraising
Activism
✨ Get inspired: Meet 9 Socially Responsible Companies Driving Change
Creator and commerce tools continue to emerge, making it increasingly easy for kids to experience entrepreneurship. It's a meaningful way for parents and educators to connect with kids' interests, create fun learning moments, and grow their independence. Think beyond this list for an experience unique to your kid's personality—the business ideas for kids are endless.
Illustrations by Sjoerd van LeeuwenBy Dayna Winter
https://www.shopify.com/blog/business-ideas-for-kids