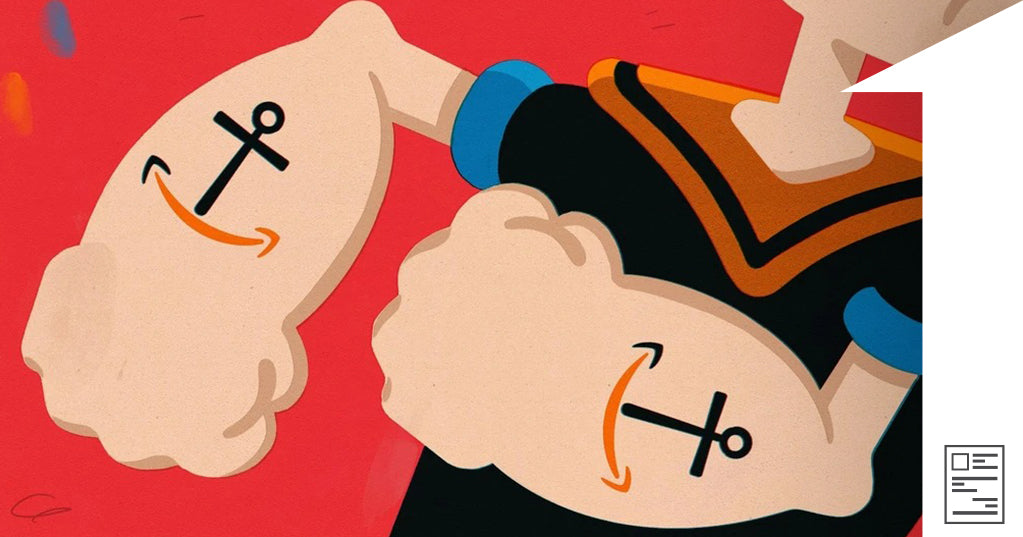 Your online store is your home base, where you showcase your brand, connect with your audience and sell your products.
That said, there are many ways to reach and sell to existing and new audiences through online marketplaces like Amazon.
If you're a new ecommerce startup, you may have some questions, including:
Why should I sell on Amazon?
How do I manage pricing between my Shopify store and Amazon?
What does it take to grow a business on Amazon, and how can I keep it growing over the long term?
What options and programs are available on Amazon that I should use?
The goal of this guide is to tackle these questions and help you understand how to create and grow a profitable and sustainable business on Amazon. You'll learn how to start selling on Amazon, how to optimize your time, and what things you can control to build a business on Amazon. 
The opportunity in marketplaces
It's no secret that marketplaces are a big opportunity for ecommerce brands. The top online marketplaces in the world sold $2.67 trillion in 2020, accounting for 62% of global web sales that year. The growth of marketplaces leaves retailers with one question: should you sell through online selling sites?
Marketplaces like Amazon and eBay can help people discover your brand easier. Amazon has over 150 Prime members and 300 million active customer accounts worldwide. You can set up a selling account fast and reach a global audience with ease—but this all comes with a price.
Fees aside, Amazon has been under fire for steamrolling its sellers. From using data about independent sellers to developing competing products to creating blatant copycat brands, you run the risk of losing sales and customer data when selling on marketplaces.
So what does that mean you for? Look at it this way: these marketplaces give consumers a plethora of choices. They give shoppers a quick and easy way to find the products they already want. What they don't do, however, is provide an enjoyable shopping experience where products are organically discovered, like in an online store.
This gives ecommerce businesses a unique opportunity. You can use Amazon to sell certain products and help improve brand awareness, as well as create an online store where you control the experience and the data, and save money on fees.
Use both a branded web store and marketplaces to complement each other. This reduces customer dependency on a single sales channel but also provides customers an option for additional discoverability and buying features.
Many customers are die-hard Amazon shoppers, so by exposing your products to these regular users, there's a higher likelihood they'll find you and purchase from you through the channel they're already comfortable with.
Those with less allegiance to Amazon may enjoy the experience of browsing your website and engaging with your brand. Your email subscription offer, remarketing ads, and social media profiles make it easier to stay in touch with these more-brand-focused shoppers.
How to sell on Amazon for the first time
Now that you're clear on the opportunity marketplaces can provide, let's walk through how to set up on Amazon as a new seller.
Choose a plan
One of the first decisions you'll make when selling on Amazon is the type of seller plan you'll use. Amazon offers two plans for sellers: Individual and Professional. The main difference between the two depends on your projected volume of sales.
The Individual plan is a pay-as-you-go plan that gives you access to basic listing and order management tools. Individual sellers pay $0.99 every time they sell an item. You don't pay any fees unless Amazon sells an item.
The Professional seller plan is a monthly subscription service that offers a suite of tools and benefits, including Amazon Marketplace Web Service, advanced business reports, customizable shipping rates, and eligibility for top placement on detail pages. The price is $39.99 per month, but can vary depending on if you sell across multiple countries or not.
Amazon also takes a referral fee on each sale. This fee is a percentage of the total transaction and varies by product category.
Which is the best fit for you? If you plan to sell more than 40 products per month, you may want to choose the Professional plan. If you sell less than 40 products per month or have seasonal fluctuation in sales, the Individual plan may be better for you.
Figure out your selling strategy
Your business strategy for Amazon should cover what types of products you'll sell. Some options include:
Finding popular or trending products and reselling them on Amazon
Manufacturing your own products or sourcing goods under a private label
Working with a specific supplier to start an

 

Amazon dropshipping

 

store
💡 Tip: Many Shopify store owners will use a free Shopify app to sync inventory and sell products from their own stores to Amazon. That way you don't have to create separate selling plans and can control inventory management in one place.
Create an Amazon seller account
The next step is to create a new Amazon seller account. Before signing up, keep the following on hand:
Business email address
Bank account number or bank routing number
Active credit card
Government issued national ID
Tax information
Phone number
Next, head over to sellercentral.amazon.com to sign up. Amazon will ask for details about your business, such as address and tax information, as well as bank and identity information.
Amazon requires sellers to get approval for certain product types. Fashion, grocery, music, and jewelry are popular categories that require approval before setting up your Amazon seller account. Read the overview of product categories you can sell in.
Once your Amazon seller account is approved, you're ready to get your products listed and start selling.
Understand Amazon's cost structure
You can start selling on Amazon with little money. But there are some fees you should be aware of because they're frequently charged and can impact your Amazon channel's ROI. The following fees aren't the only fees, just the common ones.
Referral fees.

 

Amazon charges a commission for selling on the platform. It's different for each category. The average referral fee is 15%, but can range from 8% to 45%.
Closing fees.

 

This is a $1.80 fee taken from each unit sold for products in media categories (books, DVDs, music, software and computer/video games, video game consoles, and video game accessories).
FBA fees.

 

If you use Fulfillment by Amazon (referred to as the Amazon FBA program) you'll cover the shipping and handling costs for a sale. This fee is charged to fulfill items for Amazon purchases and depends on the item's category, size, and weight. A standard package may cost you between $2.41 and $4.71.
Additional Amazon fees.

 

Amazon will also charge you inventory storage fees for inventory in its fulfillment center. You may pay monthly or long-term storage fees, as well as disposal order fees, return fees, and advertising costs.
For an in-depth look at all possible fees, read the Selling on Amazon fees guide.
Making your way around Amazon Seller Central
While this guide is meant to summarize key strategies and initiatives you can use to grow your business on Amazon, let's go over a few of the basics, starting with the difference between selling on Amazon (seller, 3P, or marketplace seller) and selling to Amazon (vendor).
1. Amazon Seller Central with Fulfillment Options
When you're a seller on Amazon's marketplace, you own the inventory until a customer receives it. You can opt in to have Amazon facilitate fulfillment and support to customers or do it yourself.
In most cases, being a third-party seller is the easiest and least expensive way to start selling on Amazon. Sellers utilize the Seller Central portal, with some different features available than with the Vendor portal.
2. Amazon Vendor Central
Becoming an Amazon vendor means you can sell direct wholesale to Amazon. However, it then owns the product once it receives it. Amazon Vendor Central is an invite-only program and can be a good option for businesses that don't want to sell directly to Amazon customers.
Benefits of being a vendor:
Builds customer trust
Simple selling process
Marketing placements on category pages, corporate emails, etc.
Access to additional category initiatives such as Gift Guides, Holiday Collections, etc.
Access to programs such as Prime Now, Fresh, and Pantry
Lower chance of account being suspended for unknown reasons
Disadvantages of being a vendor:
Less direct control over pricing
Fulfillment is more complicated and offers less control
Slower payment terms
Typically the more expensive model
Increased reliance on Amazon Vendor Manager and Retail teams
While there is overlap between features available on the Seller versus Vendor portals, we will focus the remainder of this post primarily on features available on Seller Central, since it's most accessible to you.
3. Amazon Seller App
Amazon also offers sellers a mobile app to manage their business on the go. Amazon Seller is an easy way to analyze sales, fulfill orders, manage returns, and respond to customer questions on the app. You can even create product listings on your phone.
Amazon Seller is available for Android and iOS and is free for sellers.
Choose your fulfillment options
As a seller, you have two fulfillment options: the do-it-yourself option or using FBA, where Amazon is responsible for receiving, packaging, and shipping orders.
Fulfilled by Merchant (FBM)
You fulfill directly to customers and manage shipping, returns, and customer service. This is a good option for made-to-order products or for products that require a longer lead time for processing.
Fulfillment by Amazon (FBA)
You send inventory to an Amazon Fulfillment Center (FC) and it ships products and manages returns from customers. You control how much inventory to send to FCs and you pay storage fees for the product in addition to a fulfillment fee for every unit sold to customers. Keep in mind you still own the inventory until a customer receives it.
In this model, Amazon handles payment from the customer and pays you every two weeks. You get access to Amazon's customer service team that handles questions, returns, and refunds. You'll also get access to Amazon Prime and Free Super Saver Shipping to scale your business.
List your first product
The product detail page is where the sales happen on Amazon. The information you put on this page helps sell your product and encourage shoppers to buy. Candle brand Homesick has a stellar example of a product page that sells. Let's look at why.
Targeted product title
Your product title is essential for an Amazon listing for two reasons: One, it captures shoppers' attention and tells them they are in the right place. Two, it can improve your click-through rate in search and improve your SEO ranking.
Product titles have a 200-character limit, but you'll want to keep your title between 60 and 80 characters. Why?
A

 

Skubana

 

study of over 3,000 high-ranking Amazon listings found that 33% of them fell between 60 and 80 characters.
The

 

Amazon Seller Central

 

guidelines recommend it.
Amazon can shorten product titles over 112 characters.
Every word in your product title is searchable. Include the most relevant search in the beginning of your product title. You'll notice Homesick uses its brand name (Homesick), the product line (Scented Candle), the style (Hawaii), features (Scents of Pineapple, Coconut), and the container size.
This gives shoppers a clear and concise description of your product. They can then make a decision whether to stay on your page or go find the product elsewhere.
Clear product images
Your main photo should clearly show what the product is before zooming in. Additional photos should provide additional angles of the product and, if relevant, lifestyle imagery.
You can also add video to give shoppers a more in-depth look at your products. Shoppers can scroll through your media to help them decide if the product is a good fit for them. Note: Make sure your images are high quality. Shoppers can also zoom in to see the finer details of your product. You don't want to present a pixelated image of your product.
How many images should you include? According to the Skubana study, the top 62% of Amazon listings had between five and eight images for customers to view. Aim to add five images at minimum to your product listing page.
Concise bullet points
Bullet points help shoppers get their desired information fast. They are descriptive texts on your product detail page that showcase the benefits of your product. Homesick keeps its bullet points short and sweet, highlighting only key information that potential buyers look for in a candle, such as burn time, scent notes, type of wax, and candle care.
Make sure to hit all of the key areas that customers need answered before they have to scroll below the fold on desktop or to additional sections on mobile. Mention key facts, like if there is a warranty or customer service available to troubleshoot issues. Avoid having bullet points that are more than a few lines long since most customers are skimming this section.
Concise product descriptions
Remember that customers are skimming, so a 20-line long paragraph probably won't do the job. Use your brand voice here and reiterate key selling points while mentioning any supporting facts that can help customers understand why they need to buy now.
Brand registered sellers can use Enhanced Brand Content, or EBC, to improve their product detail page. EBC, now known as A+ content, which gives you more room on the page to add visuals and text to increase customer engagement and tell a better product and brand story. The potential benefits are increased conversion, lower return rates, and increased brand following.
Homesick uses this space to highlight its unique value proposition and further describe its candle line.
EBC lets sellers build visual features like comparison tables to help buyers make an informed decision.
Sellers can also use this section to discuss different benefits and features, show social proof, or provide use cases that help buyers envision using the product. A+ content is a powerful tool for lifting sales. Ecommerce brands like WHOOSH! have seen a 170% increase in sales six months after implementing EBC.
Product variations
Variations let you easily display to customers the various size, color, style, etc. options you have for a product. While each product will still have its own unique ASIN and detail page, variations give customers the ability to quickly switch between options of a product and see different reviews.
For example, if you are selling an iPhone case in black, blue, and silver, a variation will allow customers to easily hover over the various color combinations, and the reviews for all of those options will be pooled together (i.e., the black gets five reviews, blue gets three reviews, and silver gets two reviews. The review count displayed for all options would be 10).
Here is an example of a detail page before and after it updated the key items to maximize conversion.
Amazon growth opportunities
Encourage product reviews
It's no secret that reviews are extremely important. We have likely all bought something on Amazon, and in many of those cases the decision came down to which product had the better reviews, even if it had a higher price.
Sellers are allowed to send follow-up emails to customers related to a specific order, and there are several automated services available that can help you manage this process. The guidelines are here but, in summary, you may not:
send emails with marketing or promotional messages
have links to other websites
demand, ask for, or incentivize positive reviews
You can, however, send a few emails confirming you have received an order that also follow up to request the customer leave a review or seller feedback.
There are tons of best practices for email marketing out there, but aim to send no more than two to three emails: one during the order confirmation or delivery phase and one a few weeks after the product was received.
Avoid making your emails feel too "spammy" or aggressive, and give customers an outlet to share negative feedback directly with you prior to writing a negative review. Services such as Feedback Five or Feedback Genius can automate the process and make your life a lot easier.
Run sponsored product ads
Amazon has a robust ad platform that lets you market your product to customers on Amazon.
Amazon Sponsored Product Ads is a PPC (pay per click) model that lets you promote your products along search results. Placements on desktop can be above, alongside, or below search results, as well as on product detail pages.
Three things to keep in mind when running Amazon PPC ads:
One: Start with automatic targeting. This allows Amazon to use its powerful search algorithms to suggest an exhaustive list of potential keywords for you. This requires you to pick a flat default bid across all keywords, but the goal here is to get data on how various keywords perform.
Two: Once you have at least a few weeks' worth of data (the longer the better), start evaluating your automatic targeting campaign to determine which keywords performed the best. You will want to transition those over to a manual campaign, where you can now focus on only the most relevant keywords that performed well for you. With a manual campaign, you have the ability to adjust bids by keyword
Three: Continue to iterate your manual campaign for keywords and bids. Data is your best friend, but if you feel strongly that you should include additional keywords that haven't yet performed well, test various bid amounts. Different bid amounts can yield various placements and yield varying results, so continue to test until you find something that works well.
There are several keyword and additional third-party tools out there to help build a relevant list of long-tail keywords. But starting with the above could get you relatively far without being overwhelmed or requiring you to invest in incremental headcount to get your ads up and running. You can certainly take these steps further to optimize your ads depending on your resources, but if not, this is a great way to get the process started quickly.
Note: Keep an eye on the keywords that are working best, and be sure that your detail pages are utilizing these words in some regard. For example, if "organic" is a keyword that is converting well, ensure that "organic" is in your detail page title.
Take advantage of promotions
Promotions including Lightning Deals are a great way to sell units at an increased velocity, ultimately leading to more reviews. Lightning Deals are flash sales that are featured on the Amazon Deal Page, one of the most frequently visited pages on Amazon.
Not only do they help increase discoverability of your product, they also help you increase sales during the limited-time sale and even after the deal is completed. This is because you often increase your rank and search relevancy due to the increased units sold during that flash sale, and this carries over for a period of time once the deal completes, sometimes for several weeks.
Lightning Deals for most sellers are invite-only in a sense since you can only run them when they show up on your See All Recommendations section of the screen on Seller Central, and there is often a nominal cost associated with running this deal.
For big events such as Prime Day and during the holidays, Lightning Deals can be very successful in selling hundreds to sometimes thousands of units in the period of a few hours and also in helping new customers discover your brand, even if they don't buy immediately.
The goal is not to always be on promotion or providing deep discounts, but if you can sprinkle these in occasionally, including toward the beginning of your product lifecycle on Amazon, it is a great way to gain additional reviews and build relevancy so other customers can find you.
As you can see in the example below, Lightning Deals are run across many different categories, including health and personal care, home and kitchen, consumer electronics, fashion, grocery, and much more. Again, this is a great way to not only sell units in the short term but also for trial and to win new customers for future purchases.
Drive external traffic
Many brands forget about this part or reserve all external channels to point to their online store. While there is obvious value in directing traffic to your own site with ads, those same tactics will also work to promote your Amazon listings.
Strategically decide which channels make sense to direct to Amazon. For example, bloggers, vloggers, and other influencers often love directing traffic to Amazon because they can collect an affiliate commission on any customer's purchases that come from their custom link. There are two different programs to do this, Amazon Associates and the Amazon Influencer program.
You'll find most bloggers will be familiar with Amazon Associates, as it's designed for a vast array of businesses. Amazon's new Influencer program, however, has been developed specifically for social media influencers with large audiences.
As a brand owner and Amazon seller, both programs can be highly beneficial to the long-term health of your business. Additionally, you can create discount codes to share externally, such as on your social media channels, to encourage customers to buy on Amazon, and hopefully leave reviews.
Win the buy box
If you have been selling on Amazon or have started researching becoming a seller, you have inevitably come across the term "buy box." The concept is simple, although managing it can be much more difficult.
Nearly every detail page has the option for other qualified sellers to also list their offer for that ASIN (Amazon's SKU identifier). So even if you are the manufacturer of a product, another seller could potentially undercut your price on the same item and be the default option on that detail page—or "win the buy box." The exception is for brands that have "brand gating," which is extremely difficult to get approved.
As you can see on the screenshot below, DreamWater is winning the buy box for this ASIN, but there are several other sellers listing an offer on the Other Sellers on Amazon section.
The algorithm for who wins the buy box is proprietary, but the main components are price, Prime eligibility, shipping cost, quantity, and seller rating. As you can probably guess, price will have a major impact, but being Prime Eligible and having a high seller rating can sometimes be the difference between you winning or losing the buy box.
Technically, each unique product should only have one ASIN (one UPC to one ASIN), but sometimes you will see several different listings for the same product, which is a confusing and frustrating experience for customers. Amazon continues to crack down on duplicate listings and gives brand registered sellers the ability to merge duplicate pages, so it's best to play by the rules and avoid looking for ways to create a separate page with less competition.
For most categories, you can learn a tremendous amount about what customers want and don't want based on competitor pages. Additionally, reviewing complementary products regularly can alert you to best practices and promotional opportunities. Analyze competition with the following factors in mind:
Customer reviews
Customers are very clear on what their preferences are and oftentimes can lead you to future product enhancements or ideas. Are customers complaining about packaging? How many customers mention price in their reviews? What other products have they mentioned trying in the same category?
Updating frequency
How often are Amazon competitors updating product content, pictures, or other content? Are they cycling through seasonal photos (i.e., Christmas or Halloween themed?) Do they have clearer messaging of product benefits and usage than you do? How often are they changing pricing, and what effect does that seem to have on their Best Seller Rank?
Complementary products
For complementary categories (for example, memory cards and cameras), what are those brands doing well in? Is there an opportunity to cross-promote with them? Are there any insights on their customer reviews about what led them to that purchase and how that may affect how they search for your product? Does it make sense to target those category keywords on your Sponsored Product campaigns?
Get your pricing right
Finding the right pricing strategy for your products is tough enough as is, but add Amazon's complexities and an open marketplace for other sellers to compete with you and you have quite a handful. However, if you keep some key considerations in mind, you can hopefully prevent other larger issues from arising.
Pricing parity
Your selling agreement with Amazon includes a pricing parity clause. Your item price and total price can't be lower at any other online sales channel according to the "general pricing rule." This includes your own Shopify site. Avoid a potential account suspension for not following this mandate and ensure that you price Amazon as low as your other channels.
Automate pricing
Since Amazon is a marketplace, you may very well be competing against other third parties to win the buy box. There are several repricing tools available on the market, and Amazon recently released the Automate Pricing tool on Seller Central to help you automate pricing decisions. For example, you can set a rule to beat the buy box by 2% until you reach a certain floor.
Ensuring you are winning the buy box regularly, and being alerted when you are losing the buy box, is essential to growing your Amazon business. Note that pricing for vendors has a different process from marketplace sellers.
Promotions are a great way to increase visibility and gain reviews. Lightning Deals, price discounts, best deals, coupons, buy-one, get-one offers, discount codes, etc., are all great opportunities to offer and highlight a temporary discount to your product.
This benefits you not only by allowing you to sell more units in a short amount of time, but it also temporarily lifts your baseline business post promotion (i.e., you move from No. 50 bestseller to No. 10 when your promotion ends, likely increasing your run rate temporarily at your regular price).
Tips for selling on Amazon
There is no shortage of so-called "Amazon experts" out there but, unfortunately, much of the information published is either incorrect, gives false hope, or approaches the topic in a roundabout way. Here are some key points on what to do:
Avoid out of stocks
Unless there is a supply shortage on your end, going out of stock kills your momentum, rankings, and sales potential. FBA short-term storage fees are cheap, especially for small products, and in almost every case it is worth having excess inventory available at Amazon Fulfillment Centers to buffer spikes in demand. There's also the backup option of Fulfillment by Merchant. Do what you can to avoid going out of stock.
Check on customer reviews
Amazon is an extremely fast-paced and active site, so in the few days that you forgot to check your page you may have lost the buy box to another seller, went out of stock, had a pricing error, or had your pictures updated to something that you didn't request.
Additionally, you may have missed out on the recent influx of negative customer reviews that complain about a product issue you weren't aware of due to a recent shipment of bad product sent to Amazon. Understanding that as a seller or brand you may have hundreds or thousands of pages, it is critical that you at least check your top selling pages frequently and invest in technology that streamlines these tasks across your entire catalog.
Understand Amazon's terms of service
Amazon is very protective of its customers and avoids having them feel overly pressured or like they are receiving spam. They have strict guidelines on what you are able to say on follow-up emails (i.e., you're not allowed to incentivize reviews), what inserts you are able to put in your packaging, etc.
If you're always looking for a shortcut and to boost your rankings in the short-term by engaging in something that is a violation of the terms of service, you are jeopardizing your account and credibility on Amazon.
Respond to customer inquiries
You have 24 hours to respond to a customer, and there are automated tools out there that can help you with at least providing an initial response. If you do not respond in a timely manner to customer and Amazon inquiries, you risk getting negative feedback as a seller and for your product.
Remove incorrect feedback
Amazon encourages you to work with a buyer who has left you negative feedback to see if you can address their issue. You have the ability to, and should, contact that buyer to resolve their issue, in which case they hopefully will remove the negative feedback.
The same goes for incorrect feedback. While you may not always be successful in getting this overturned, you will be surprised at how many times simply asking in an appropriate and respectful way will result in a buyer removing negative feedback.
Complement your Shopify store by selling on Amazon
At first glance, Amazon can seem like a challenger to your small business: a global marketplace, a massive audience, a go-to destination for consumer search. However, when approached properly, Amazon can actually help you make money online.
Listing optimization can help you get discovered by a global audience and unlock new markets for you. In-Amazon promotions can elevate your brand atop the competition, giving you center stage in front of a highly qualified audience.
Your online store is your home base, and Amazon is your opportunity to reach massive new audiences. Strategic planning, experimentation, and some hustle will get you a long way to successfully selling on Amazon.
Use Shopify's step-by-step guide to open up your new Amazon sales channel. Refer to this guide as you begin launching new products on Amazon.
By Corey Ferreira