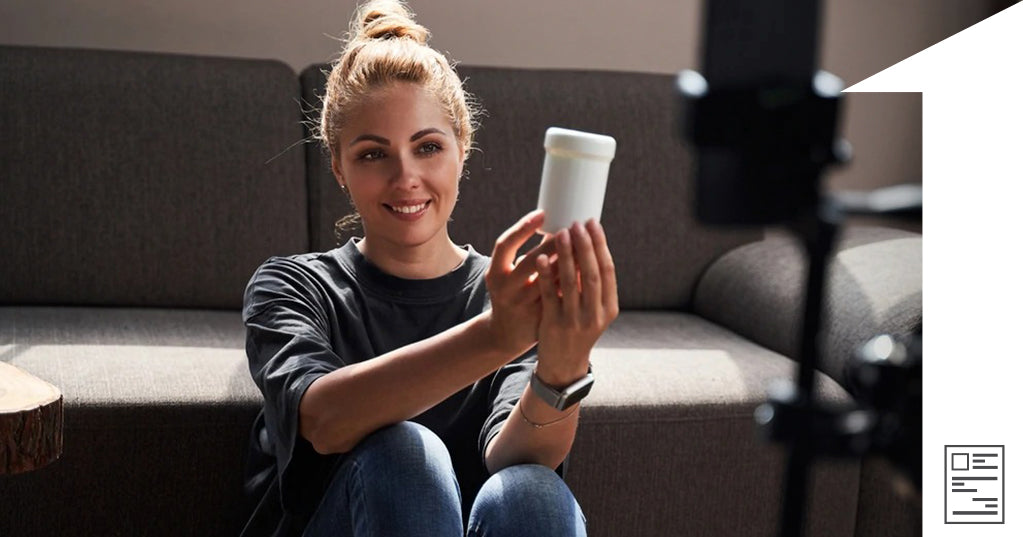 Looking for a simple way to make money on the side? Affiliate marketing is a popular side hustle. People partner with brands, create unique affiliate links, and earn commission on any products they sell. 
So, how do you become a pro affiliate marketer—one who starts an affiliate website as a side hustle but eventually makes enough money online to become a full-time business owner? 
Experts predict that affiliate marketing content will generate $8.2 billion in sales by 2022. This guide shares 16 affiliate marketing tips you can use to get a slice of the pie. 
16 affiliate marketing tips to make more money 
Here are 16 affiliate marketing tips to get shoppers purchasing through your affiliate links. 
1. Launch your affiliate site with existing content
While affiliate marketing is a good option to start making money online, it'd be foolish to launch a brand new website and expect commission to roll in instantly. People need to trust that the products you're recommending are, in fact, good products.
Resist the temptation to spread the word about your new affiliate website before it's ready. Pro affiliate marketer Stacey MacNaught says, "Over the last two years, by far the greatest performing sites for us have been those where we'd created 20+ pieces of content before putting a website live.
"It's so easy to stress over how something looks but we know that until we get a certain volume of good content live, nobody will see the site anyway," Stacey adds. "My personal golden rule is to have a whole list of content pieces researched in advance and a good number written up so the site is launching with content in place."
2. Diversify your affiliate partners
Speaking of diversification, don't put all of your affiliate eggs into one basket. While rare, a company always has the right to close down their affiliate program, deny payouts, or slash commission rates. 
(Just take Amazon Associates, for example, which infamously cut commissions across all product categories. Amazon affiliates promoting home improvement items had their commissions cut from 8% to 3% with just a week's notice.)
A good rule of thumb: Never let one affiliate partner make more than 50% of your revenue. That way, if the worst does happen, you're not left totally out of pocket. It's easier to replace half of your revenue than all of it. 
3. Own the relationship with your audience
The key to making money as an affiliate marketer is to have a loyal, engaged audience who care about what you have to say. That's hard to do if your content marketing campaigns are struggling to reach them.
Social media and YouTube channels are often the first port of call for affiliate marketers looking to share their product recommendations. But relying on these online channels is risky for several reasons:
Many algorithms deprioritize organic social media posts to push marketers into buying ads.
Have your account hacked, deleted, or reported and you lose your entire audience.
Mitigate that risk—and have a direct line of communication with your audience—by having them join an email list. Not only are you in total control over how and when your affiliate content reaches your audience, but you land in a place that isn't oversaturated: their inbox. 
This affiliate marketing tip doesn't have to be anything complex. Simply add a pop-up box to your website that gives people something in return for subscribing to your newsletter, like a free checklist or discount code (more on those later).
4. Become affiliates for audience-recommended products
An affiliate marketer's audience is clearly key in their success. A superb, under-utilized way to build that audience—while also building passive income—is to become an affiliate for the products your target audience recommends.
Michael Keenan, co-founder of Peak Freelance, did this with his freelance writing community. He recognized members were looking for a new customer relationship management (CRM) tool, so he tested a bunch of popular options. Bonsai came out on top, and Michael joined its affiliate marketing program and got paid to recommend a tool he already liked and his audience were searching for.
5. Know the ins and outs of the products you're recommending
Unfortunately, affiliate marketing finds its way onto almost every "make money fast!" scheme. That comes with a barrage of people looking to make a quick buck and not genuinely help their audience. Those people tend to fail fast.
"It is possible to separate yourself from your competition by having more knowledge than they do," says Mark Valderrama, CEO and co-founder of Aquarium Store Depot. "In order for you to stand out as an affiliate, you need to be recognized as an expert, or at the very least a site where people can learn more about the things you are promoting.
"It is all too common for affiliates to select a few providers they believe will be of interest to their visitors without doing any research into them. However, even if you are only looking for information about these things, you still want to know how and why people use them."
To do this, Mark recommends you "complete your due diligence before signing up with a new service provider. Consider other people's opinions before trying it out yourself, even if it's just the demo version." While it might take longer to drive sales for your affiliate products, when you do, people will be more likely to trust the products you recommend.
6. Disclose affiliate links
Honesty isn't necessarily an affiliate marketing tip; it's something you need to know when recommending products in return for commission.
Customers won't purchase items from people whose recommendations they don't trust. If you don't disclose the fact you're earning commission for mentioning a product, but they discover the fact elsewhere, that trust shatters.
It's not just your audience's trust you risk losing. The Federal Trade Commission (FTC) has strict rules on product endorsements that prevent affiliate marketers from misleading customers. You need to disclose any relationships you have with a retailer—including products you're incentivized to sell. 
Wirecutter, for example, has a disclaimer at the top of its affiliate content. Anyone reading the article knows the website will receive commission if they purchase something through a link.
7. Share discount codes
Merchants often compile a list of online marketing materials for its affiliates to use as part of their program. It's typically banner graphics and email marketing copy that makes the shortlist. But it doesn't hurt to ask your affiliate partners if they have active discount codes that are redeemable on the products you're promoting. 
These coupon codes do a brilliant job at converting people who haven't yet tried the products you're recommending, too. Some 89% of millennial shoppers will try a new brand if they could redeem a discount.
Once you've got a discount code to share with your audience, spread the word by:
Sharing it on social media with direct affiliate links to shop
Sending an email to your audience that directs them toward the sale
Updating any affiliate-related website content to reference the discount code
Adding "discount" to the

 

meta description

 

of your review pages to encourage searchers to click-through
Sprocker Lovers, for example, posted a product review that ranks on page one for "Bella and Duke review." As an incentive for people to click through and shop via the affiliate link, the availability of a discount code is clearly communicated via the meta title.
8. Create an Instagram affiliate shop
Not all affiliates need a website to start making money. Social media platforms—including Instagram—are rolling out new features to help affiliate marketers get paid. 
Back in June 2021, Instagram announced it was testing a new affiliate tool to help creators make a living: "We'll begin testing a native affiliate tool that will allow creators to discover new products available on checkout, share them with their followers and earn commissions for the purchases they drive—all within the Instagram app."
Instagram affiliate shops are currently in beta testing, but it's expected to be available to eligible creators in the US by the end of the year. Work on building your audience before then. When affiliate shops do launch, you'll have an existing audience to test yours on.
9. Write product reviews and tutorials 
Did you know that nearly nine in 10 consumers look for product reviews before making a purchase? By writing reviews for affiliate products that are optimized for search engines, you'll reach people already in the purchasing process for the item. 
Let's put that into practice and say you're publishing a review of Allbirds' running shoes. You include the target keyword "Allbirds shoes review"—a term searched by 1,500 people every month. 
Have people click your affiliate link and you'll earn commission on the sale, despite the fact they were already interested in buying the product before they knew your site existed. 
10. Publish comparison pages
Comparison pages are slightly different from standard product reviews. They pit two options against each other and help a shopper determine which one best fits their needs. 
Get people clicking your affiliate links in that process by publishing comparison pages on your website. Optimize the page for the comparison keyword and push people through your links by guiding them in their purchase decision. 
Khris Digital's ClickFunnels vs. ConvertKit comparison is a great example of this. Links to both tools are monetized; the publisher earns commission if a reader purchases either software. It's a win-win not only for Khris Digital, but for the reader, too.
Affiliate marketer Ryan Robinson also takes this approach to writing affiliate content. He says: "I recently started publishing a series of comparison articles that do objective, side-by-side analyses of popular hosting companies, with the goal of helping readers decide which option will be best for their needs and budget.
"While many of these hosting comparison articles have relatively low search volume (think less than 1,000 monthly searches), I decided to pursue crafting a lot of these comparison articles after putting myself in the mindset of someone relatively new to blogging that's doing these kinds of comparison searches."
This Bluehost vs HostGator article is the end result of this thought process. Ryan says the reader of this article "is perfectly primed to make a purchase decision right after they get the answer they're looking for."
"On the back end, I of course collect an affiliate commission whenever someone reads my comparison article, clicks a link and decides to sign up with a provider I'm covering," Ryan says.
"And the best part is that I'm an affiliate of both hosting companies I'm comparing against each other, so regardless of the conclusion I'm recommending in one of these articles, I have the opportunity to generate a sale even if a reader resonates with something about the company I'm less ecstatic about recommending. It's a win-win!"
11. Post product round-ups
How do you know whether the product you're doing a write-up for is worth the time investment? There's a chance your product review can flop, generating minimal affiliate sales and leaving you wishing you'd focused on another item. 
"One of the biggest mistakes I've seen new affiliate marketers make is writing long and in-depth product reviews for products that just don't convert," says Monica Lent, founder of Affilimate. "The result is a ton of effort and little to show for it in the end.
"Instead, affiliates should switch around the order in which they create their content. Create product roundups (e.g., 'best camera for travel') first to test out which products resonate most with readers."
"Once you've seen which products are converting, break those out into dedicated reviews and link them internally as supporting content," Monica adds. "This strategy not only helps you create affiliate content more efficiently, but it's great for [search engine optimization]."
Here's a great example of this in practice. This Is Why I'm Broke publishes gift guides for almost everyone you could think of: parents, co-workers, and sister in-laws included. The publisher makes a commission from anyone who purchases an item recommended by the gift guide.
12. Consider search intent
Keyword research informs the topics you should be writing about on your affiliate website. 
Alongside monthly search volume and keyword competition, consider the intent of someone searching for that keyword. Do they want to be entertained? Looking for information? Ready to buy something? 
Do your best to match affiliate content with that search intent if your goal is to drive traffic—and ultimately, affiliate income. 
Search marketing specialist Ted French puts this into practice: "If they found the page by searching for 'best TVs' in Google, then they're likely close to purchase and they're expecting to be bombarded with good offers and recommendations, so you can be super aggressive with your affiliate links.
"If they searched for 'Samsung vs LG TVs,' then they may not be quite ready to buy yet. You can still use a few affiliate links within the content, but your main focus should be giving them the information they searched for—and potentially funnelling them through to one of your sales pages with affiliate links and recommendations where it makes sense to do so!" 
Jake Thomas, founder of Golden Hearts, took this approach with his affiliate content. He had Google's autosuggest do the legwork on finding new content ideas by typing "best _ for golden retriever" into the search bar. 
The term "best brushes for golden retriever" came up as the first suggestion:
"After looking at which posts ranked on the first page of Google, I saw that they were all list posts, so I made a list post as well," Jake says. "To help my title stick out a bit, I added fear in the end because people love knowing what to avoid: 'Best Brushes For Golden Retrievers (and Which Ones to Avoid).'"
Jake continues: "Finally, to make my article more helpful, and therefore rank higher, I thought about what question the reader would have next." This produced a comprehensive guide to how to brush your dog, how often to do it, and when to start the routine with a puppy.
The result? Golden Hearts ranks number one for "best brushes for golden retriever"—a niche keyword Jake says is "more likely to convert, because you rank for a very specific search and you offer a specific solution."
13. Keep an eye on trending topics
Buzzfeed built a media empire that's heavily monetized by affiliate links. Seven in 10 Buzzfeed readers use the brand's content to inspire or support purchase decisions. The publisher made $500 million off the back of this affiliate content in 2019.
Part of Buzzfeed's success with affiliate marketing is its commitment to posting trending content. Its Facebook page consistently pushes product round-ups that tie-in with content its audience is talking about—like this round-up of cheap last-minute gifts.
14. Link to localized landing pages
The beauty of running a successful affiliate marketing business is that you can reach customers all over the world, so long as the partners you're working with distribute inventory there. (The chances of this are high, especially if you're partnering with Shopify stores. More than a third of all Shopify traffic comes from international visitors.)
Global shoppers have different requirements that need to be met throughout the purchasing process. The most important? Prices in their local currency—something the vast majority (92%) of international shoppers need to see before buying through a multinational online store. 
Work around that by linking to localized landing pages. Many affiliate networks will create them for you within the dashboard.
Edward Mellett, co-founder of WikiJob, explains: "Redirecting visitors to a country-specific website is referred to as link localization. If a country-specific website is available, visitors will be immediately forwarded to it rather than the global page." 
15. Run ads around peak shopping seasons
While your affiliate marketing business doesn't work by selling your own products directly to the consumer, you're still an online business. You make commission on another retailer's products and the end goal is the same: generate revenue.
Draw inspiration from successful ecommerce marketing strategies and tie in your affiliate promotions with peak shopping seasons such as:
Valentine's Day 
Mother's and Father's Day
4th of July
Black Friday and Cyber Monday (Affiliates using Awin and ShareASale earned

 

$12 million in commission

 

over this weekend)
Christmas and New Year's 
If you have the cash to spare, put some money behind social media advertising, pay-per-click (PPC), or A/B testing throughout this time. 
While customer acquisition costs shoot up during competitive periods, it's a great way to maximize your chances of building an audience—and your email list—at a time where shoppers are actively looking for products to buy.
(Referring back to our point on discount codes: many merchants offer coupons to celebrate these festivities. Use them in your seasonal affiliate marketing campaigns.)
16. Report on affiliate link conversions
How do you know the products in your affiliate marketing strategy are selling? 
Much like any digital marketing campaign, set regular reminders to review your most important metrics, including:
Clicks.

 

A low click volume for a heavily promoted product could indicate your audience isn't interested in the item you're sharing.
Conversion rate.

 

The percentage of people who clicked your affiliate link and purchased something. The higher, the better. 
Earned income.

 

The amount of money you've earned by promoting a product. 
You can find most of this data inside Google Analytics. Affiliate networks and partners will also have a dashboard that shows this information. 
The goal with reporting is to uncover the most popular and profitable products so you can continue promoting them—and deprioritize those your audience isn't purchasing. 
Bonus affiliate marketing tip: Find your most popular product and ask the brand for a higher commission. Show them how valuable you are as an affiliate. Promise to continue doing great work—and drive more revenue—if they can give your audience a super special discount code.
Make more revenue as a Shopify affiliate 
The Shopify affiliate program exists to help marketers make money by recommending world-class business tools. 
Best-suited to entrepreneurs, educators, and influencers that inspire their audience to start an online business, Shopify is the all-in-one platform you need to start an online business. And, as an affiliate, you'll earn generous commission on any paid customer you drive to Shopify's suite of commerce products. 
In other words: You win when your audience does.
by Elise Dopson