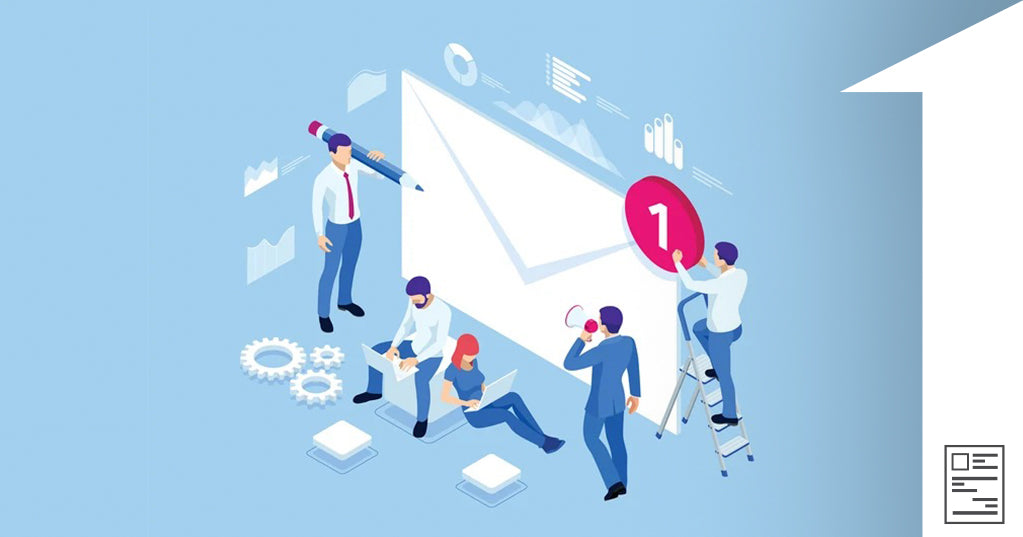 In an ideal world, a customer lands on your website in search of the solution and purchases what you're selling—all in under five minutes.
In reality, the line from consideration to purchase is never quite so straight. A potential customer might land on your page and find your product too expensive. They could need to think about buying and come back later, but don't remember to return. They may need to learn more about you and your business, establishing trust, before making a purchase.
As an entrepreneur, an email newsletter is an essential part of your overall marketing strategy that can help you make sales down the line. A website visitor that finds your product pricey might be persuaded by a discount delivered to their inbox. A forgetful browser can be reminded of your product through a targeted email campaign. A potential buyer who needs more information can learn your company's story through weekly sendouts before finally hitting Buy. By capturing the email of a prospective customer, a purchase delayed today can be deferred to tomorrow. 
Building buying consideration—by providing customers with multiple touch points between them and your brand—can occur through many marketing channels, like social media. However, an email newsletter is unique because it's an owned channel rather than a borrowed one. Having someone's email address is a channel to speak to them directly, even allowing you to send different messages to different groups.This is not the case with social media, where your posts are subject to the changing algorithms, organic marketing gets you in front of a fraction of your followers, and paid marketing on platforms like Facebook ads is increasingly more expensive yet less effective. Plus, your social media account sends the same message to everyone. Email remains one of the most powerful channels for keeping your business top of mind with prospective buyers and driving sales.
This guide will discuss how to create a newsletter for your business that turns subscribers into buyers. While a newsletter can take many forms, we'll specifically discuss newsletters that send regular email updates about your business to subscribers—from behind-the-scenes of the company and useful content readers can use to product updates and pricing promotions. We'll go step by step, detailing why having a newsletter matters, tips to choose the best email newsletter platform, a checklist for sending your first email, and advice on assessing your analytics after clicking Send. 
How a newsletter will help you grow your business
64.1% of small businesses use email marketing. If you're a business owner who wants to learn how to create a newsletter and kick-off your email marketing strategy, this guide will help.
ultivating a connection with prospective and past buyers
According to research from Bluecore, 74% of baby boomers and 64% of millennials consider email the most personal marketing channel. While marketing strategies like social media marketing, content, and paid marketing can feel broad, emails can be customized for individual subscribers. Plus, emails are sent straight to someone's inbox, forging a direct connection. This is important when considering how people make purchasing decisions—many buyers want to forge a personal connection with brands before they buy. 
Sending emails to customers that provide value—either monetary value through discounts or informational value through compelling stories or information—bridges trust that can eventually lead to purchases. Thoughtfully crafted newsletters can build an affinity for your brand, which can be a powerful force in a business world crowded with competition.
Building buyer consideration
If a customer lands on your digital storefront but decides not to buy, there's a good chance they'll never return. However, if you capture their email before they leave your website, you can continue communicating with them through newsletters delivered to their inbox. Email newsletter marketing is a way to keep the conversation going after a prospective customer has left your site, building consideration for a future purchase.
Using a channel for discounts and updates
Discounts and promotional pricing can be powerful incentives for customers to buy your products. On Shopify, during Black Friday and Cyber Monday, 47 million shoppers spent $6.3 billion. While not every day can be a massive sales event, you can selectively use an email newsletter to send promotional codes or announce upcoming sales. For a prospective customer sitting on the fence, an email promotion with a 10% discount code can push them to buy. 
Embracing an owned channel
Organic social media reach has been declining for years, replaced by a pay-to-play model—the average reach of an organic social media post on Facebook sits at around 5%. Between ever changing algorithms and crowded online spaces like trending topics on Twitter and the busy newsfeed on Facebook, it's hard to stand out on social media. While paid marketing, like Facebook ads and Instagram ads can work, they're becoming more expensive and reaching fewer customers as competition for keywords increases.
Email is an owned channel where you can speak directly to your customer. Once you have an email list of people who have opted in to receive your updates, you own that list, regardless of whether you're using an email platform like Mailchimp or ConvertKit. Email gives you a direct line of communication with prospective customers that other channels don't offer. 
With all the ways that newsletters can help you grow your business, it's important to take the time to set specific goals around the content you'll send to subscribers and what you want to accomplish with your email marketing.