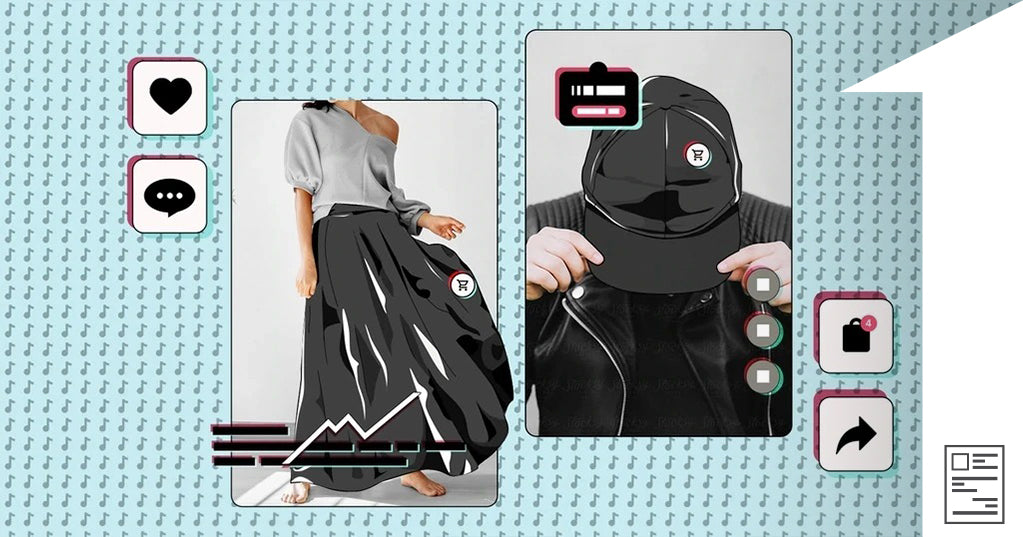 The magic of TikTok is that you never know what's about to go viral. 
In 2019, Charli D'Amelio was just a high school student who started posting videos on TikTok of herself dancing in her bedroom and the school bathroom. Now, she's among the platform's most-followed stars and top earners.
Or take the case of Jon Graziano. He started posting daily updates of his elderly pet pug named Noodle, declaring whether Noodle was having a "bones day" or a "no bones day." In a matter of months his account blew up to more than 4.6 million followers.
Virality can strike at any time on TikTok and it always begs the question: How do you actually cash in? Monetizing a TikTok following is tricky, with some options limited to particular countries or follower counts.
But selling merch is something that you can start at any time, whether you've just had a viral moment or are gradually building a following. In the creator economy, expanding to ecommerce is a great way to bring in revenue while protecting your independence as a creator.
This guide will help you get started with making and selling merch on TikTok.
Table of Contents
Why you should make merch for TikTok
It's a common assumption that getting big on TikTok automatically leads to revenue, but that's far from the truth.
Unlike other platforms like YouTube and Twitch, TikTok doesn't have a robust ad-revenue sharing program that creates a direct path to monetizing content.
Instead, TikTok has the Creator Fund, a program that pays creators but is much less transparent than what can be found on other platforms. Creators with access to the fund are paid a fluctuating amount calculated by TikTok and based on view counts, view "authenticity," and engagement.
Becoming eligible for the fund also has particular requirements:
You must be at least 18 years of age.
You must be based in the US, UK, France, Germany, Spain, or Italy.
You must have a minimum of 10,000 followers.
Your videos must have 100,000 views in the last 30 days.
Your account must adhere to the TikTok Community Guidelines and terms of service.
That means if you have a single video suddenly take off but not many followers, or if you live somewhere like Canada, you are not eligible to apply.
That's the case for Julia Roblin, an artist from Winnipeg whose TikTok success prompted her to open her own online store.
Julia is known for her tiny, adorable illustrations and tattoo ideas. While she produces fine art as well, her tattoo idea TikToks are what first went viral for her account, and she now has 519,000 followers on the app.
Julia started her TikTok account last year, and within a couple of months, due to demand, she launched her Shopify store to sell stickers, apparel, and "tattoo tickets" for people to get a design they can take to a tattoo artist. Because of TikTok's creator fund restrictions, this has been the only way Julia has been able to monetize her following, and so far, she says it's been amazing.
"It's crazy, it's awesome, and I owe all of it to TikTok and Shopify," says Julia.
Merch has also become a strategy for Jack Lee, known as @ruesaint on TikTok, and his partner, Stéphanie Cheng, known as @laparasian. Together, the couple have 3.6 million TikTok followers, and because they're also in Canada, they're not eligible for the Creator Fund.
They launched a shared ecommerce store, Ruesaint et LaParsian, as a source of revenue and have done a few merch drops so far. 
Jack said merch is a smart thing to try as a way of diversifying revenue as a content creator and influencer, while also maintaining control of your brand. While they also take on sponsored content, they're careful to only take deals that let them uphold their brand. Merch is a way to make revenue while owning the process from top to bottom.
It's also a great way to connect with fans. Both Julia and Jack said it's a joy to see their fans wearing or using their merch.
"It's incredibly fulfilling, seeing your fans actually enjoy the product," says Jack.
What to sell as a TikTok creator
Apparel is the bread and butter of creator merch. Putting your logo, catchphrases, or artwork on t-shirts, hoodies, and tote bags remains a staple merch offering and is a smart place to start.
For the first merch drop with his partner, Jack hired an artist to create some cheeky bakery-inspired designs with the word "badonkadonk"—an inside joke on their channels. They sold those designs on t-shirts and hoodies then followed it up with a school-themed collection.
Julia also sells shirts and bags with her illustrations, but actually started with stickers. She got the idea to sell apparel after her fans requested it, which is why it's a good idea to start with a small collection and pay attention to your fans on social media to find out what products they'd like to see. You can ask directly or see if you get comments like, "I wish I could have this on a hat."
"I've done a lot of polls on my Instagram and even on my TikTok asking what people want to see," says Julia.
The tattoo tickets were another request from fans, who wanted both permission to tattoo her work as well as high-res images to show their tattoo artist. From there, she's since added an option to request a custom tattoo, which she can charge more for.
Jack has also experimented with different products, all of which have sold out. For his and Stéphanie's most recent drop, they collaborated with a clay artist to make mugs with unique etchings that Jack and Stéphanie added themselves. That offers an even more personalized and unique product for fans to buy.
Other big names have been experimenting, too. Addison Rae, another of TikTok's most-followed stars, recently released a perfume.
Jack said they've learned something new with each drop and are always looking out to see what's trending and what they can try next. The first drop, for example, sold but didn't make great revenue, which led them to adjust pricing. 
If you're just getting started, t-shirts, hoodies, hats, and other apparel are a great place to begin, especially if you use print on demand, which we'll get to next.
How to make merch for TikTok
When it comes to merch, you can either have someone else produce the items, or do it yourself. There's also a question of whether you or someone else will take care of shipping.
Make merch using print on demand
The easiest way to get started making merch is to try print-on-demand companies. These services take your design, print it on the product of your choosing, then take care of shipping for you. That means you don't have to worry about sourcing blank t-shirts, keeping an inventory, or taking care of shipping.
Using print on demand, you can sell:
T-shirts
Hoodies
Hats
Mugs
Stickers
Patches
Water bottles
Pillows
And many more items
To get started, you'll need to create artwork. If you have the skills, you can do this yourself, as Julia did, or you can hire someone else. There are plenty of places where you can find artists who can create designs for you.
Look at:
Next you'll want to choose a print-on-demand company. There are numerous options that are free to set up. You'll find there are multiple options for blank products, so you should order samples for yourself to ensure they have the feel and quality that you want.
Once integrated into your Shopify store, you can set a price for each item and you'll earn any amount that is above the printer's cost. If the printed product costs $10 to produce, for example, and you sell it for $15, you keep that $5 difference.
Jack said print on demand is a great way to test demand and designs and find out what your fans respond to. It's a low-risk way to start selling merch.