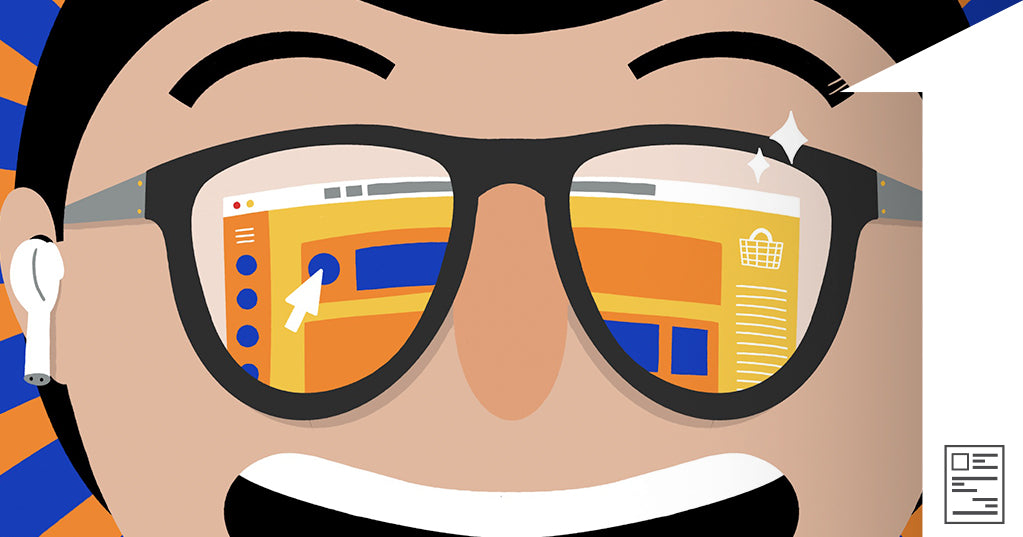 To succeed in ecommerce, it's essential to look up from the computer and see the world through your customers' eyes.Shopping has become more than a transactional activity for consumers. It's about being engaged and entertained. 
You can have a website selling one of the most in-demand products on the market, but if the consumers navigating your ecommerce store have a poor experience, you're losing out on valuable sales. 
Instead of buying from you, they're going to a competitor or changing their mind about making a purchase altogether.
Companies that lead in customer experience outperform laggards by nearly 80% (1)
So what can you do to make sure you're providing a great ecommerce customer experience that generates happy buyers and maximizes conversions?
In this article, we're going to discuss what customer experience management is, why you need to pay attention to your existing customer experience, and how you can make changes to ensure your customers enjoy shopping with you—even when it's not in an actual store.
What is customer experience management in ecommerce?
Regardless of the type of company or industry you're trying to market, customer experience (CX) always has to be top of mind. And customer experience management (CXM) helps your team make sure of that.
In ecommerce, customer experience management revolves around the online experience that anyone finding and landing on your website or product page goes through, from the very start of the checkout process to the post-purchase confirmation email in their inbox.
(Well, as long as the experience is seamless enough that they make it that far.)
Even the most mundane transactions can be turned into memorable experiences. 
—B. Joseph Pine II and James H. Gilmore, The Experience Economy
CXM looks through each part of the customer journey to ensure that it's a seamless and positive experience every step of the way.
If there's a bug in the checkout process or a page that's particularly difficult to navigate, your customer experience can easily be impacted—and not in a good way. CXM helps pinpoint these issues and improve them so you have nothing but satisfied customers.
Why is it important to have a customer experience management strategy?
Why does customer experience matter? Let's find out.
Seventy-three percent of consumers say that customer experience has a major impact on their purchasing decisions. In layman's terms, that means almost three-quarters of shoppers would likely decide not to buy from a store (whether ecommerce or in-person) that provides a poor experience.
Those businesses that relegate themselves to the diminishing world of goods and services will be rendered irrelevant. To avoid this fate, you must learn to stage a rich, compelling experience. 
—B. Joseph Pine II and James H. Gilmore, The Experience Economy
Bottom line: If you're not focusing on facilitating a positive customer experience from start to finish, you're losing sales.
Furthermore, nearly two-thirds of marketers say their companies are competing mostly in the customer experience arena, which means if you don't have a strategy for CXM, you're going to be falling behind the competition.
The Future of Commerce: Customer experience trends in 2022
If you've never given your ecommerce customer experience a second thought, it's time to make it a priority. We're going to walk you through the top CX trends of 2022 to give you a starting point and help you understand how your customers prefer to navigate shopping with your online store.
Customer service
Privacy laws
Security standards
Accessibility requirements
User experience
Web design experience
Social commerce
Customer service. 
Short answer? Be everywhere your customers are.
Long answer? Customer service is a major part of providing a positive customer experience, and you should have some kind of service option on every channel where you reach customers.
When people reach out on Instagram, your social team should be trained on how to get the best, fastest support. If someone's having an issue on your website, there should be an easy-to-find contact form or live chat window to offer help.
More than that, your customer service experience should be easy on your customers: 72% of them expect your support team to already have insight into who they are and what purchases they've made. This way, you can jump right into how you can help.
The best way to make sure you have access to this information is to allow people to create customer accounts that keep track of their name, contact information, order history, and more.
Not only will this provide your support team with easy access to the details your customers already want them to have, but it also lets your customers auto-fill checkout forms for a swift ordering process. Win-win, right? (More on this later, though—we're all about customer service right now.)
So what makes a great customer service experience? A few things to consider are:
Timely responses.

 

Forty-eight percent of consumers

 

expect a response within 24 hours, and 18% expect a response

 

within the hour.
Consistency.

 

Build a brand that has a reputation of solid, consistent customer service and support.
Human element.

 

Even if you have a chatbot to help with support issues, make sure there's still a level of authenticity and friendliness with each touch.
Omnichannel support,

 

Whether a customer wants to get in touch via social media, live chat, email, phone, etc., you need to provide a number of different support channels.
Ease of contact.

 

Make it easy for customers to contact you. For example, have a live chat window pop up on your website or include support info in your social bios.
So what does a good customer support experience look like in action? Let's look at none other than customer service hero BarkBox.
There have been a number of times that this dog subscription box company has gone viral for its excellent customer service, and for good reason. Let's look at just a few examples.
First, one customer's dog got sick from ingesting pieces of a toy from a BarkBox package, and the company responded immediately to her complaint with an apology and even went as far as reimbursing her for her pup's vet bills.
Furthermore, someone else shared an email from BarkBox on Facebook that the company sent out after a major storm had hit.
Comments on the post sang even more praises of the company:
So what exactly is BarkBox doing right?
It responds and takes action immediately after a mistake—but it's also genuine and caring when communicating with all customers.
It communicates via multiple channels to make sure customers are happy and taken care of.
It makes it easy to figure out how to contact them with support issues. This is right on its homepage:
Fifty-six percent of consumers have reportedly stopped shopping with a brand due to poor customer service—so ensuring this is a major part of your customer experience strategy is a must.
Privacy laws.
Browser cookies are vital to the customer experience. Cookies store data and information on a website, making it easier to auto-fill forms and create a more personalized experience. 
But with recent privacy laws like the GDPR and CCPA, websites have to get permission to collect, store, and use customer data. This is why you'll often see notices like the one on the bottom of this screen when you visit a new website:
Sharing the fact that a website collects cookies with a link to your privacy policy notifies website visitors and customers that you're storing their data.
But that's not the only step your company needs to take.
Our data shows that 28% of technology decision makers around the world expect changes to customer data and privacy regulations to hinder their 2022 growth goals.
Your brand needs to have a solid plan in place for protecting its data, and you need to understand why you're collecting it and how you plan to use it.
Transparency is key—when someone is providing their email address for something, they need to know if they'll end up on your email list or not. And they need to know what exactly to expect when they provide you with this information.
Essentially, the customer is the gatekeeper of this information. They now have much more agency in letting companies have access to their personal data. So it's up to the brand to earn their trust in order to personalize information, collect leads, and start the customer journey.
Here's a great example from 23andMe:
The banner at the top of the page explains exactly what will happen if customers insert their email address and that they can easily withdraw this consent at any point and unsubscribe from company communications.
The big problem? Consumers continue to demand personalized shopping experiences even as the biggest players phase out support for third-party cookies. The upside? Brands are turning to first-party data to fill the void. 
Our research shows that 42% of brands plan to offer their customers personalized product recommendations through tools like quizzes and custom mobile apps, and by using first-party or third-party behavioral data.
Security standards.
In a similar vein, security standards have to be a major consideration within your customer experience strategy. Ecommerce sites have to be vigilant with the payment information they're receiving online—especially because online fraud can cost around $12 billion per year.
Ensuring a secure online shopping experience is a must in order to earn customer trust and build a strong brand reputation.
One way to help your customers feel secure is by sharing a disclaimer when someone is ready to add to cart or check out, like we see in this example from Amazon, below.
However, this only goes so far—the next step is ensuring transactions actually are secure. Do this by working only with compliant payment platforms that protect customer payment information.
Luckily, when you build your ecommerce website with Shopify, you're provided with a PCI compliant online business, helping you and your online customers feel protected. 
Accessibility requirements.
Accessibility is the practice of making your website—ecommerce or not—as functional as possible for any web user, regardless of disability or impairment. And it should come as no surprise that this is a requirement for inclusive customer experiences.
After all, there's no customer experience to be had if someone can't even use your website. 
To make the ecommerce customer experience more accessible, implement best practices like this:
Add alt tags to every image.

 

These are descriptions of images on your website that help improve the experience for those who are visually impaired and may be using a screen reader.
Create descriptive call-to-action buttons.

 

Be clear about what your buttons mean. Instead of something basic like Select, use options like Add to Cart or Buy Now to ensure there's no ambiguity.
Don't rely on color.

 

Ensure you have text or other messaging alongside color changes to assist color-blind customers.
Label form fields.

 

Screen readers won't always catch the placeholder text inside forms, so it's a good idea to always use form field labels to be as clear as possible.
Localize your website.

 

Ensure that customers all over the world can easily access your website by having it translated into different languages.
Follow accessibility guidelines.

 

Check out the

 

Web Content Accessibility Guidelines

 

to make sure your texts, fonts, colors, and more are accessible.
Use an accessibility tool.

 

Tools like

 

AccessiBe

 

are great for providing automated accessibility settings on your website.
Glasses USA uses an accessibility tool that lets web users adjust its website to fit their needs. Simply click the wheelchair icon in the top bar to access these accessibility adjustments.
Accessibility is all about listening to customer needs and providing. Thankfully, there are tools and guidelines out there to ensure you're creating the best possible experience.
Web user experiences.
Now let's talk about the overall web user experience. When a customer lands on your website and starts their online shopping journey, you want to ensure the best possible experience and navigation throughout your site.
This is the best way to improve customer retention—by having a fast and easy-to-use website that lets online shoppers find what they want and check out before buyer's remorse kicks in.
Let's talk about a few of the most important web user experiences that you need to consider on your ecommerce site.
Mobile responsiveness.
According to Statista, in Q3 of 2020, smartphones received 71% of online retail traffic, compared to 27% for desktop computers. However, smartphones only generated 56% of the online transactions, with desktop computers seeing 42%.
While there could be a number of reasons that this is happening, I'd bet that the mobile experience is one of them. If your website is difficult to navigate on mobile devices, your website visitors are going to hit that X button and make their purchase elsewhere.
You can easily combat this by ensuring your website is mobile responsive and easy to use on smaller screens. Or, consider creating a mobile app for a seamless mobile shopping experience, like Chewy and Wayfair have done.
Reduce intrusive marketing tactics.
Disruptions like pop-ups, ads, videos, and the like can really ruin an experience for someone navigating your website. It makes your site look clunky and—frankly—a bit spammy.
We're not saying to eliminate these things altogether, but it's a good idea to reduce the noise. Keep the number of ads on your website to a minimum (your revenue should be coming from your online sales), and use pop-ups sparingly and strategically.
Keep your pop-ups tasteful, like this example from The Sill. It's only intruding on the digital experience to offer a discount code—and who doesn't want that?
High-quality product pages.
One downfall to shopping with ecommerce brands is that customers lose the ability to get up close and personal with the items they're considering purchasing.
This is why you need to go all out with your product pages—to ensure new customers are able to feel comfortable making a purchase without having seen or touched the product in person.
Let's take a look at this example from online furniture store Edloe Finch. It can be nerve-wracking buying furniture online, so it has included a number of high-quality photos, as well as a video, so shoppers can get the whole scope of a product.
They've also provided a clear product description along with dimensions so customers are able to get all the facts before deciding to purchase.
And if that weren't enough, visitors can scroll down to find customer photos of the product to get inspiration on how to style it. Each of their pages also come with additional product recommendations in an effort to get that upsell.
But you don't have to stop at product images and videos. Create 3D videos of your product, allow your customers to try it on with augmented reality, or create a virtual reality experience that lets your customer virtually test the product.
Having detailed product pages is a surefire way to improve conversion rates and customer satisfaction in one fell swoop.
Seamless checkout experiences.
Don't make your customers jump through hoops to check out and purchase all the items in their shopping cart.
Instead, checkout should be quick and easy.
One way to do this is by allowing your customers to create an account with your ecommerce site so all of their information is saved every time they make a purchase. (Psst: This is also a great way to build customer loyalty.)
Another idea is to use a tool or integration with your site that allows for fast or one-click checkout so customers can put an item in their cart and make a purchase in 10 seconds flat.
Flexible payment options.
Our last tip for the web user experience revolves around payment methods. People have different preferences on how they want to pay—and how much at a time.
This is why your ecommerce business should offer a number of different payment options: Shop Pay, credit card, PayPal, and even payment plans like we see in this example from Culture Kings.
A popular service that many ecommerce companies are integrating with is Afterpay, which allows customers to set up a monthly payment plan that works for their budget. According to recent research, 60% of people say they've used a buy now, pay later service. Of them, nearly 46% are currently making payments through one of these services. 
Providing flexible payment options is a great way to keep loyal customers coming back again and again—and could even earn you a few referrals.
Web design experiences.
We've covered the website user experience, but don't negate the importance of a visually appealing and easily navigable website design.
Poor design can easily lead to people finding alternatives and competitors to buy from—and we want to keep that from happening.
But what design errors do you need to look out for?
A cluttered website that's confusing and hard to navigate
Long page-load times due to large image sizes
Hard-to-read fonts
Unprofessional design
A menu that lacks organization
To follow that last point, let's take a look at a menu of an online store with an extensive selection: Anthropologie.
Even though it offers a number of products across several categories, it has created a navigation that's incredibly easy to understand and sort through, so its customers can find exactly what they're looking for.
Social commerce.
Social commerce sales are expected to triple by 2025. Nearly 50% of internet users in China already make purchases through social media platforms, compared to 30% in the US. China currently also generates 10 times more sales than the US through social networks (2).
Social commerce is only continuing to grow, with nearly one in three US Facebook users planning to buy through the platform in 2022. If you haven't already, you should create a product catalog on social media sites like Facebook, Instagram, and Pinterest that lets users make purchases right on the platform.
Take a look at BÉIS's Instagram shop below. It's created collections like "Bestsellers" to help shoppers find what they're looking for, and users can also browse between categories like brands, gender, and sale items.
Organize your social media commerce site in a way that helps customers find what they're looking for and maximizes conversions. Craft your storefront with care so it represents your website's experience. You can curate top-selling products, and create collections and categories similar to the ones offered on your online store to keep the experience cohesive.
Social commerce also gives shoppers a different way to reach brands. Rather than send an email or start a website chat, people can message a brand on social media through messaging apps like Facebook or Instagram Messenger. Training around how to handle queries through social and creating a good customer experience there can help increase conversions and sales. 
Make the most of your ecommerce customer experience
Whether you're a seasoned retailer with a global customer base or planning to expand your operations, if you're following the trends above, you'll create a memorable experience for online shoppers. 
Remember that the success of your ecommerce experience depends on your customers. Be everywhere they are, with convenient and seamless shopping experiences—including simplified checkout and followup. You'll soon see the benefits of happier customers and more sales.  
(1)(2) Shopify eCommerce Market Credibility Study: Data Review, a commissioned Forrester Consulting study conducted on behalf of Shopify, September 27, 2021.
By Michael Keenan
https://www.shopify.com/enterprise/ecommerce-customer-experience