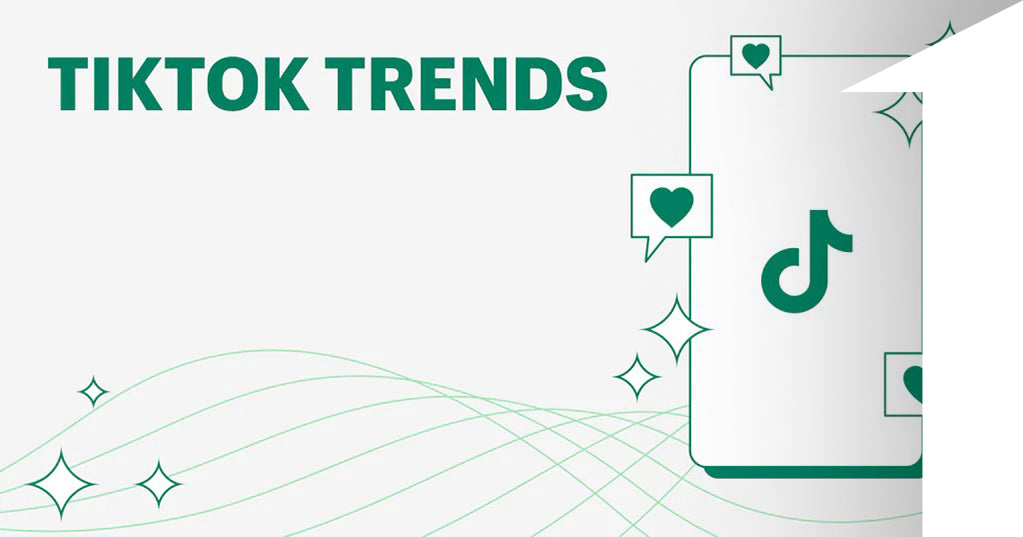 As TikTok's popularity continues to boom, more and more people are heading to the app to see what's hot in fashion, music, food, art, and more. The video-clip-sharing platform's straightforward usability and intelligent algorithm create a revolving cycle of TikTok trends that swiftly go in and out of popularity, no matter how niche or unique your For You page might be.
While it can be tempting to jump on each of TikTok's many emerging trends, it's not a sound social media strategy for your brand. A better approach is to hone in on the trends that reflect your brand's goals, ethos, and vibe to capture the attention of your target audience.
What is a TikTok trend?
A TikTok trend is an original clip of a sound, dance, hashtag, or video format that goes viral. Once a trend kicks off, others will jump on the bandwagon while the content is still fresh. Eras of TikTok can be remembered through popular trending sounds or formats, and trends that are only a year old can feel absolutely ancient given how quickly they go in and out of style. 
Trends are great for TikTok creators because they inspire fresh, regular content for an algorithm that rewards consistency. Trends can also help launch careers and grow small businesses, and being early to a trend can lead to millions of video views and raise a creator's popularity. In short, TikTok trends make up the structure for a lot of popular content on the app.
How do you find new TikTok trends?
TikTok can be chaotic if you're not used to it. Here are a couple ways to hone in on the social media app's emerging trends.
Keep an eye on your For You Page (FYP)
As you scroll through the For You page (FYP), which is TikTok's homepage, you'll see dozens of videos that the algorithm hopes you'll engage with. The more you watch a video and whether you engage with it (like, comment, follow, etc.), the more the algorithm learns what you like and what it thinks you'd want to see next.
The best way to discover what's trending on TikTok is to spend time on the app and cultivate your own unique FYP. It won't take long for you to see which trends are going viral, but you have to work fast! TikTok trends move quickly, and if you want to hop on and create a video yourself, you should always strike while the iron's hot. 
Check out TikTok's Discover page
Another way to find out what specific sounds, effects, or hashtags are trending is to head to the Discover page. This page will also be somewhat curated based on the content you've interacted with on the FYP. Creators can help boost their content by using the Discover page to look up which hashtags are currently trending and adding them to their videos, which can help their videos end up on more users' feeds.
21 TikTok trends to inspire your next viral video
You don't have to do a viral challenge or dance to entertain TikTok users if that's not on brand for you. But, there are ways to put your own spin on TikTok trends that will help you make sales, grow business visibility, and strengthen your brand's presence.
TikTok is the birthplace of some of the internet's most popular memes, fashion inspiration, influencers, and even food trends. But, how do you know what new trends to follow? How do you make sure you're keeping up with what's trending and what content actually makes sense for your brand? Here are some of the app's most evergreen trends to inspire your next TikTok video.
1. POV (point of view)
POV TikToks are videos that present a point of view that often reflect a particular character or situation. For example, you might post a video as if you have the POV of a mom taking kids to the airport, a brand's superfan waiting for their next product drop, or the experience of living with a food blogger. The options are endless, usually fun, and most often very relatable. 
The format is very easy to replicate and has seemed to stay popular, which is likely why the POV hashtag has 718.7 billion video views on TikTok and counting.
2. Storytime
Another trend that never goes out of popularity on the app is Storytime. Originally born on YouTube, storytimes are when a creator wants to share a personal experience that's funny, interesting, moving, or bizarre. Users will sometimes comment asking for a Storytime on videos where they want more information or background.
One popular Storytime format is where a creator builds something while telling a story. This is a great way to keep viewers engaged with your content if you're not comfortable talking straight to the camera.
3. Self growth, glow ups, and #whatIlearned
The glow up trend revolves around physical changes or makeup transformations, so fitness or makeup brands might benefit from creating content with the #glowup hashtag.
Self growth focuses on wellness, moments of self-transformation, and healing.
If you're using TikTok for business, this is a great opportunity to show how far you've come. Similarly, with #whatIlearned, small business owners can share what they've learned through their own journey from inception to success.
These trends are intended to inspire others and boost confidence. 
4. Vulnerability
TikTok has created a space for people to be open and vulnerable on its platform. Thanks to the algorithm, if you engage with content that you find emotional, moving, or thought-provoking, you'll see more of that kind of content. This helps people discover videos they find relatable. 
Creators who share content about their struggles with mental health, chronic illness, or disability help others feel less alone. The same can be said for breakups, job losses, and life's general ups and downs. 
Rani & Co's founder Ramona engaged with this trend by sharing her struggle with panic attacks and anxiety. The video garnered supportive and kind words from her audience, and gave them deeper insight into how she's really doing. 
5. Astrology
Love it or hate it, there's a lot of astrology-themed content on TikTok. Astrology makes for a wealth of varied videos, so you can regularly expect to see content such as "What your moon sign says about you" or "What to expect during the Mercury retrograde." If you're building a small business, working the signs into your merchandise is also a great way to attract new customers (but only if it fits in with your brand).
Astrology falls under a few niche TikTok categories like "Witchtok" or "Spirituality." If this is your jam, then the ever-changing nature of astrology makes for a wealth of content.
6. #Foodtok
While #foodtok is one of many, many TikTok categories that are regularly trending on the app, it's also one of the most enduring. From memorable moments like Emily Mariko's salmon rice to Gigi Hadid's vodka pasta, #foodtoks are a TikTok trend that will never go out of style. TikTok makes it easy to follow and share recipes, so followers can easily replicate their favorite viral #foodtok dishes.
If you own a food or food adjacent business, sharing #foodtoks of your brand's recipes is a great way to engage with your audience. 
7. Transitions
You have undoubtedly seen some slick transitions if you've spent a little time exploring your FYP. Transitions are quick cuts from one situation to another. This could include outfit changes, haircuts, makeup looks, or full locations, and when done well, the result is impressive.
You can create fairly decent transitions in the app, but for more complex ones, many creators use tools like CapCut to edit their videos first.
8. The green screen effect
TikTok's clever green screen effect has endless uses. Share multiple images, screenshots, and videos to support your content, whether it's covering your latest new products or detailing a new cooking technique. Then, use the green screen effect to comment on what's going on in the video with a text overlay.
9. TikTok challenges
Challenges have long been part of video content creation in social media. The #IceBucketChallenge was famously all over Facebook in 2014, and YouTube has also had its fair share (remember the infamous #CinnamonChallenge)? 
TikTok is also well-known for the challenges that go viral on its platform, some of which have been fairly controversial, so it's important to make sure the challenge is safe (and brand safe) before giving it a go. Challenges can be started by individual creators, businesses, or brands. A good example is the lip sync challenge, where a TikTok user attempts to perfectly lip sync to a song.
10. Dancing and choreography
Dance routines and choreography have been at the core of the app's content since the beginning, and influencers like Charli D'amelio and Addison Rae have built million-dollar careers off the back of viral dance trends. While choreography trends on the app move quickly, it won't take long for you to figure out what the latest dance trend is, and some are so simple anyone can do them.
11. Microwave popcorn
Based on the song Microwave Popcorn from Bo Burnham's Inside Outtakes album, the microwave popcorn trend involves explaining something to someone who doesn't understand it. The videos are often overlaid with a sound clip from the original song.
For brands, this could be a great opportunity to share inside jokes you have with your audience.
12. Engaging with comments
Sometimes the funniest thing about a video is its comments section, and if TikTok users are anything, it's funny. TikTok also allows you to like comments, which makes the most popular rise to the top of the comments section. When a comments section is particularly hilarious, creators can use the green screen effect to screenshot and highlight the most entertaining responses. 
Creators can also ask their viewers to "sound off" in the comment section if they want to encourage engagement and conversation.
13. Family videos
Get grandma to partake in a TikTok trend, ask your dad to attempt a dance routine, or capture your brother doing something ridiculous. Family members can provide a wealth of content ideas—with their consent, of course!
One of the most fun family trends on the app was the "I'm Just A Kid" trend, which had parents and kids recreate their childhood photos. Businesses can use this trend to give their communities an inside look at what their family life is behind the scenes. This helps let your community relate to you and get to know you better.
14. Pets of TikTok
Just like food, animals will always offer a bounty of content, whether it's a pug that predicts if you're going to have a good day or a pufferfish named Murphy. This type of content is prime for pet stores and pet accessory brands. For example, Atlas Pet Company's founder Sam shares video clips on TikTok of his dog Atlas to help sell their products.
15. Stay on top of pop culture
Some people get their gossip from Twitter and online media, others from TikTok. Granted, it might not be the most reliable resource all the time, but pop culture hot takes thrive on the app and get thousands of views. 
Gen Z favorites such as Harry Styles, Taylor Swift, and Doja Cat pop up all the time. There are many kinds of niche TikTok dramas that trend heavily for a while before moving on. TikTokers are always the first on any big pop culture news, and regular commentary is a staple of the app. As a business, using TikTok to stay on top of pop-culture trends can help you stay relevant and keep your finger on the pulse of what's happening.
16. Fit check
Want to show off your #OOTD (outfit of the day)? Post a fit check! Show off your sense of style and become a fashion inspiration to others by rocking something unique, or just by staying on top of what's trending in the fashion space. This is also a great way designers and clothing brands can reveal new collections. For example, accessory store Room Shop posts videos of how to style its many fun bags and scrunchies.
17. ASMR/Oddly Satisfying
Have you ever been browsing the app and found yourself watching endless videos of soap scraping or various items being crushed by a hydraulic press? Then you have stumbled upon #OddlySatisfying on TikTok. 
This kind of content, along with the calming tones of ASMR (autonomous sensory meridian response) sounds are meant to serve as both entertainment and stress relievers. For example, restaurant quality Asian seasoning brand Omsom shared the satisfying noises of a team member sizzling up some chicken sisig.
18. A day in the life/What I eat in a day
TikTok users and a business's target audience are curious about how business owners make use of each day. Sharing what goes on in the day of the life of a small business owner gives followers insight into what working for yourself actually looks like. It also sheds light on the behind the scenes of customers' favorite brands. For example, Ramona, owner of jewelry brand Rani & Co., gives viewers a glimpse of her morning routine, which involves making a latte and saying hello to her neighbor's cat.
"What I eat in a day" TikToks are similar but share healthy food tips or simply the creator's own eating habits. These videos can either be inspirational or relatable, and both do well on the app.
19. Nostalgia
Nostalgia will always be popular on social media, from Stranger Things to recreating '90s high school aesthetics. Brands and creators alike share embarrassingly relatable nostalgic content about school days, emo trends, terrible fashion, music, and more. If it was popular 10, 20, or 30 years ago, it will definitely find an audience on the app.
20. #tiktokmademebuyit
TikTok is overflowing with creators showcasing awesome products and smart tech, which is why many users have found amazing products through #tiktokmademebuyit, like the viral Sunset Lamp. Many small businesses use TikTok to advertise, and if a product goes viral through hype or positive product reviews, it can be a game-changer. Using the hashtag for product videos can also help provide more visibility for your brand. For example, incense burner store The Goi Shop advertises its calming products under the #tiktokmademebuyit hashtag.
Products that provide some kind of "life hack" or that strike a chord with Gen Z tend to take off under this trend.
21. Pack an order with me
TikTok users love watching small businesses pack orders on social media. Whether it's the calming quality of watching someone fold tissue paper with calculated expertise, the excitement and hope that it's their order you're packing, or just generally the enjoyable nature of something coming together, many brands get order packing requests.
For example, accessory business Stardust by Allie shares order packing videos complete with the calming ASMR sounds of box folding, tape ripping, and paper crinkling.
Use TikTok trends to boost views and grow your business
While it's true that trends move at light speed, it also means there are endless ideas to inspire fresh content. TikTok trends come and go, but there will always be recurring themes and evergreen trends. With TikTok's engagement rate now surpassing all other platforms, at 5.96%, it's absolutely worth it for your brand to develop a winningTikTok strategy.
Being on top of the latest TikTok trends is extremely helpful in identifying what kind of content is more shareable, which is especially valuable for brands and small businesses who want to use TikTok in their marketing strategy. 
Once you're ready to use TikTok as a part of your marketing strategy, add Shopify's TikTok sales channel to your store. There, you'll find tools to help you grow your brand's success. Use it to add a shoppable tab to your brand's profile, create paid campaigns, and use the video generator tool to create an on-trend video in minutes.

by Emily Browne
https://www.shopify.com/uk/blog/tiktok-trend